Tips on finding the perfect beach
Kian Rackley, from our supplier Insider Journeys, shares his Vietnam travel advice:
Tips on finding the perfect beach
"Nha Trang is the nearest thing Vietnam has to the Costa del Sol in terms of the amount of tourists that go there. But if you are looking for a bit more isolation while you're there, take a boat cruises out to sea and explore some of the coastline that way, similar to the way you can in Thailand. It's still the hub of much of Vietnam's fishing industry as well. People still go out in the same boats as they have for 500 years – they're almost like small bathtubs! People still do fish that way, and all the other boats are colourfully painted and moored up in the harbour around Nha Trang so that's a lovely thing to see."
Local people
Vo Thi Bich Ha, from our supplier Haivenu, shares her Vietnam travel advice:
"Learn the different ways to deal with local people. With street vendors, you need to learn how to say no politely and happily – but firmly, so that they know that you are not a customer. However, people in rural areas are often very shy and genuine, so you act differently – show your appreciation, show your interest in their stories. You will get so much more out of it, and those are the visits that create long-lasting memories. They're very special."
Tips for onward travel
Lesley Schofield, from our supplier All Points East, shares her Vietnam travel advice:
"Vietnam combines fantastically with other countries. Cambodia is just a short hop up the Mekong. And you can then contrast the two countries, which are really quite different. Vietnam is still a communist country so it's got quite a different feel to it. The other place it combines very nicely with is Yunnan – that's a fantastic trip from Hanoi up through the rice terraces into China. The other country is northern Laos. You can go into a very remote border crossing right up in the north of Vietnam. So if you do either the north or the south, and then combine it with a neighbouring country, you actually have far more overland travel and fewer flights than if you try to see all of Vietnam. It's a bit like Europe as you only travel a very short distance to be in another country with a totally different feel."
Kian Rackley, from our supplier Insider Journeys, shares his Vietnam travel advice:
Cultural tips
"Vietnam is still developing, it's been through a huge amount, and living standards are only starting to rise. There is still desperation, and as a rich westerner you're always going to be a target, but most of it boils down to common sense. One issue is that typically, travellers go to Thailand first as their introduction to SE Asia and Thailand is very friendly. It's the national character to be happy and to smile at all costs, whereas that level of hospitality doesn't exist all the time in Vietnam, people are a bit more stoic in terms of their outlook. So people expect the same reception they had in Thailand and that isn't always the case – but that's not to say they are unfriendly."
HEALTH
Several vaccinations are advised before travelling to Sabah; consult your GP or travel clinic six to eight weeks before departure to ensure you have time to complete all the series of injections.
Malaria is present in rural areas so consult your GP or travel clinic to find out if you will need anti-malarial medication. Wearing long sleeves and trousers is also advised, as well as insect repellent. This also protects against dengue fever.
Tap water is unsafe to drink - also be wary of ice in drinks and unpeeled fruit and vegetables.
Many medications may not be widely available – or worse, counterfeited – in Vietnam, so bring a basic medical kit, plus any prescription medicines along with a copy of your prescription.
Health care in the major cities is adequate for minor injuries and illnesses, but you may need to travel to receive more specialised care. Ensure your travel insurance covers medical evacuation and emergency repatriation, as well as any adventure activities you may be taking part in on your trip.
Parts of the country are incredibly hot and humid, so keep well hydrated at all times and keep an eye if travelling in Vietnam with kids.
Rice wine is part of the culture here – but avoid the homebrew, and opt for recognised brand names. Super-strength rice wine can contain lethal levels of methanol.
To contact the emergency services, dial 115.
For up-to-date Vietnam health advice, consult the
CDC website
.
SAFETY
Vietnam is generally a safe destination but petty crime is most prevalent in the main backpacker districts, tourist shopping areas and popular places like Nha Trang. Be sensible – don't flash cash or valuables, don't walk around the cities at night and avoid empty beaches after dark. Carry photocopies of your visa and passport instead of the real documents. Unexploded landmines still sadly exist in central Vietnam and along the Laos border – do not stray from paths and marked trails in these regions, and travel with extra care if in Vietnam with kids. Better: travel with a local guide. Moto taxis are a bad idea. Driving standards – of the motorbikes and other vehicles – is poor, as is vehicle maintenance. Additionally, although it's illegal to travel without a helmet, the helmet itself may be of poor quality or damaged; there are frequent, life-threatening accidents. For this same reason, avoid travelling by night if possible – especially in overnight buses. The sleeper trains are an excellent, safe alternative – just be sure to keep your belongings close. There are many illegal taxi in the cities; ask your restaurant or hotel to book you a cab, especially at night, or look out for the green My Lai taxis – these are licensed, and will not overcharge you or argue over fares. Don't just pick the cheapest or most convenient boat tour operator in Halong Bay – especially if opting for an overnight cruise. Read reviews of the tour online including the safety aspects – boats have been known to sink rapidly. Ensure you get a safety briefing upon departure. Several of Vietnam's more popular beaches now have lifeguards – but do be careful, particularly around Hoi An, as there can be dangerously strong currents.
For up-to-date Vietnam health advice, consult the
FCO website
.
Our top Vietnam Holiday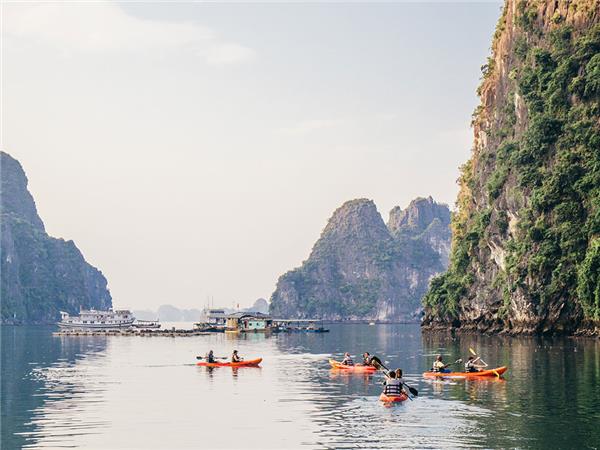 Capture the spirit of Vietnam on this compact adventure
From
£876

to

£1120
10 days
ex flights
Small group travel:
Departs every Tuesday, Thursday, Sunday & selected Wednesdays throughout the year
If you'd like to chat about Vietnam or need help finding a holiday to suit you we're very happy to help.

Vietnam tips from our travellers
At Responsible Travel, we think the best people to advise our travellers are often... other travellers. They always return from our tours with packing tips, weather reports, ideas about what to do - and opinions about what not to.

We have selected some of the most useful Vietnam travel tips that our guests have provided over the years to help you make the very most of your holiday - and the space inside your suitcase.

Make sure that you do the 3 day cruise on Ha Long Bay. This takes you to the much quieter parts of the bay and you have time for kayaking

"Have patience, be open minded and willing to accept things that you do not see at home. Also be prepared to sacrifice a little comfort when not staying in hotels." - Christopher Jones

"Because the weather throughout Vietnam varies a lot it is difficult to experience optimal weather if travelling from north to south. Just be aware of the weather in the parts you plan to visit. It didn't spoil our trip though." - Jennifer Beer

"Travel lightly as you only spend a few nights at each place and lugging lots of luggage would be a pain. Also laundry in the hotels is cheap." - Tracey Whare

Take a sheet sleeping bag, black out mask and earplugs for the overnight train between Hanoi and Hue. Not essential but it does aid sleep!

"Be adventurous when eating in Vietnam and don't stick to the 'tourist' restaurants. Although we avoided the pavement pho cafes we found places where the locals eat which were unbelievably cheap, the food and atmosphere was great and we suffered no ill effects!" - Karen Ritchie

"Do not go during the Tet holidays as so many of the museums and restaurants were closed and the temples were very very busy!!!" - Reni McPhail

"Take some time on your own to step out of the guided days. Learn a few phrases to use when bargaining (oy choy oy!)" - Val Bodington

"Be friendly!! Some people seem to be wary of encountering the very people they've come to meet. Talk to them, say please and thank you, and SMILE!" - Sandy Snyder