Cycling in Vietnam travel guide
To make the most of your time, many Vietnam cycling holidays include a night on the train between Hanoi in the north and Hue in the centre, helping you cover some serious ground. The train is the famous 'Reunification Express', which was a symbol of healing between North Vietnam and South Vietnam after 20 years of conflict. We see cycling tours in Vietnam as unifying in themselves. Escaping the tourism merry-go-round, they take you into rural areas, such as fishing villages around Nha Trang or small farming communities in the Central Highlands. You'll meet traders in riverside markets along the Mekong Delta, artisans in their workshops, and local cyclists on the dedicated lanes in Ho Chi Minh, on well-organised trips that run as smoothly as a well-greased gear change.

Read our Vietnam cycling travel guide to find out more.
What does cycling in Vietnam involve?
How fit do I need to be?
You don 't need to be super-fit to enjoy a Vietnam cycling holiday, but you do need to have a bit of stamina. Many of these holidays have ten or more days in the saddle – though neither the pace nor the daily distances are arduous. Electric bikes are available on some trips, if you'd like a little extra power in your pedal. Another thing to keep in mind is that it can get very hot – especially in the humid south, so 6am wake-up calls are not unknown.
Small group or tailor made?
Most of our Vietnam cycling holidays are fully escorted small group trips, following set itineraries on set dates. There's much to recommend this option: you don't need to worry about directions or finding places to eat along the way as your guide handles everything. You can just enjoy the rides and getting to know your fellow travellers. A van will often accompany your group to handle any repairs, and give any tired riders a rest.

For those who embrace the freedom of getting around by themselves, private tailor made trips can be arranged. You'll be issued with comprehensive route notes, maps and GPS, with your accommodation prebooked of course.
Unrivalled local knowledge
On a small group tour you'll be accompanied throughout by a local guide. They're not only there to lead the way, but to act as a 'cultural bridge' into the rural Vietnamese communities you pass as you go. They'll explain how the rice farming season unfolds as you ride between the paddy fields; help translate menus in beachside restaurants, and help get the conversation going if you're spending the night at a village homestay.

On a self-guided trip you'll be getting around independently of course, but 'independently' comes with a welcome caveat. Tailor made routes are designed based on years of experience and knowing what works, and what doesn't. As well as detailed maps and GPS you'll be equipped with comprehensive route notes so you always know your cha ca from your bot chien, and the significance of "that mountain over there".
What is the terrain like?
The cycling terrain in Vietnam is pretty easy going for the most part, flat roads surfaced with dirt or tarmac. There are hilly areas of course, and some days will see plenty of ups and downs, but Vietnam cycling trips are not really about 'cleats and climbs'. If you want that, look for a challenging holiday that takes you up into the mountains.
Community cycling
Our cycling trips in Vietnam head deep into remote, rural areas where there is a great deal of poverty. Some areas continue to be afflicted by the legacy of the Vietnam War – every year around 2,000 people are 
hurt or killed by landmines
and unexploded ordinance that hasn't yet been cleared. Consequently, our responsible travel partners will often include a visit to one or more community projects or NGOs as you go along. This adds another, moving dimension to your holiday while at the same time the donations your tour operator makes on your behalf can make a significant difference to the vital work being done.
So you might meet with staff of an NGO that helps victims of landmines, or enjoy a meal at a social enterprise restaurant that empowers disadvantaged local youths with vocational training and other forms of support. It all adds up to a much more rounded and memorable take on Vietnam than you would get from simply visiting the most well-known sites.
Combining with Cambodia, Laos or Thailand
It makes a lot of sense on a cycling trip to combine Vietnam with other Indochinese countries such as Cambodia, Laos or Thailand. As well as giving some additional challenge, it allows you to appreciate the different landscapes and culture of each country. On bikes you can cover substantial distances too, allowing you to see a fair bit of the region in just 10-14 days. As for crossing borders, it's a breeze with a fully escorted small group trip – you pile into the support van while the tour leader handles all customs formalities on your behalf.
If you'd like to chat about Vietnam cycling or need help finding a holiday to suit you we're very happy to help.

Types of Vietnam cycling tours
Challenging cycling
A challenging cycling holiday in Vietnam entails tackling some long distances (up to 80km a day) over twelve or more days, steep mountainous trails, and often taking in one or more neighbouring countries such as Laos. All of it in hot, sometimes humid conditions. They're more for the experienced cyclist then, but they also feature early starts to beat the heat, plenty of water breaks, and a support van for anyone needing a rest, so we're not talking endurance tests here. The reward for your exertions? Really getting off the beaten track, to enjoy scenery and cultural encounters that most visitors to Vietnam miss entirely.
Moderate cycling
Most of our Vietnam cycling holidays would be considered moderate. Think 50-60km each day, with a few longer days where you need to cover large distances or steep sections interspersed with easier ones, or rest days where you'll barely get into the saddle at all. These trips are a perfect balance of exercise and culture, with routes carefully arranged to make sure that everyone in the group should be able to comfortably complete each day.
Easy cycling
For those who are after a very leisurely experience but would still like to get in some riding, opt for a trip rated as easy. You'll be covering around 40-60km per day on flat terrain, with the focus very much on immersing yourselves in Vietnamese culture rather than racing against a clock. Small group cycling tours are very sociable and motivational, and once you've been on the road for a few days you may be surprised at what you're capable of.
Electric bikes
Like the thought of a little boost now and again? Depending on the trip, it may be possible to hire an electric bike for a supplement. Much will of course depend on the accommodations being used to ensure that batteries can be charged, but support vans will be able to carry spares in case the juice is running low. If you're unsure, just ask specifically for
a holiday where an electric bike is an option
.
Vietnam not only offers a fine variety of landscapes but wonderfully varied weather. Cycling holidays take place all year round, and our partners will provide you with reliable packing tips – particularly useful if your trip will take you the length of the country when you'll experience different climates.

Vietnam's humid south is warm year-round, but the warm May-November monsoon season brings brief, heavy showers. These don't disrupt travel much, except around the Mekong where there can be flooding. Central Vietnam is cooler between October and April, while the north is warmer between October and December. March is boiling, with May, June and September turning the heat down to a simmer. Whenever you go, assume you'll be riding in temperatures between 28-34°C and you won't be far wrong. So pack lightweight, well-ventilated clothing and plenty of suncream.
Ho Chi Minh Weather Chart
More Vietnam cycling articles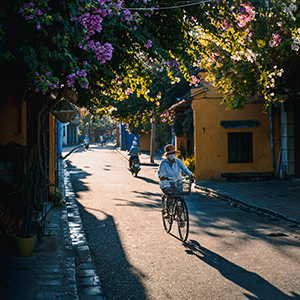 The wonderful thing about cycling here is that in just two weeks you can ride almost the length of the country.
Taking you into parts of the country that most visitors get nowhere near...