Small group cycling in Vietnam
"Cycling makes for a much more immersive and sensory experience, and that's especially noticeable in Vietnam," says Chris Ellis, Product Manager at our partner Explore Worldwide. "People cooking in their homes, kids playing by the side of the road, insects buzzing – these are all fragments I remember from my own travels. You see, hear and smell things on a bike that you would miss through a bus window."
Our 
small group cycling tours in Vietnam
are a sociable and culturally engaging way to explore parts of the country that you would otherwise not see, including tiny rural villages where you'll find artisans plying their centuries-old trades, welcoming homestays, and ancient temples and tombs set back in the trees.
Read on to learn the important practicalities of Vietnam cycling tours, some of the cultural highlights you can expect, and why – if it hadn't been for the humble bicycle – the Vietnam War might have ended very differently.
What does a small group cycling holiday in Vietnam involve?
"Cycling is a good way to access areas that simply aren't practical on a bus," says Chris. "Additionally, there are some parts of Vietnam that I'd say are affected by overtourism at times, and being on a bike helps you escape these busy areas to meet people who are perhaps a bit less accustomed to tourists."

These holidays offer a balance of culture and cycling; some split time 50-50 between being in and out of the saddle, while others lean more into the cycling. Many involve travelling the length of Vietnam, beginning in the capital, Hanoi, and finishing 1,600km south in Ho Chi Minh City via Halong Bay, Hue, Hoi An, and the Mekong Delta. Over 12-16 days you won't just experience a range of climates (it gets distinctly more humid the further south you get), but also a wide range of interactions with local people going about their lives.

These are well-designed holidays, developed by cycling aficionados with years of experience in Vietnam

As you ride through peaceful paddy fields, along clifftop coastal trails or dusty tracks pitted with shallow potholes you'll share nods and greetings with farmers using plodding water buffalo to ferry their loads; people playing chess by the side of the road; and young novice monks practising their meditation. Vietnam, as Chris points out, is wonderful when seen over the handlebars.
How fit do I need to be?
Vietnam cycling holidays typically range in level of exertion from easy to moderate. You'll cycle between 10-70km each day – though there are some options heading into the Highlands that can involve steep mountain climbs which make even a short day challenging. Even for easy trips you'll want to put in a bit of practise beforehand as most holidays are at least twelve days long, and you will likely be in the saddle most days.

But these are well-designed holidays, developed by cycling aficionados with years of experience in Vietnam. So you can be confident that time to rest is set aside at just the right moments, and that daily distances are always very achievable as you ride at a reasonable pace. A few long rides on the weekends leading up to your holiday to build up your stamina should be perfectly adequate if you're in decent shape and already a regular cyclist.
Types of trip
Most trips are rated easy to moderate, although there are some that offer more challenge if that's what you're after, when you can expect longer daily distances and steeper terrain. Multi country tours make a lot of sense if you have the time to go for two weeks or more, as you can see a lot of the region without splashing out on lots of expensive flights. Vietnam is easily combined with neighbouring Southeast Asian countries such as Cambodia, Laos or Thailand.

And, if the thought of having a little extra power in your pedal towards the end of the day appeals, on some trips you can also upgrade to an electric bike for a supplement.
Group sizes
A small group is typically between 12 and 16 people, though depending on the time of year you go there may be fewer than that. Keeping the group sizes lower means that you can stay in smaller, locally owned hotels and eat at independent restaurants. It also means that your presence is not overwhelming in rural areas that are not used to large groups of tourists.
What terrain to expect
Most of the time you'll be riding on flattish terrain, mainly tarmac, or unpaved dirt trails in countryside. While Vietnam is a very bike-friendly country you'll often disembark and climb into the support van at the edge of cities such as Hanoi or Ho Chi Minh City. The van can also come in handy if you do fancy an unscheduled rest.

Longer distances will sometimes be covered by coaches or internal flights so that you can make the most of your time. One of the big highlights of many cycling holidays in Vietnam is travelling overnight on the Reunification Express between Ninh Binh and Hue.

It's not an exaggeration to say that our Vietnamese tour leaders are some of the best we have worldwide – they get phenomenal feedback

Expert local guides
As part of their commitment to responsible tourism, and because of course no-one knows these places better, Explore Worldwide use only local Vietnamese people to lead their cycling groups. Many have been doing the job for over 20 years, bringing with them a vast amount of experience in making these trips as enjoyable as possible for you.

"It's not an exaggeration to say that our Vietnamese tour leaders are some of the best we have worldwide – they get phenomenal feedback," says Chris Ellis. "And because we use people from both the north and south you get different perspectives on ancient and modern history depending on who your tour leader is." Despite the reunification of the country there are still substantially different viewpoints between people from the north and south due to alignments in the Vietnam War (1955-1975) – or the American War, as the Vietnamese call it.
If you'd like to chat about Vietnam cycling or need help finding a holiday to suit you we're very happy to help.

Cultural cycling in Vietnam
Reflecting on his time cycling through Vietnam, Chris Ellis chooses the days spent in the Mekong Delta as the highlight. "Everyone lives off the land, which is very rich and fertile of course given it's a river delta. So you get a lot of amazing fish and other fresh produce, especially fruit. You need to keep up your energy levels when cycling, but rather than the gels and snack bars we use in the UK, in Vietnam we got to experiment with this fantastic tropical fruit. And there are also lots of artisans and craftspeople in the region, woodworkers and weavers for example. It's a really interesting experience, seeing this very traditional, self-sufficient side of Vietnamese culture."

A small group cycling holiday of Vietnam allows plenty of time to discover how people live in the cities and the countryside, and to support the work of craftspeople, your visits helping to keep age-old traditions alive.

Before setting off from Hanoi you might spend a day meandering the capital's tree-lined boulevards, or dip into the Old Quarter where the streets are named for different trades and specialities dating back to the 13th century, such as Paper Street, Silver Street, the Street of Shoes and the Street of Fans. As you go, snack on noodles and sweet treats that you can purchase from vendors swinging panniers from their shoulders.

Your visits support the work of craftspeople, and help to keep age-old traditions alive

Leaving the city behind for more rural surrounds you'll see people building boats, drying rice noodles, or making straw mats by the side of the road. You might pull over to spend a few hours in villages like Dong Ho, known for its folk paintings printed on papyrus-like paper and coloured using easily sourced local materials including charred bamboo leaves and crushed oyster shells. Then there is Thanh Ha, a pottery village where you can poke your heads into a workshop to see practitioners bent at the wheel, just as they have been for centuries. In Poom Cong you might enjoy a few rounds of potent rice wine and spend the night in the home of a local family. And in Dalat, if you ride up into the southern Central Highlands, your guide will explain how some of Vietnam's finest flowers, fruits and coffee beans are grown.
Then there is the Mekong Delta, Vietnam's 'breadbasket' where self-sufficiency is king, and farmers can harvest rice three times a year compared to just once in other parts of Southeast Asia. Climate change poses a serious danger to the delta, with rising sea levels causing major floods. But the real existential angst stems from the way countries 
build dams along the river
for hydroelectric power, as well as using damaging methods to extract sand. Ancient ways of life are under threat here as the river is gradually choked off by short-sighted plundering of resources. Responsible tourists in the delta can spend their money on locally sourced food, as well as products like beautifully woven bags, and homeware made from coconut shells.
How bikes helped win the Vietnam War
One of the main reasons that the North Vietnamese and Viet Cong won the Vietnam War was their style of guerilla warfare, which allowed them to use innovative logistics while inflicting many small but demoralising surprise attacks on the enemy.

The use of bikes was integral to this effort, enabling combatants to move quickly and stealthily around the battlefield, reinforce positions, keep supply lines open, and rapidly fade away after an assault. Bikes could even be lashed together to make rudimentary stretcher carriers.

Camouflaged during the day, by night thousands of bikes would be on the move. Peugeot and Favorit bikes were modified and strengthened so that they could bear wide and heavy loads. The North Vietnamese referred to them as 'steel horses', capable of carrying an astonishing 400kg over distances of up to 40km a day along twisting, narrow trails plagued with tree stumps and roots, and across submerged bridges. Riders also had to contend with overhanging branches and creepers, as well as the constant threat of being spotted by American helicopters.

Despite the overwhelming superiority of America's firepower, they were never able to contend with the ingenuity of the North Vietnamese cyclists. And that inability to disrupt the enemy's supply chains was a key factor in America's eventual defeat.

To learn more about this and other fascinating nuggets of Vietnamese history, just ask your guide.
More Vietnam cycling articles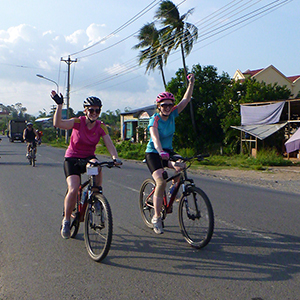 Have a peaceful pedal through the paddy fields, exploring local culture along the way.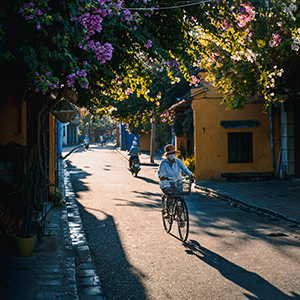 The wonderful thing about cycling here is that in just two weeks you can ride almost the length of the country.