CAMBODIA & VIETNAM TRAVEL GUIDE
Following the curvature of Vietnam from Hanoi to Ho Chi Minh City has become one of Southeast Asia's classic trails with Mekong cruises the culmination of a tour that can also include imperial walled cities, limestone monoliths and some of the finest beaches this side of Thailand. Over the border in Cambodia, parallels await with the all too recent past following a familiar pattern, although the unique experience of Angkor Wat, it has to be said, is something else entirely.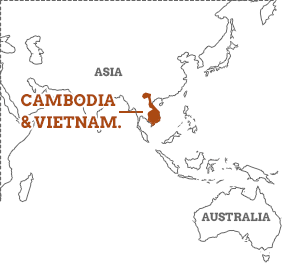 The highlights of halong bay, hue and hoi an come thick and fast in Vietnam, like the scooter filled streets of Hanoi - but will they be eclipsed by Angkor wat, over the border in Cambodia?

If you're looking for similarities between Vietnam and Cambodia, you'll find them. If you're looking for differences, yes, they exist, obviously. However, if you're hoping to untie cultural threads through street food stalls, homestays, temple visits and by not sticking your head in the sand when it comes to the region's history, then, for goodness' sake, don't let a little old river like the Mekong stand in your way.
Find out more in our Cambodia and Vietnam travel guide.
Why combine Cambodia & Vietnam?
Why combine Cambodia & Vietnam within the same tour?
Laura Farnell, Destination Manager at our supplier, Intrepid Travel, explains why combining Cambodia and Vietnam works:
"Cambodia and Vietnam are really unique in terms of culture, religion, history, modern development and landscapes. The beauty of combining both countries in one tour is that you're able see tangible differences without having to travel a huge distance to do so."
'Same-same, but different' was once, perhaps still is, a stock phrase in Southeast Asia, especially Thailand, and on this occasion it also fits quite nicely into reasoning why it's wise to combine Cambodia and Vietnam within the same tour. Forever linked by the Mekong Delta and shared borders with Laos and Thailand, travelling from Hanoi to Siem Reap or vice versa has become far more than simply a rite of passage for backpackers and instead offers opportunities to escape and experience Asia, without the 'gap yah' influence.
Perhaps it's the snaking physical geography of Vietnam that naturally leads you south, along the coast, and into Cambodia. Maybe it's the allure of Angkor Wat and the ancient site's proximity to Ho Chi Minh City, just 10 hours by road, or the ease of border crossings from Chau Doc to Phnom Penh, undertaken by boat ride on the Mekong River. Comparing cultures, expanding historical context, searching for the best beach, the most mountainous jungle trail; whatever the reason, Cambodia and Vietnam holidays work and we think you'll find them anything other than samey.
If you'd like to chat about Cambodia & Vietnam or need help finding a holiday to suit you we're very happy to help.

CAMBODIA & VIETNAM MAP & HIGHLIGHTS
No matter where you start, travelling across Cambodia and Vietnam takes you through some of Southeast Asia's quintessential scenes with the limestone karsts of Halong Bay and the temples of Angkor Wat just a couple of cultural contrasts to point you in the right direction. Following the Vietnamese coast south from Hanoi can take you, via overnight train, to Hue and Hoi An, in the centre of the country, whereas to the west of Ho Chi Minh City, in southern Vietnam, the Mekong River can be followed past Phnom Penh, in central Cambodia, to afford effortless border crossings alongside ever-changing tales of the riverbank.
1. Angkor Wat
You'll need at least a couple of days to do Angkor Wat justice and although it's fun to explore the creeper entwined temple ruins on your own – best hide and seek setting ever – there's nothing like the knowledge and passion of a local guide to bring Cambodia's ruined citadel to life. Timing is everything on a temple tour with Ta Prohm and Angkor Thom appreciated earlier or later in the day.
2. Halong Bay
Just four hours from Hanoi, although another world away when it comes to surreal landscapes, Halong Bay forms the world's largest marine karst setting with over 2,000 limestone monoliths rising from the water like giant pairs of knees in a bath. Set sail on a wooden junk boat and discover secret sandy coves and eerily dripping caves before watching the sun cast shadows as it sets into the sea.
3. Hue
Substantial stonework signifies Hue's standing in Vietnam with an emerald green moat surrounding the Imperial Citadel reflecting the might of the Nguyen Dynasty as well as crumbling royal tombs and the war effected ruins of the Forbidden Purple City. Explore Hue on the back of a motorbike or on-board a dragon boat on the Perfume River, before banh khoai (rice cakes) at Dong Ba market.
4. Kampong Thom province
Situated to the southeast of Siem Reap, Kampong Thom holds some significant archaeological sites, pre-dating those at Angkor, to provide a fascinating history tour, without the crowds. Aside from the Sambor Prei Kuk temples, overnight homestays, in nearby Sambor Prei Kuk, invite home cooked Khmer meals as you ease into village life, way off the tourist trail.
5. Mekong Delta
There's only one way to cross from Vietnam to Cambodia and that's along the Mekong Delta. River banks are alive with industry as kids wave and fathers fish, and floating markets, like Cai Be and Cai Rang, invite a glimpse at life on the water where rice, fruit and flowers are cultivated to stock stalls in Saigon and beyond. Paddle by sampan or just watch the world gently chug by on board a river boat.
6. Phnom Penh
The capital of Cambodia is set at the confluence of the Mekong, Bassac and Tonle Sap Rivers to provide its inhabitants with free flowing imports and exports from which cottage industries, street stalls and marketplaces thrive. This is Cambodia, for real. Local life extends way beyond Angkor Wat with French colonisation and the appalling legacy of the Khmer Rouge, dealt with, but not forgotten.
More Cambodia & Vietnam articles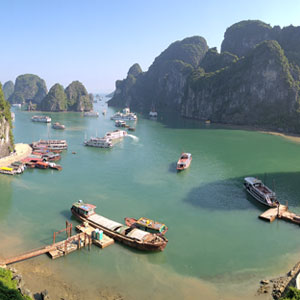 Find out the best time to visit via our handy temperature and rainfall chart.