BEST TIME TO VISIT CAMBODIA & VIETNAM

Summers in the south are soggy, yet still warm, whereas Hanoi heats up so head to Halong Bay for a fresher summer escape although not quite as fresh as the chillier central coast

Southern Vietnam ladles Cambodia into the Gulf of Thailand for comfortable conditions during Jan-Feb. Further up the handle, central and northeast Vietnam are wetter and cooler at the start of the New Year, which also coincides with Tet celebrations to test the patience of travellers. Monsoon season in Cambodia falls from Jun-Oct whereas, in southern Vietnam, it starts a little earlier in May and sticks around until Nov, although afternoon showers are brief and actually quite refreshing. Oct-Nov and May-June are the best times to visit Cambodia and Vietnam as you'll find fewer crowds, less humidity and drier conditions throughout the region.
Our Cambodia & Vietnam Holidays
Our top Cambodia & Vietnam Holiday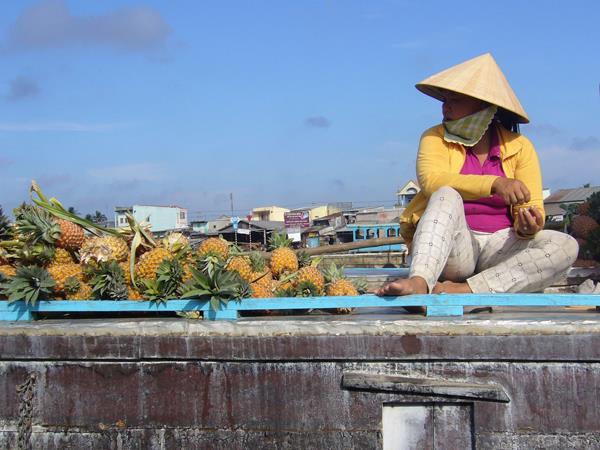 See two wonders of the world in just two weeks
From £2075 15 days ex flights
Tailor made:
Everything is tweak-able, giving you the freedom to build a unique and personal trip for your chosen date. Upgrade your accommodation for all - or just part - of your trip, slow down the pace with few extra nights here and there or add a few more active adventures along the way.
If you'd like to chat about Cambodia & Vietnam or need help finding a holiday to suit you we're very happy to help.

THINGS TO DO IN CAMBODIA & VIETNAM
Things to do in Cambodia and Vietnam...
Spending the night in a Cambodian community, close to the ruins of Sambor Prei Kuk, or visiting a traditional hill tribe village in Mai Châu District, just outside of Hanoi, are just a couple of options if you're looking to learn more about rural Southeast Asia. Homestays are a great way to really begin to understand life away from busier tourist sites with home cooked meals, fairly basic facilities and plenty of peace and quiet unveiling a simpler side that's hard to forget.
This legendary waterway winds its way from Tibet to the South China Sea, splitting Cambodia in half and giving visitors to Vietnam a chance to board a traditional sampan and paddle along narrow canals to seek solace in the shade of overhanging coconut trees. Mekong River cruises can take you past the bustling markets of My Tho and onwards to the picturesque coastal province of Ben Tre although, often it's the journey that you take on the Mekong that outweighs what awaits on arrival.
Cycling tours, cooking classes and overnight junk boat cruises are just some of the ways that you can keep your mind and body active in Cambodia and Vietnam. There really is so much more to this region than days at the beach with kayaking around the limestone karsts of Halong Bay or tethered hot air balloon rides to see the sun rise over Angkor Wat, both unique opportunities to explore from a whole new angle. Alternatively, keep active from behind a lens on a photography tour led by a pro.
Things not to do in Cambodia and Vietnam...
Nowhere do the atrocities of Pol Pot resonate more clearly than on a guided tour of the school-turned-torture prison (S-21) in Phnom Penh. The photos and stories attached are heartbreaking and make all the more harrowing the plight of prisoners prior to being trucked to Choeung Ek, AKA the Killing Fields. Don't ignore the past, read about the war in Vietnam, visit the Cu Chi Tunnels in Ho Chi Minh City, find out about the Khmer Rouge, and meet local people with newfound respect.
Urban reflections over Hanoi's Hoan Kiem lake or emerald green alternatives from Ti Top Island beach in Halong Bay; whatever floats your sampan, don't forget your camera. You don't have to go on an organised photography tour to take great photographs, although it will certainly improve your outlook, with visits to Angkor Wat in Cambodia or the Vietnamese city of Hue conjuring up untold images to inspire even the least imaginative of amateur photographers.
Visiting Angkor Wat without a guide is an option although, when it comes to understanding what you're seeing, only a knowledgeable local expert can really put the spirituality and industry of the 9th century into modern day context. Hoi An, in Vietnam, is also much better appreciated with a guide with sightseeing tours of the UNESCO listed old town offering insight into the region's 16th century trading post past prior to checking out the modern day tailors, galleries and riverside restaurants.
CAMBODIA & VIETNAM TRAVEL ADVICE
Visiting Angkor Wat
Laura Farnell, from our supplier Intrepid Travel, explains what to expect at Angkor Wat:

"Cambodian authorities have issued an official code of conduct for visitors to Angkor Wat and other religious sites regarding dress code. Visitors should not wear skirts or shorts above the knee or tops that reveal bare shoulders; visitors not following the dress code are liable to be refused admission to the sites. Please pack with this in mind."
Dave Tucker, Director of our supplier The Beyond Tourism Co, shares his Cambodia travel advice on how best to visit Angkor Wat:
"Ask your operator how they will do sunrise at Angkor Wat differently. Everyone goes for dawn, so sometimes it's not quite the special, serene experience you're expecting. For example, we approach through the back gate, or you can go a bit later when the tour groups have left. Everyone wants to see the famous sunrise over the towers of Angkor Wat so there can be a lot of other people trying to do it at the same time."
Why combine countries?
Lesley Schofield, from our supplier All Points East, shares her Vietnam travel advice:
"Vietnam combines fantastically with other countries. Cambodia is just a short hop up the Mekong, so you can then contrast the two countries, which are really quite different. Vietnam is still a communist country so it's got quite a different feel to it. It's a bit like Europe as you only travel a very short distance to be in another country with a totally different feel."
Background reading
Laura Farnell, Destination Manager at our supplier Intrepid Travel, recommends reading before you go:
"'First They Killed My Father' by Loung Ung and 'A Cambodian Prison Portrait' by Van Nath are both books that I'd recommend before visiting Cambodia. 'The Sorrow of War' by Bao Ninh and 'Catfish and Mandala' by Andrew X Pham are also worth reading before visiting Vietnam. The books about Cambodia, especially, aren't light or particularly pleasant reads, but really bring experiences home, none more so than if you're visiting Phnom Penh and the Killing Fields."
At Responsible Travel, we think the best people to advise our travellers are often... other travellers. They always return from our tours with packing tips, weather reports, ideas about what to do – and opinions about what not to.
We have selected some of the most useful Cambodia and Vietnam travel tips that our guests have provided over the years to help you make the very most of your holiday – and the space inside your suitcase.

Relax and go with the flow. Cambodians love to chat, they take time out, go to a temple, dress up for the festival...

"You only need US Dollars – no need to get local currency beforehand." – Heather Reynolds

"Take tons of pictures but ask permission. Every time I bought something, I asked if I could take the seller's picture. It made my purchase memorable." – Virginia da Costa

"Be prepared for the sobering reality of the past history; humbling, emotional but enriching at the same time." – Heather Johnson

"Have patience; be open-minded and willing to accept things that you do not see at home. Also be prepared to sacrifice a little comfort when not staying in hotels." – Christopher Jones

We found places where the locals eat which were unbelievably cheap, the food and atmosphere was great and we suffered no ill effects.

"Do not go to Vietnam during the Tet holidays as so many of the museums and restaurants were closed and the temples were very, very busy." – Reni McPhail

"Make sure that you do the 3 day cruise (2 nights) on Ha Long Bay. This takes you to the much quieter parts of the bay and you have time for kayaking." – Dave Hilditch

"Take cleaning wipes, a sheet sleeping bag, black out mask and earplugs for the overnight train between Hanoi and Hue. Not essential but does aid sleep!" – Hilary Sibley
More about Cambodia & Vietnam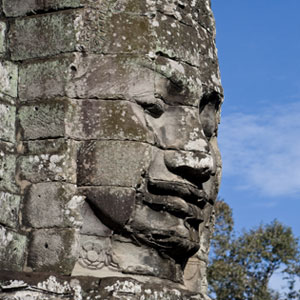 Find out why crossing the border between these two Southeast Asian classic destinations really works as you peel back the pages of our Cambodia and Vietnam travel guide and peer inside two worlds that, although similar, are distinctly different.