Best time to visit Vietnam

The best time to visit Vietnam depends on your destination; long and narrow, the seasons contrast from north to south, and mountains to coast.

The humid south is warm year-round, and the warm May-Nov monsoon season brings brief, heavy showers that barely disrupt travel – but regions around the Mekong may flood. The cold monsoon along the central coast occurs from Oct-Apr and is much less pleasant. Oct-Dec are warm, sunny months in the north; from March it is unbearably hot. May, June and September are the best times to visit Vietnam to avoid the crowds.
Ho Chi Minh City Weather Chart
When to visit Vietnam & when not to
If you're travelling to the northeast or central coast of Vietnam during January, bring a brolly as this the time of year for monsoons.
Surfers might not be so bothered by the fresher winds of February and the majority of the swells off the beaches of Hoi An more than make up for the break in the sunshine.
Jan and Feb are also when Vietnam's New Year's celebrations (Tet) take place. It's a lot of fun (see below), but if you're travelling at this time make sure you're prepared for facilities to be closed and travel plans to be disrupted.
March, April and May are the best times to visit Vietnam's central highlands as conditions are a lot milder as opposed to the much more stifling heat suffered in the south of the country, where it can reach 40°C
Tropical cyclones usually occur in the eastern coastal regions from around May to November, so travel to this region is not advised during this time. Cyclones can be unpredictable though, so keep a close eye on weather reports. This is also when the Mekong Delta is most likely to experience flooding.
Northern Vietnam starts to experience hotter temperatures at the beginning of June and well into July and August which is why it's better to give Hanoi a miss around this time and opt in favour of coastal areas, such as Halong Bay.
September is either the start of the Vietnamese dry season if you're in the north or the corresponding wet season if you're closer to Ho Chi Minh, with sea conditions around Nha Trang not considered the best for snorkellers or swimmers as October turns to November.
December is one of the best times to go to North Vietnam with warm (not hot) sunny days combining with fewer crowds, especially outside of traditional Christmas holidays.
Responsible Travel recommends
Mrs Vo Thi Bich Ha from our supplier Haivenu, is Vietnamese and has lived and travelled all over her home country. She shares her best time to visit Vietnam:
"My favourite time is in the autumn – that's the best time in the north and south. The weather in the north is so pleasant, particularly around Sapa. And the light enhances all the scenery, reflects the colours... it's dry with clear skies, everything looks more beautiful. In Hanoi the weather is lovely at that time and in Ho Chi Minh City, the temperature is comfortable which makes the tours more enjoyable. But you have to sacrifice Central Vietnam, as that's when the floods happen."
Our calendar tip
The Chinese lunar calendar
Vietnam's culture is still heavily influenced by its past links with China; and the lunar calendar is used for most festivals, meaning the date can vary by over a month each year, so do look up dates before booking! Tet marks the first day of the first month of the lunar calendar, the full moon falls on the 14th day of each lunar month.
Our top Vietnam Holiday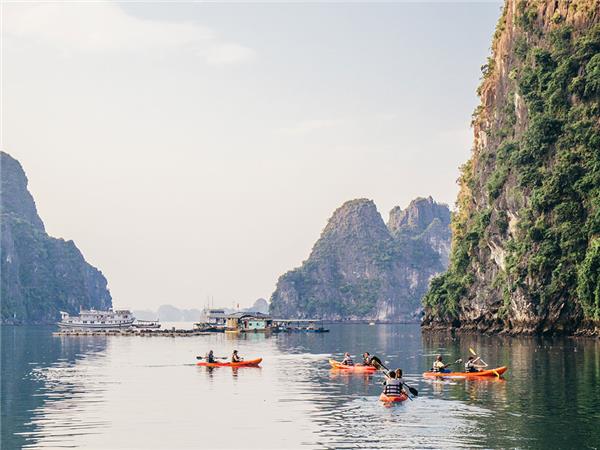 Capture the spirit of Vietnam on this compact adventure
From £660 to £935 10 days ex flights
Small group travel:
Departs every Tuesday, Thursday, Sunday & selected Wednesdays throughout the year
If you'd like to chat about Vietnam or need help finding a holiday to suit you we're very happy to help.

Tet Nguyen Dan
Vietnam's biggest celebration is the lunar New Year, which falls in late January or early February, coinciding with Chinese New Year. People clean their homes, cook special dishes and give children "lucky money" in red envelopes. Tet festivities last up to a month, including firecrackers, fireworks and masked dances – you'll also see flowers everywhere.
Hoi An Full Moon Festival
If you're craving a break from the noisy motos, head to Hoi An for the full moon festival, when motorised traffic is banned and the district turns itself into a stage for the traditional arts, including Chinese opera, chess and lanterns. Temples fill up and there is plenty of tasty food on offer.