West Africa is a place where darkness and light sit side by side, balancing, complementing and creating an intriguing mix of culture and history that fascinates travellers. Its grim stories of slavery contrast with its vibrant contemporary cultures – all singing, all dancing, draped in a rainbow of wax print cloth. The darkness of voodoo stands amid stunning tropical landscapes – wild beaches, ancient rainforest and undulating, sun-baked dunes.

It could be the animistic, the romance of the Sahel nomads, the unsettling voodoo carvings or the sense of venturing into Africa's cultural heart, but West Africa has a sense of magic that a few other places can match.

Unlike in much of the continent, many of West Africa's countries are compact, meaning it is possible to travel overland between two or even three different countries in a single, two-week trip. However, their diminutive size does not make these nations any less diverse; West Africa encompasses both Franco- and Anglophone nations, speaking between them hundreds of tribal languages. It also stretches from the arid Sahel, at the Sahara's edge, through monkey-filled forests all the way to the Atlantic.

Our West Africa travel guide welcomes you into this most fascinating of regions.
West Africa is...
one of the most culturally diverse places on earth. Over 600 languages are spoken here, with many more dialects.
West Africa isn't...
a no go zone. Most are stable, safe and welcome tourists.
West Africa map & highlights
Most of our West African holidays take advantage of these tightly clustered borders to visit more than one country on a 10-day or two-week trip. One classic combination is Ghana, Togo and Benin – for voodoo culture, slave forts and gorgeous coast, as well as the opportunity to discover both Anglo- and Francophone Africa. The other combo is Senegal and Guinea-Bissau, with brief excursions across the river into Mauritania.

If you'd rather stay in one place, Ghana and Senegal both offer ample attractions for a fortnight's break. Alternatively, lengthier overland tours cross the Sahara, before reaching the lusher southern regions and finally the Atlantic. Organised tours – whether small group or tailor made – give access to these little visited corners of the world, with expert guides, local insight – and opportunities to encounter many local people along the way.
1. Benin
Benin is synonymous with voodoo, and this ancient and misunderstood religion casts a powerful spell over this little country, with festivals, fetishes and temples to discover. Darker still is the history of slavery which taints this region, marked by the tragic Door of No Return. Explore a village in the middle of a lake, track big game in a national park, and meet the Somba – who live in impressive clay fortresses.
2. Burkina Faso
A forgotten nation marooned in a sea of sand, Burkina Faso has been left to its own devices to preserve its own culture beautifully. This is perhaps most evident in the incredible Festival of the Dancing Masks, which takes place every two years. But don't fret if you miss it; there are nomadic Tuaregs and Bella merchants to meet, marimba music to tap your feet to, and stunning mud villages to explore.
3. Ghana
As one of the only Anglophone countries in the region, with gregarious inhabitants and political stability, Ghana is a kind of "West Africa for beginners"; a safe, welcoming introduction to this vibrant region. The coast has idyllic beaches, shocking slave forts and tropical forests; or head north for the elephants of Mole National Park, and classic scenes of ochre-painted villages against a backdrop of baobabs.
4. Guinea-Bissau
A little Portuguese slice of West Africa, Guinea-Bissau today remains virtually unexplored, even by West African standards. But that's not for a lack of places to explore. There are the tropical Bijagos Islands, which form Africa's largest archipelago and shelter elusive, saltwater hippos. Discover the "ghost town" of Bolama, remote villages within a flooded forest, and the animistic Pepel tribe – with no other tourists in sight.
5. Senegal
A country of two halves – quite literally, as it is virtually bisected by the Gambia – Senegal is seriously cool, with buzzing bars in Dakar, the Saint Louis Jazz Festival and French-West African fusion food. Take a multi-day cruise up the Senegal River, which forms the border with Mauritania; meet the semi nomadic Fulani people; or take a ferry to the lush Casamance region, with its sacred forest and animistic tribes.
6. Togo
Best visited as part of an overland tour that criss-crosses Benin and Ghana, Togo acts as the filling in a particularly scrummy West African sandwich. Laidback Lake Togo is a hub of traditional culture, with voodoo sculptures, and wooden canoes to cruise in. Visit the artisan villages of the Kaby Mountains, with round houses arranged in a ring, and admire the towering mud forts of the Taberma in Koutammakou.
Our top West Africa Holiday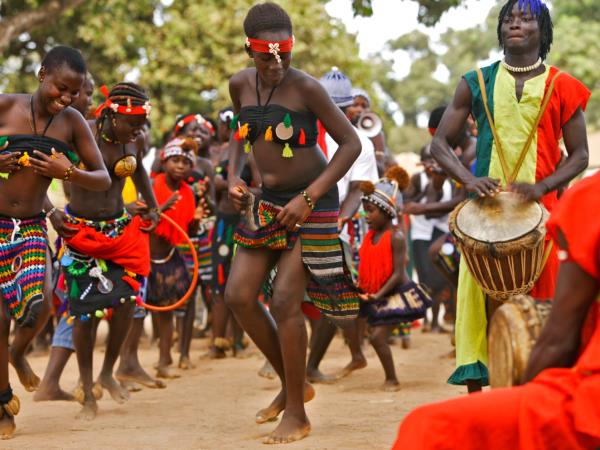 Historic towns, vibrant tribal culture & the Bijagos Islands
From
£3749

to

£4199
15 days
ex flights
Small group travel:
2023: 7 Apr, 17 Nov, 27 Dec
2024: 3 Feb, 5 Apr, 8 Nov, 27 Dec
If you'd like to chat about West Africa or need help finding a holiday to suit you we're very happy to help.