Best time to go to West Africa

Make the most of West Africa's culture by timing your trip to coincide with masked danced in Burkina Faso, Senegal's Jazz Festival or voodoo festivals in Togo and Benin.

Being so close to the equator, these countries experience little variation in temperature throughout the year, with "seasons" restricted to wet and dry, or windy. Oct-Mar is the best time to travel to West Africa in general, with drier weather and more comfortable temperatures. This is the best time to see wildlife, too, as creatures cluster around waterholes, but it is also harmattan season – the dusty wind that blusters in from the Sahara from Dec onwards, creating haze and uncomfortable dryness. Ghana is doable in the rainy season, thanks to its paved roads, but most other countries are a washout.
Things to do in West Africa
Things to do in West Africa
West Africa is the place to go for real, raw culture. Languages and traditions don't just vary by country; in Benin alone, with just 10 million inhabitants, over 50 languages are spoken. There are dancing mask festivals, elaborate coffin carvers (yes, really), animistic tribes, jazz festivals, Ashanti kings, voodoo temples and semi-nomadic cattle herders, roaming the sandy wasteland of the Sahel. Get stuck in – and be sure to learn greetings in a few of the local languages for a guaranteed icebreaker.
With all the focus on culture, it's easy to forget about the wonderful wildlife. West Africa is no Serengeti, for sure; but there is big game here, notably elephants, hippos and buffalo, as well as monkey-filled rainforest and even sea turtles laying their eggs along the wild stretches of coast. There may be fewer animals, but there are also fewer – if any – tourists, making this a particularly special and intimate experience. More importantly, you'll be providing desperately needed funds to these parks and reserves, ensuring the wildlife is protected.
Compared with the behemoths in the rest of the continent, West Africa's countries are really rather tiny – meaning that it is possible to explore two or even three of them in under two weeks. Classic combinations are Ghana, Togo and Benin, or Senegal and Guinea-Bissau. Alternatively, go the whole hog and take a month-long overland expedition, crossing the Sahara desert to reach the Atlantic Ocean.
Things not to do in West Africa
Seek out your cover shot. West Africa and its people are unbelievably photogenic – the stuff of NatGeo dreams. However, they are also as entitled to their privacy as anyone else – so please avoid sticking cameras in people's faces. Strike up a conversation, buy something from their market stall, exchange names – and then ask permission to take their photo. If they say no, thank them and move on. If they say yes – then you have a wonderful backstory to your picture. Buy items made from endangered species. Illegal poaching, bushmeat and voodoo beliefs combine to make West Africa a hotspot for the illegal wildlife trade, with much of it ending up on market stalls across the region. Feathers, bone, fur, teeth, skins and ivory can all be found here; it may be an important part of local culture, but please don't fuel the trade that is driving species to extinction. Dismiss it as a destination for hardcore Africa explorers. South Africa and Kenya have long been the continent's gateway nations, thanks to their great infrastructure and easily accessible Big Five. While we wouldn't recommend a month-long overland Sahara tour or wild camping in Mali for the uninitiated, English-speaking Ghana is a wonderful introduction to the continent; a bit rough around the edges but still a safe, sensory feast. River cruises in Senegal, too, tick the first-time traveller box neatly, eliminating lengthy, bumpy road travel while introducing you to a country explored by few.
West Africa travel advice
Being prepared
Jim O'Brien, from our Benin supplier Native Eye, shares his Benin travel advice:
"Everyone tends to start off with East Africa or Southern Africa. West and Central Africa are much harder, and the attractions are less well defined, so you have to look for them and you have to be prepared for a bit of adventure, and to be honest a fair few problems along the way. We do our best to mitigate any problems that there might be but we always tell people to travel with a sense of humour and expect things to go wrong from time to time – and be patient while we sort it out!"
Senegal advice
Guy Lankester, from our leading Senegal supplier From Here 2 Timbuktu, shares his top travel tips for holidays in Senegal: "Senegal is a very good for first timers in Africa, especially the cruise, because there's not that much travelling involved in terms of road travelling – most African countries are huge. There's a four-hour drive from Dakar to Saint Louis, and then you spend a week on the river. You stop off every day at historic sites or to spend time in villages and you get a fantastic guide on the boat who takes you through the history of the region, the history of Senegal, the history of colonialism and how the cultures relate to each other. In a week's holiday you're doing a journey but you're in good, old-style, colonial luxury. It is a very important river historically, as it was the route into West Africa when the French took the region in colonial times."
Ghana advice
Vicki Brown, Responsible Travel's own travel writer and editor, shares her Ghana travel tips: "Everything you hear about Ghanaians being friendly is true, and the more open you are towards them, the more you will get out of it. Learn how to greet people in the local language (this may mean learning several different words as you travel around!) – you'll cause smiles and laughter and spark up conversations. Outside of the big cities, you won't receive any hassle or pushiness in the markets. Instead they're a good place to chat to stallholders about their produce and handcrafts – they might even invite you to take a photograph of them. Shopping on the markets is such an enjoyable social experience."
Marian Thompson from our Accra-based supplier, M and J Travel, on why she recommends visiting the north of Ghana: "In the north the landscapes are very special and very open – my favourite moment is in the evening when the sun is setting and you can see the big wide landscapes with the baobabs. The landscape is very beautiful up there, there are a lot of rocks. The buildings in the north are also very unique – they are made of mud, they have paintings, they are very beautiful. You can go to the villages and meet a chief."
Benin advice
Marian Thompson, from our West Africa-based supplier, M and J Travel, shares her travel tips for visiting Benin: "Benin has a lot of wildlife – several of the Big Five live here, and you can see them in Pendjari National Park. Ghana just has elephants, so if you combine it with a trip to Benin you can see elephants, lions, cheetah, hippos… it's a good way to combine the culture with wildlife. We usually spend two nights in Pendjari to have time to go on safaris. And at Ganvié you have the "Venice of Benin" – a village on stilts in the middle of a lake. It's very authentic; the people you see there are just living their lives. You can stay in a hotel that is actually out in the middle of the lake, it's totally unique, and one of the best experiences in Benin."

Jim O'Brien, from our Benin supplier Native Eye:
"There's a really interesting fetish at in Savalou called the Dankoli fetish. It is the most powerful fetish in the whole country, so you get a lot of pilgrims coming there to make sacrifices. I don't know what it was originally but so many people have made sacrifices here that it's just this mound of blood and feathers and wax and just congealed, rotting matter that they pay homage to. Voodoo is the state religion; it doesn't have the same connotations in Benin as Hollywood has given it. It's almost like a fairytale world. I'm slightly in love with Benin!"
Burkino Faso advice
Jim O'Brien, from our West Africa specialist supplier, Native Eye Travel:
"Burkina's a really lively country. There are lots of open air bars called maquis, and they're a great place to just sit, have a beer, meet local people and watch the world go by. It's quite an institution in Burkina Faso. Also go and check out some live music in Bobo-Dialassou. They have quite a few places that have live music, and predominantly a local crowd but you get tourists there."
"The markets of the Sahel are a real crossroads of cultures. You've got people from the south and people from the north and that's where they all mingle, so there's a lot of diversity. Once a week all the ethnic groups from the different parts of the region come there to attend the market. So you've got Tuaregs riding in from the desert on their camels with their swords by their sides, you've got the Bella people, Songhai, it's incredibly atmospheric. There are cattle markets, with lots of long horned cattle standing round, many turbans, women in very brightly coloured dresses..."
Our top West Africa Holiday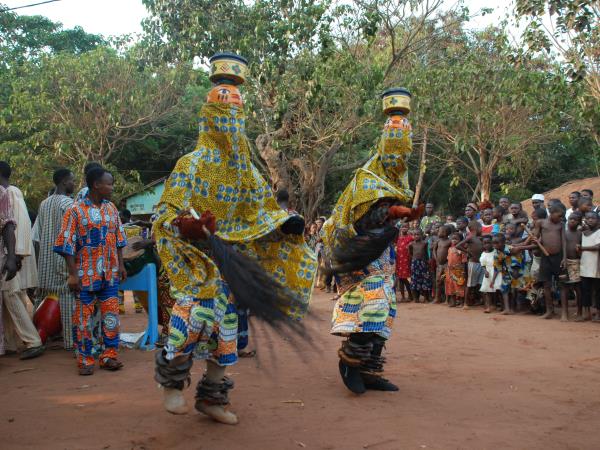 Traditional villages and voodoo in Ghana, Togo and Benin
From £3099 to £3299 14 days ex flights
Small group travel:
2023: 23 Jul, 11 Aug, 19 Oct, 16 Nov, 26 Dec
2024: 8 Feb, 21 Mar, 2 May, 25 Jul, 11 Aug, 5 Sep, 19 Oct, 28 Nov, 26 Dec
If you'd like to chat about West Africa or need help finding a holiday to suit you we're very happy to help.

At Responsible Travel, we think the best people to advise our travellers are often... other travellers. They always return from our tours with packing tips, weather reports, ideas about what to do – and opinions about what not to.

We have selected some of the most useful West Africa travel advice that our guests have provided over the years to help you make the very most of your holiday – and the space inside your suitcase.

We experienced many events but the Voodoo Festival in Ouidah, Benin was the most exciting. It was very colourful and spontaneous...

"Take every opportunity to engage with the locals that is offered and you will return a richer person for it… go with the flow and Ghanaian time… There is no running water, electricity or mobile phone connection, but I wouldn't swap it for any 5* star hotel. If I close my eyes I'm back there!" – Julie Winning

"Ghana is the safest place in Africa I've ever been to and I recommend to people especially who thinks Africa is dangerous to travel and involves lots of hassle to go around. There is not much sightseeing type of tourist attractions… and not as many animals... And yet, instead of being introduced to only tourist-y places, anyone who likes to stay off the beaten path and experience the 'real' Africa in a stress-free environment, it's the perfect destination. I was impressed that many local children in rural villages never begged from tourists… and I was able to feel that people were genuinely welcoming us." – Amy Sakai

"We experienced many memorable events but the Voodoo Festival in Ouidah, Benin was the most exciting. It was very colorful and spontaneous. Numerous people went into trances and engaged in wild dances... Don't hesitate to go. It will surpass your expectations. Don't worry about security. It felt very safe. But be ready for heat and humidity." – Frank Keen



You aint seen nothin' 'til you've seen the huge, smiling king of the Ashantis dance for his subjects - His majesty's still got that swing

– Richard and Holly Pierce in Ghana
If you are a woman bring longer skirts and loose shorts to wear when not at the lodge, because it's considered rude to show above your knees. And every visitor should bring lots of mosquito repellent, sunscreen, and a torch. – Amy Walter

"I had one of my most eye-opening trips – and I have been on many. The tour delivered everything I had hoped for in a holiday that explores the more cultural aspects of West Africa. I now feel privileged to have done it... Travelling through the Somba country and seeing their fortified Tata houses - simply amazing!... Just go ahead and book it as the itinerary covers so much of West African culture, with particular insights into voodoo practices and life inside remote tribal villages." – Mark Langer in Togo