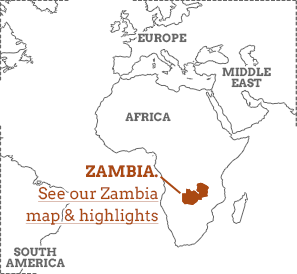 Roll all your romantic notions of Africa into one – crashing waterfalls; rivers reflecting the sunrise; miles of wilderness hopping with wildlife – and that's Zambia. Home to the jaw-dropping Victoria Falls and birthplace of the walking safari, which emphasises becoming part of nature instead of simply observing it, Zambia is diverse and wonderfully unspoiled.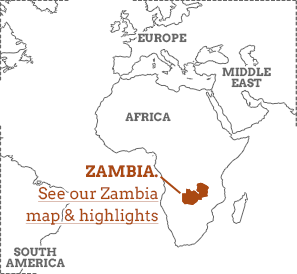 Beautiful and remote, with vast parks home to abundant wildlife and the epic Victoria Falls - Zambia is Africa pure and unadulterated.

The sheer scale and purity of Zambia's natural wonders makes it an exceptional safari destination, yet many of its national parks are scarcely visited, providing a glimpse of Africa as it might have looked years ago. Not that it's stuck in the past! Ziplines and bungee jumps over Victoria Falls bring a 21st century twist, but the real adventure is just being here. Zambia lets you get close to it – exploring on foot, hearing the sounds of the bush, being drenched by spray from the Falls – and while community engagement is still in its infancy, tourism does support local people, projects and schools, where a warm welcome awaits.
Find out more in our Zambia travel guide.
Zambia is...
the country you visit for a real African bush experience.
Zambia isn't...
somewhere to rush through, ticking off your Big Five as you go.
WHAT WE RATE & WHAT WE DON'T
North Luangwa
Ever wondered how Africa looked a century ago? Head to North Luangwa. With restricted public access and a handful of tiny temporary camps, you won't see many – or any – other tourists here. You will see a more diverse mix of wildlife than in South Luangwa, though, with unusual sable antelope, bushpig and blue monkeys living on the Muchinga Escarpment. Walking safaris are the focus of most trips here.
Kafue
Zambia's largest national park is about the size of Wales, on an undulating plateau with rivers running through it. Much less visited than the better-known parks, its low visitor numbers and varied terrain reward patient travellers with great wildlife viewing and a true wilderness experience. If you have time, travel north to south, watching the landscape change from open grassland to woodland dotted with huge granite hills.
Local culture
Though not as heavily promoted as, say, the Maasai in Kenya, Zambia offers cultural experiences. Some communities welcome visitors, including Mukuni Royal Village and Kawaza Village, while good tourist lodges and camps do their bit to support local projects and villages, funding teachers' salaries or working with young women, for instance. You can usually visit and even sponsor these initiatives – just ask!
Wild camping
Wild camping helps you get way off the beaten track, pitching up by the banks of the Zambezi, for instance, while on a canoeing safari. True wild camping means no amenities, so forget the hot shower but embrace the adventure. There's often a participatory element, too, so expect to put up your own tent and do the washing up! Worth it for this intimate bush experience.
Walking safaris
The notion of the walking safari as an experience to bring travellers into the landscape and wildlife they're observing as opposed to just watching it from a vehicle was founded in Zambia's South Luangwa National Park in the 1950s. Today, Zambia is known for its world class guides. Their knowledge will blow you away as will the opportunity to get close to animal and insect life.
Victoria Falls
You cannot go to Zambia without seeing the Victoria Falls. They really are as awe inspiring as they're reported to be. From Zambia, when the water level is low, you can get to Livingstone Island, which is idyllic. There's also the Devil's Pool, a small pool you can dunk in right at the top of the falls and some tours include the chance to appreciate the torrent from the Zimbabwe side, too.
South Luangwa
Marking the end of the Great Rift Valley, the Luangwa Valley is one of the last unspoiled wilderness areas in Africa. Many organised Zambia holidays head for South Luangwa National Park, but despite its popularity, it's never crowded. The Luangwa River flows through it, and the park's lagoons, woodland and plains host huge concentrations of game, including elephant, buffalo, leopard, lion, giraffe and hippo.
Canoeing
You might imagine canoeing in Zambia is only for sporty types, but happily not. In fact, it doesn't matter if you've never picked up a paddle before – canoeing on the Zambezi is open to all and a wonderful way to see wildlife. The Upper Zambezi is peppered with islands and birdlife, while the Lower Zambezi is home to hippo, elephants, zebra and buffalo, browsing the banks or wallowing in the shallows.
Super luxury lodges
Everyone likes a bit of indulgence in the right context, but grand pianos, chandeliers and menus from which you can pick your perfect pillow don't exactly scream 'Zambia', or 'safari', and will likely distance you from what is really special about your surroundings. You'll have a far more memorable experience if you swap your flat screen TV for a spectacular sweeping view across the open wilderness.
Displaying your wealth
Zambia is a welcoming country, and it's easy to relax too much in such a friendly place. Use common sense when strolling around markets, for example, and keep valuables such as cameras in a backpack. Local people are inquisitive by nature, which might come over as confrontational, when really they just want to catch your eye and say 'hello'. But as with anywhere, don't tempt trouble.
Speaking only English
As a former British colony, English is widely spoken in Zambia, but that doesn't mean you shouldn't learn a few words of the local language (there are seven!) – your guide can advise. This is particularly useful if you visit a village or community project. Pack a few gifts, too, such as skipping ropes or art materials; better still, purchase these items once in the country to support local traders.
Sunset booze cruises
Sunset cruises on the Zambezi can be utterly magical, but just make sure you pick the right one. Some cruises use small boats, for an intimate, wildlife spotting experience, with a friendly, informative crew who know a great deal about the river. Others are more like booze cruises, on bigger, busier boats, with unlimited drinks included – more happy hour than hippo spotting.
Eating & drinking in zambia
You can't come to Zambia and ignore the local Mosi beer. Enjoy a cold one as the sun sets over the Zambezi.

The Zambian staple is nshima, a porridge
made from white cornmeal. Eat it with your
right hand, rolling it into balls to scoop up the beans, meat and relish served alongside.

Ifinkubala is a speciality – mopane caterpillars harvested from tree leaves!

As many people don't have access to refrigeration, they still use traditional drying techniques to extend their food's life. Kapenta, for example, are tiny dried fish.

The noise of Victoria Falls can be heard from 40km away, while the spray from the tumbling torrent rises up to 400m and spreads as far as 50km away.

Our top Zambia Holiday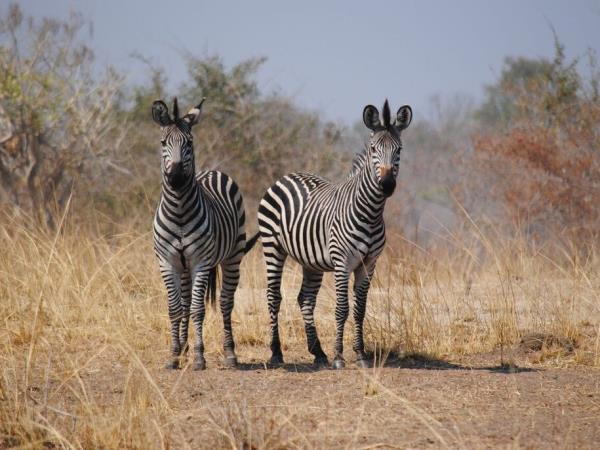 Raw and untamed adventure showcasing amazing African nature
From
£4195

to

£4755
14 days
ex flights
Small group travel:
2023: 26 Jun, 9 Oct
If you'd like to chat about Zambia or need help finding a holiday to suit you we're very happy to help.

People & language
English is the official language of Zambia, but by no means the only one! Zambia has around 72 ethnic groups and there are about as many dialects, but there are seven vernacular languages, which all belong to the Bantu family and are closely related. Bemba is most widely spoken, but on a visit to South Luangwa you'll hear Nyanja.
Greet someone with 'shani' in Bemba.
Thank someone in Nyanja with 'zikomo', a word used to end most conversations.
Gifts & shopping
Brightly coloured chitenge are lengths of batik fabric, similar to a sarong. Women typically wear them wrapped around their midriff, but they also double as headscarves or baby slings.

Woven Tonga baskets from southern Zambia are coloured with natural vegetable dyes, or get their patterns from the contrasts in the materials. There are various styles of basket, and each with its own unique pattern, named after the area it comes from.

At Kabwata Cultural Village in Lusaka you can buy crafts direct from its 80 or so resident craftspeople from all over Zambia. Some larger stalls also sell handicrafts imported from Kenya and Tanzania, though – check you're getting something Zambian, and don't be afraid to barter.

As Zambia is on the copperbelt, you can find lots of beautiful copper jewellery.

Zambia is one of 15 landlocked countries in Africa, but it's home to huge lakes, including Lake Tanganyika, the second largest, oldest and deepest freshwater lake in the world.

How much does it cost?
Half litre bottle Mosi beer: 80p
Zambian meal in inexpensive restaurant: £5
Kilo of bananas from market: 85p
Flight from Lusaka to Mfuwe (for South Luangwa): £120
Victoria Falls sunset cruise: £35
A brief history of Zambia
Some 2,000 years ago, Bantu people from the Congo basin took up residence in what we now know as Zambia, and by the 16th century, these various, diverse groups came together in tribes and small nations, with territories and rulers. This was the Zambia that Scottish missionary-explorer David Livingstone would have happened upon, when he travelled up the Zambezi in the mid 19th century. Thought to be the first westerner to see the natural wonder that he promptly named the Victoria Falls, he wrote home that:
"No one can imagine the beauty of the view from anything witnessed in England. It had never been seen before by European eyes; but scenes so lovely must have been gazed upon by angels in their flight."
Read more