Zambia travel guide
---
2 MINUTE SUMMARY
Roll all of your romantic notions of Africa into one – crashing waterfalls; still rivers reflecting nothing but the sunrise at dawn; and jaw-dropping wilderness disturbed only by the wildlife that reigns there – and you have Zambia. The birthplace of the walking safari – a safari that places emphasis on first-class guiding and travellers becoming part of Nature's arbitrary quirks instead of simply observing them – the experience is as special as the diverse landscape you'll explore.
Zambia's plentiful rewards lie in the simplicity of local life there, the happiness of its people, and the sheer scale and purity of its natural wonders: you will be mesmerised by a seemingly boundless untouched environment where animals are kings; affected by the slower pace of life that flows in line with the rise and fall of the great Zambezi River; and awestruck by the raging rapids of the infamous Victoria Falls.
Find out more in our Zambia travel guide.
Zambia is...
somewhere you visit for a
real African bush experience
Zambia isn't...
somewhere to rush
through, ticking off your Big Five wish list as you go.
Hello.
If you'd like to chat about Zambia or need help finding a holiday to suit you we're very happy to help.
Rosy & team

01273 823 700
Zambia map & highlights
---
MAKE THE MOST OF YOUR TIME
Logistically, Zambia isn't the easiest by road – main road routes are mostly quality, sealed roads, but veer off and you'll be met by ruts and potholes aplenty. It is, however, very well connected via a good network of internal flights. Luckily for us Brits, you can fly directly from the UK to Lusaka, and once there you need only jump on a short flight and face a slow and steady two-hour car journey to reach more remote areas such as the South Luangwa National Park. Do this by road alone and you're looking at a 13-hour stretch.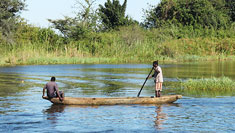 Canoeing
Canoeing is one of the most relaxing ways to appreciate the incredible scenery and wildlife along the Zambezi River, plus it requires neither former experience, nor Herculean levels of fitness. The Upper Zambezi is peppered with islands and birdlife, while the Lower Zambezi – flanked by national parks on both sides – is home to hippo, elephants, zebra and buffalo, all contentedly browsing the banks.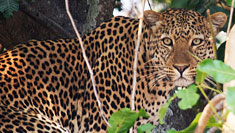 Kafue National Park
Kafue covers an enormous 220,000sqkm and yet remains largely unexplored. The sheer quantity of wildlife you'll encounter here is secondary to its incredible diversity – boasting numerous species of ungulate and rare antelope plus leopard and cheetah, those looking to tick off the Big Five in 24 hours will miss the point of what makes this park so special.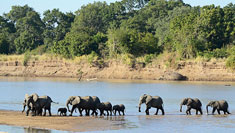 South Luangwa National Park
Credited with being one of the utmost wildlife sanctuaries worldwide and the birthplace of the walking safari, South Luangwa National Park surpasses expectations at every turn. An unspoiled wilderness with one of the highest populations of animals across the whole of Africa, it's home to elephant, giraffe, buffalo and leopard as well as over 400 species of bird. Added bonus? It's never crowded.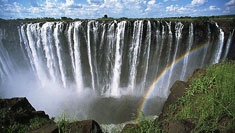 Victoria Falls
The moniker locals pin to the Victoria Falls is 'Mosi-oa-Tunya', which means 'the smoke that thunders', and just one glimpse at this spectacular and immense sheet of gushing water confirms why – double the height of Canada's Niagara Falls, the mile-long, raging waterfall is one of the Earth's greatest spectacles and to see it for yourself is to really feel the full force of its power.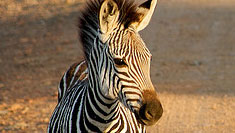 Walking safaris
Going to Zambia and not going on a walking safari is like going to Pisa and foregoing the Leaning Tower: silly. They originated in South Luangwa and are the ultimate way to become part of the landscape, chancing on random discoveries as you go – you could come toe-to-toe with a hippo; spy a newly hatched croc egg; or find a newborn giraffe still wobbling on its bandy legs. Magical.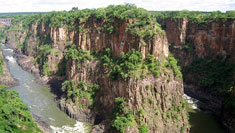 Zambezi River
The great Zambezi River sets the rhythm of life for those that live along it: in the upper part, farmers and fishermen making the most of the unpolluted water; in the middle, serving as a border between Zambia and Zimbabwe and as a playground for white water rafting and kayaking; and in the lower part, flanked by national parks, supporting the abundance of wildlife that dwells there.