Overtourism documentary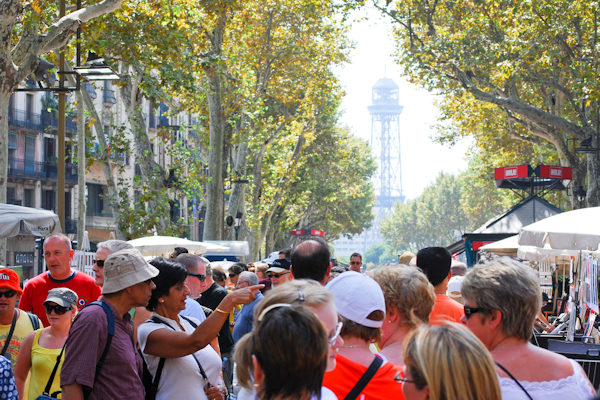 Crowded streets in Barcelona. Photo by
Eric Chan
HAVE YOU EXPERIENCED OVERTOURISM ON YOUR TRAVELS?
Here at Responsible Travel, we're creating a short documentary about the critical issue of overtourism. We'll be sharing the film widely online, as well as a series of screenings, aiming to create movement towards sustainable levels of tourism.
If you've felt affected by overtourism while travelling,
we need your help
. Perhaps you've been overwhelmed by crowds, upset by pollution and litter, unable to find a seat in a restaurant, unable to have an authentic experience due to too many tourists?
Would you be willing to spend 30 seconds recording yourself speaking about this experience?
We're collecting as many of these experiences as possible, to spread the message that overtourism is impacting both local residents and travellers, and the urgent need for sustainable levels of tourism.
WHAT YOU CAN DO
Record yourself speaking to camera for 30 seconds or more. This doesn't need to be professionally filmed – you can do it yourself or with a friend to help.
We're looking for authentic, personal experiences. Some potential questions to get you started:

Give us an example of overtourism which you've experienced on your travels?
What impact do you think was this having on the destination?
How did it make you feel to witness this? Would you return to this destination?

Don't plan your answers, keep it natural, but do try to speak clearly and concisely.
FILMING TIPS
You don't need a professional camera, just use what you have - it's fine if this is a phone.
If using a phone, make sure it is turned horizontally for filming.
Keep the camera steady, use a tripod or balance your camera on a surface if you can.
To get a good sound recording, go somewhere as quiet as possible.
Send the files to beth@responsibletravel.com - WeTransfer is a good free site for sending files. If you also have photos or videos of this experience please include these too.
We're doing this to make sure the film is giving a voice to both travellers and local residents affected by this problem around the world, we think this is key to the film's success.
Find out more about
Responsible Travel and the work we've already done
around overtourism.
Any time you can offer to the project will be hugely appreciated, and will be a big help in creating discussion and change around this issue. With any questions, please email
beth@responsibletravel.com
. Thank you.