Overtourism mapped: Tourism is headed into a global crisis
Ticketing visitors into St Marks Square in Venice, cruise crowds bruising medieval Dubrovnik, Barcelona residents rising up against an ever-increasing influx of visitors – these have all been headline news over and over again. But as our new map shows, overtourism goes beyond a handful of well-known high-profile destinations – it is a global, spreading crisis affecting communities and natural places of all sizes and significance.
Our map, compiled from research into online mentions of overtourism around the world, shows the true extent of the problem. Many other examples, especially those in small places go under reported. Our map is the tip of the iceberg.
Alongside Venice sits tiny Juist Island, Germany, where even relatively small tourist numbers are overwhelming local people, changing the island's character and fracturing a fragile coastal environment. We see Machu Picchu, where
a controversial new airport threatens
to destroy an already intensely vulnerable UNESCO World Heritage Site, lined up with Caño Cristales in Colombia - a site which receives only a fraction of Machu Picchu's visitors and yet its vulnerable river ecosystem is already threatened by an increase in human activity.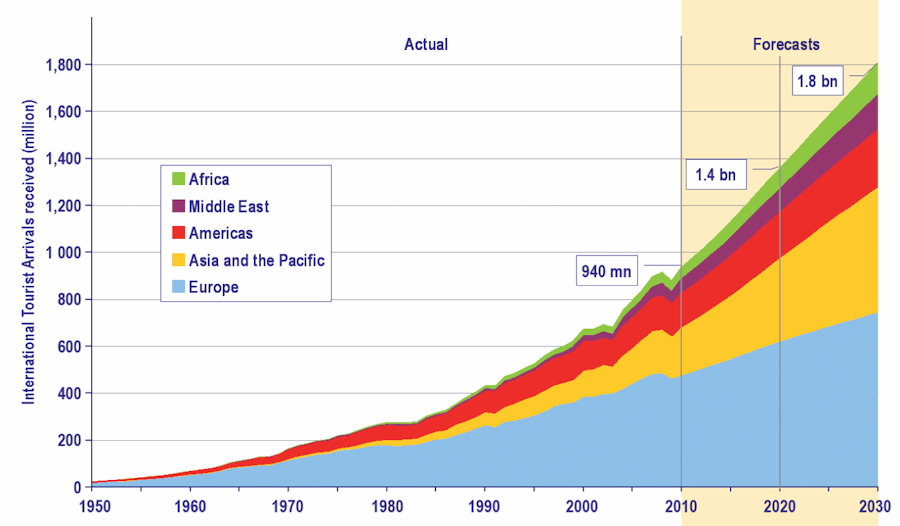 UNWTO tourism growth predictions
Overtourism is not a localised problem. It is a global problem and one that has been in the brewing for years. Tourism growth is not being managed and it will continue to grow enormously over the next 10 years (see the graph from the UNWTO above). Consider that it has never been cheaper to fly – in part a result of the
huge tax break enjoyed by airlines
while international aviation fuel remains exempt from tax and VAT - and the extent of the problem becomes clear. In the coming few years we will be seeing more and more of the impacts of overtourism all over the globe.
The tourism industry and governments worldwide need to take a careful look at how they
facilitate and manage a flood of visitors
to places that lack the capacity to cope.
Tourists have become used to a friendly smile and a welcome at their chosen destination. In an ever-increasing number of places this is changing. Unless the tourism industry changes its track, tourism could become one of the most problematic, and unwelcome, industries on the planet.