"Join a small group for daily yoga classes and guided coast & country walks as part of a relaxing six day holiday in a 4-star country house with pool, close to the beach in Altea."
Highlights
Altea | 4-star hotel with 20 en-suite rooms, swimming pool and gym | 3 x coast and country guided hikes | Puig Campana Mountain | twice daily 90min yoga classes | meditation workshop | maps for self guided walking | indulge with a massage, facial, reflexology, Reiki or chakra balancing session | Optional activities include: beach time, guided bike rides, horse trekking or Spanish cookery workshops |
Description of Yoga and walking holiday in Spain
The combination of Yoga and Hiking makes for a great holiday as, whilst hiking is great for the heart & lungs it can create tight muscles & aching joints. But, with the addition of twice daily yoga, you'll loosen tight hips & hamstrings, increase mobility & flexibility, improve your breathing and build strength all of which will help you enjoy those hikes to the max! Come & join us in sunny Spain & give your health and fitness a real boost!

Non yogi partners/friends welcome too at a preferential rate.

2018 RETREAT DATES
Please note our Yoga & Hiking Retreats ONLY operate on the dates below. Outside of these weeks we'll be running our other yoga retreat programmes! :)

March 22-27
April 12-17
October 4-9
October 18-23

LOCATION

You'll stay in the coastal town of Altea, an hour north of Alicante at a peaceful 300 year old Olive farm that's now a 4-star country house hotel with outdoor pool, 22 spacious en-suite rooms, a small gym & sauna and a lovey yoga room that overlooks the pool & mountains.

This area of Spain has been declared by the World Health Organisation as having one of the 'HEALTHIEST CLIMATES ON EARTH'! We're right next to the sea & have 300+days of sunshine a year, minimal pollution & the most stunning scenery. Perfecto!

We love the hotel's location. It sits at the very point where the countryside meets the edge of town & so we have peaceful, far reaching views to the mountains but we're only a 10 minute walk to the nearby 'old town' of Altea - considered to be one of the prettiest in this area - & 25mins walk (5min cab) to the beach.

THE YOGA

These retreats include twice daily sessions of yoga - hatha, vinyasa flow & relaxing yin - suitable for keen beginners, intermediates & advanced. Our teaching style is precise but relaxed and, as safety is important, expect to hear plenty of alignment cues to keep you on track.

There's no pressure to create the 'perfect' yoga postures. We've all come to yoga with different bodies and abilities and so its important to us that you pay attention to how the yoga 'feels' in your body regardless of whether you manage to achieve the final stage of the posture. It doesn't matter what other people are doing around you, just work with what you have. Be patient, keep practicing and your body WILL open up & let you back in.

THE HIKES

You'll head out on your first morning on a 14k 'Coast & Country' hike along country lanes & tracks nearby to help you get your bearings and stretch your legs after your journey here. Then, two days into the programme, we'll head to one of most famous mountains in this area - the Puig Campana - standing at 1408m, one of the tallest peaks in this area. This 4.5-5 hour hike circumnavigates the mountain - so not up to the top - and includes a stop to enjoy a picnic lunch whilst soaking up the tranquil views. This is a super walk where you'll feel in the very heart of Spain with stunning scenery surrounded by mountain flora & possibly catch sight of eagles, falcons, choughs, red squirrels and possibly wild boar. There'll also be opportunity for a 3rd self-guided coastal hike to the neighbouring town of Albir stopping to enjoy the sea views .. or a little tapas .. along the way.

We do like our retreats to be super relaxed & so if there's a morning you'd like to stay in bed and miss yoga - no problem, or an afternoon where you'd prefer to stay in town or read your book rather than come to class - that's fine! We just want you to do exactly what your heart & soul desire.

OPTIONAL ACTIVITIES

Relaxation is an important part of feeling well & so, in addition to the hikes and twice daily yoga, there will also be some free time to laze by the pool, explore the town, head to the beach, book our amazing massages & healing therapies or, join the guided bike ride or join Chef Juan in his kitchen for his Spanish cookery workshop?

THE FOOD

Whilst your body is busy burning calories during the hikes & activities, we'll be feeding you nourishing delicious vegetarian & pescatarian food.

Each morning before we begin yoga, there's fresh fruits & herbal teas to help you slowly awaken. Then, after yoga, there'll be a hearty buffet breakfasts filled with wholesome cereals, seasonal fruits, Spanish tortilla, selection of local cheeses, fresh eggs from the hotel owners hens, Spanish cold cuts, freshly squeezed juices, breakfast cakes, yogurts, breads & jams. A really good start to the day! On all but 2 evenings we take supper at the hotel. These are vegetarian - sometimes vegan - and local fish is offered some nights too for those that would like it. On 2 eves your taste buds are free to explore the local dining options nearby - these are plentiful! - or you can dine at the hotel.

WHAT'S INCLUDED IN YOUR HOLIDAY?

* 5 nights in spacious ensuite double/twin room. As we don't ask solo guests share rooms, everyone has their own ensuite double for £75 for the week .. unless you want to bring a friend & share?
* Welcome chat on arrival day with refreshments & healthy snacks
* Twice daily 90 minute classes of yoga where you'll learn SOO much with our super experienced teachers
* Guided Coast & Country hike on your first morning to stretch the legs & get to know everyone
* Guided Mountain hike with a picnic lunch
* Maps for self-guided coastal walk
* Meditation workshop
* Fresh seasonal fruits & tea each day before morning yoga
* Hearty buffet breakfast/brunch each day
* 3-course suppers on all but 2 evenings
* Option to go biking, Spanish cookery workshop or book lovely therapies
* Time to relax by the pool, explore the nearby town or just sit with a book you've meaning to read all year
* Services of our experienced Retreat Manager each day to answer any questions & to help organise the perfect holiday for you
* Chance to bring your non-yogi partner/friend to share your room at a preferential rate & enjoy the programme except the yoga classes
* Option to join our private group airport transfers from/to Alicante. We aim to leave the airport on arrival day between 11.00 to 13.00 and arrive back at airport on final day for midday. Transfers take an hour & are €40 each way.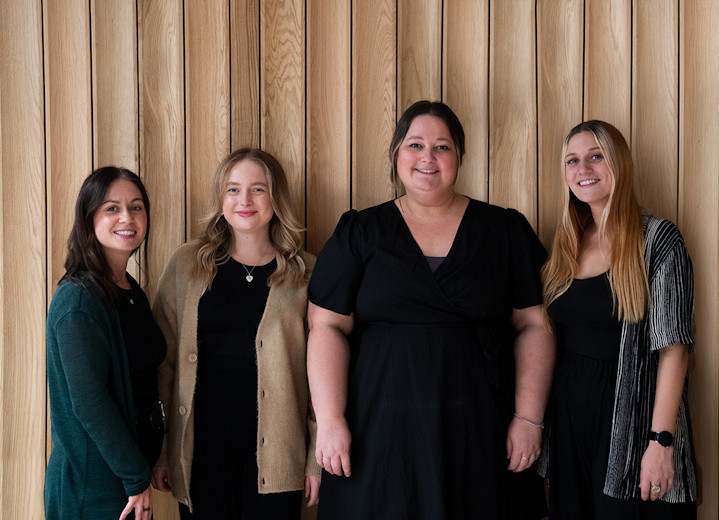 Responsible tourism
Responsible tourism: Yoga and walking holiday in Spain
Environment
Energy & Recycling: In our office, we run our business efficiently recycling all waste material & using natural resources as sparingly as possible. All guests are encouraged to act responsibly by minimising their use of electricity, recycling of waste packaging and specifying when they need fresh towels. Guests are also encouraged to bring their own re-useable water bottles which can be filled up at our yoga hotels. At our hotels, all water taps & toilets have been fitted with a device to reduce water flow, low energy light bulbs are used and hotel rubbish is recycled according to local authority policies.
Building Restoration: In the construction & renovation of the hotels, natural local materials where used and existing features preserved rather than replaced.
Food: We serve typical local dishes with virtually all ingredients being grown or caught locally. This not only minimises packaging and supports local food producers, but our meals can then maintain optimum nutrition levels, being only hours from the ground/sea to the table.
Community
Our holidays take place at carefully chosen venues run by warm, friendly local families. Their pride & passion is evident in the way in which they work to keep the hotels well maintained and in the way they greet guests like friends.
We only employ locals as guides, drivers, housekeepers, cooks, therapists & teachers not just because they are local, but because they are the soul of the area and bring historical colour and a wealth of information that guidebooks do not offer.
We are in-debited to these fantastic people but, in the cold light of day, we realise our holidays help to keep local families together for without our holidays & our generous guests, these families would have to split up & move away from their home area in order to find work.
Culture: We encourage guests to explore & immerse themselves into the Spanish way of life by dining at local restaurants, visiting markets and buying gifts from local artisans and producers. And, if there's a local festival everyone's invited to immerse themselves and taste the Spanish's love of fiestas!
Supporting Local Charities: We support two local charities; a donkey sanctuary that cares for old or abandoned donkeys and a Home for children who are at risk.
5 Reviews of Yoga and walking holiday in Spain
4.5 out of 5 stars
---
Reviewed on 28 Mar 2018 by Shaun Stewart
1. What was the most memorable or exciting part of your holiday?

There were several--the yoga sessions with Nicole and Dionne learning a great deal; the hiking, particularly up into the neighbouring mountains to experience stunning views across valleys and plains out to the sea. The kindred spirits who were on the Retreat with much laughter every day amongst us. Of note, the old town of Altea is delightful and we enjoyed leisurely strolls through its narrow streets.


2. What tips would you give other travellers booking this holiday?

Arrive with an open mind ready to tell Nicole what you hope to get out of the retreat. Bring a good sense of humour and not too many casual clothes as we sat down to a delicious supper at the end of the evening yoga session in our yoga kit without the need to change.


3. Did you feel that your holiday benefited local people, reduced environmental impacts or supported conservation?

Local suppliers of the hiking and cycling experiences were benefitted and did a good job for us. We were made very much aware of local environmental issues affecting the region during our hikes. The hotel seemed switched on to reducing power usage, washing of towels etc


4. Finally, how would you rate your holiday overall?

Rated excellent for value for money and experience
---
Reviewed on 29 Oct 2017 by Catherine Hillier
1. What was the most memorable or exciting part of your holiday?

The hike around the Puig Campana was spectacular! The twice daily yoga sessions were also fantastic: Nicole is a wonderful teacher and put on a variety of classes that were accessible to people of all ages/abilities.


2. What tips would you give other travellers booking this holiday?

Definitely pack proper hiking gear: walking boots with ankle support and also walking poles, if you have them.


3. Did you feel that your holiday benefited local people, reduced environmental impacts or supported conservation?

Yes: The food at the hotel was all locally sourced, even including pomegranates grown in the garden. The external companies used for the hikes and the mountain biking were local too, and in small groups.


4. Finally, how would you rate your holiday overall?

I had an amazing time; I've recommended our tour operator to all my friends and colleagues, and am considering going on more of their retreats.
Read the operator's response here:
Catherine, thank you so much for such a lovely review.

We absolutely love what we do & we're so pleased you enjoyed your holiday with us. We'd be
delighted to see you again when you're in need of another sunny 'escape'! Ooh, & thanks for telling your friends & colleagues about us too :) Hasta pronto!
---
Reviewed on 23 Jul 2012 by Wendy Hilary Evans Lothe
1. What was the most memorable or exciting part of your holiday?

Many, many thanks for such a wonderful yoga break . I really did so enjoy my morning yoga sessions and learnt a lot to help me on my yoga journey. The yoga terrace was perfect. I feel that my practice since coming home has improved after working with such an excellent teacher ( Nicole ). Some of the things she said were really helpfull. And do you know what ? I have just felt happy on my return – a sort of glow with lots of energy. Long may it last. Do hope I can hold on to this when I start work again . I really liked the hotel, the people and the ambience of the place gave me time to read , rest and recuperate during the day. So for me it was all perfect. I do not have any suggestions as to how it could be better. The level of yoga was just right ………not too easy or too difficult. I would certainly come again.


2. What tips would you give other travellers booking this holiday?

Sorry ..... do not really have any.


3. Did you feel that your holiday benefited local people, reduced environmental impacts or supported conservation?

Absolutely.


4. Finally, how would you rate your holiday overall?

10 out of 10.
---
Reviewed on 03 May 2012 by Sarah Adam
1. What was the most memorable or exciting part of your holiday?

The most memorable part of the trip had to be the beautiful setting and air of peacefulness that we lived in for the few days. The hotel itself was a lovely family run place set amongst orange groves and surrounded by the contrasting stark mountains and blue sea.

The atmosphere throughout the retreat was calm and easy-going. You always felt subtly pampered by Nicole and the people who ran the hotel - everything was taken care of. It was an ideal way to find some space to breathe and detach in comfort.


2. What tips would you give other travellers booking this holiday?

This is not a stark or regimented retreat. If you want the treat of a few days to explore your yoga practice and be active while living in comfort and eating delicious (though always healthy!) food, this is the one to book.


3. Did you feel that your holiday benefited local people, reduced environmental impacts or supported conservation?

Absolutely. The hotel was family run, the food from the restaurant was all local and each of the individuals on the team was part of the surrounding community.
Nicola and Gary are quite conscious of the environment and we were encouraged to be mindful of our consumption throughout.

Each of the activities was designed to make as little impact on the landscape as possible.


4. Finally, how would you rate your holiday overall?

I have such fond memories of the trip. It was a perfect opportunity to do some spring cleansing of both mind and body! Nicole and Gary really have the balance right of providing an active and stimulating itinerary while still giving people the space to indulge in whatever form of retreat they need.

I greatly enjoyed the yoga practice though I feel that the emphasis in the classes is currently mainly on the physical practice. I would have loved if the balance had been shifted to the softness and peacefulness that is so unique to yoga. Getting the expertise of two teachers over the few days was excellent though, and I hope it continues.

I already have recommended this to other people and hope to return again in the future!

---
Reviewed on 26 Oct 2009 by Elaine Austin
1. What was the most memorable or exciting part of your holiday?

I really enjoyed the horse riding and thai massage


3. Did you feel that your holiday benefited local people, and minimized impacts on the environment?

Yes, in that all of the services which we had the chane to take part in were from people who lived in the area, the hotel which was chosen was very actively involved in envrionmental issues, recycled, no waste!!!


4. Finally, how would you rate your holiday overall?

It was fab! fab! Fab! Nicloa and Gary are wonderfull hosts, really knew the area and were warm and decent people. The people who attended were also really nice - I am thinking about going back in April!!
---
Popular similar holidays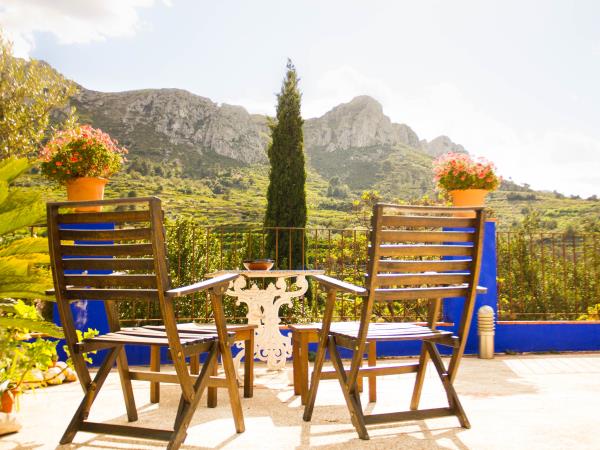 Yoga and meditation in the magical countryside of Valencia
From €476 6 days excluding flights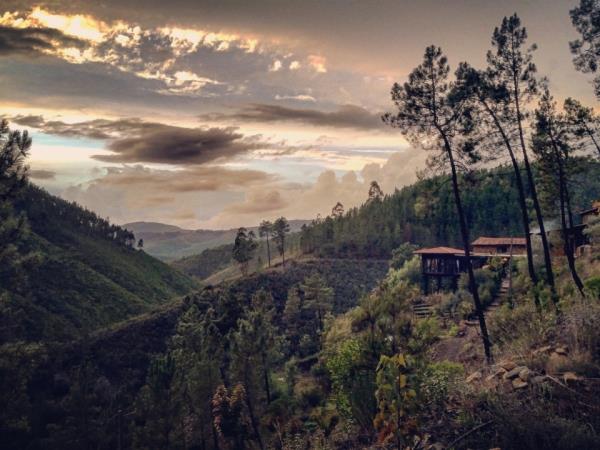 A stunning Yoga retreat in the Portuguese mountains
From €800 - €1200 7 days excluding flights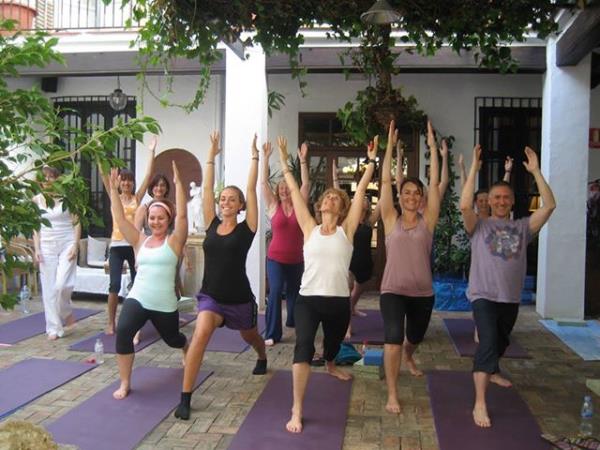 Retreats near the sea @ lovely hotels with a touch of luxury
From £565 - £800 6 days excluding flights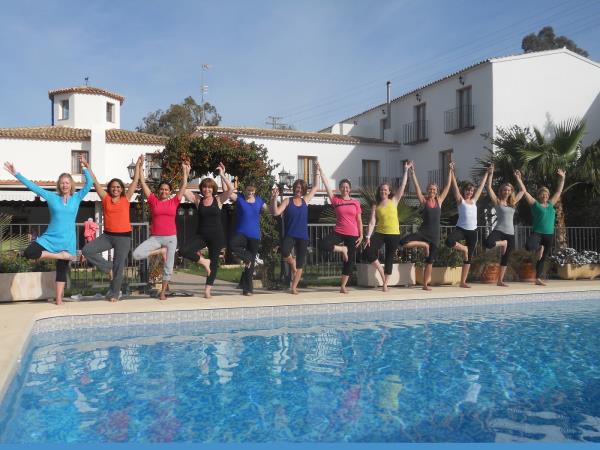 A fab Yoga and Pilates retreat at an old Olive Farm in Spain
From £700 - £725 6 days excluding flights