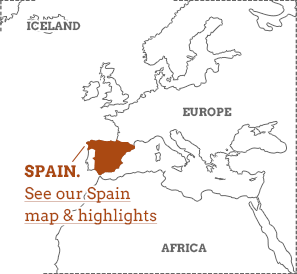 Walking in Spain unearths the secret scenery, delicious cuisine and captivating wildlife known only to the Spanish. Coastal trails, high ridges and world-famous footpaths all offer a unique perspective on a country that has become rightly or wrongly synonymous with irresponsible tourism and putting your best foot forward is the perfect means of redressing the balance.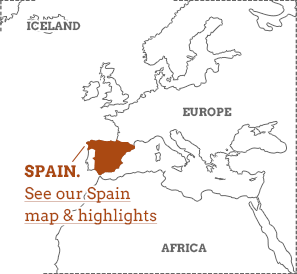 Granite strewn grasslands, hearty rural fare and white walled villages unblemished by tourism; walking holidays allow you to experience, touch, smell and see the real Spain.

Thanks to Spain's rich and varied terrain you'll discover a great choice of walking routes to suit all abilities, with areas away from popular trails offering just as much in terms of healthy exercise and cultural diversity. From blow holes and cheese production in the north to cork oaks and wild olives in the south, walking holidays in Spain are full of surprises so leave preconceived notions at home and explore with an open mind.
Find out more in our walking holidays in Spain guide.
Is a walking in Spain for you?
Do go walking in Spain if...
… you like a range of landscapes. There's much more to Spain than just beaches so prepare for high karst meadows, snow-capped peaks and valleys filled with dense forest.
… you're interested in birdwatching. Southern Spain provides a key passage for migrating birds, such as raptors and storks, as well as an ideal habitat for vultures and eagles.
… you like to get away from it all. Head inland and upwards for better views with fewer crowds.
… you like to set your own pace. Lazy mornings, late lunches and afternoon walks to avoid the midday heat – bliss.
Don't go walking in Spain if...
… you're hoping to stay out all night. If you want to party all night and sleep all day then don't choose a blimmin' walking holiday in Spain!
… sun hats aren't your thing. Even on a cloudy day you will still need to protect yourself against the sun so don't leave home without a hat, water and sun cream.
… you don't like tapas. Walking away from popular seaside resorts is going to mean that you have to face real Spanish food not just a full English or Sunday roast.
… learning the lingo is a hassle. Many remote regions of Spain have yet to be introduced to tourism or the English language. Lucky them! Walk with a phrase book and practise as you go.
Our Spain walking Holidays
If you'd like to chat about Spain walking or need help finding a holiday to suit you we're very happy to help.

What does walking in Spain entail?
Guided or self-guided?
If you enjoy walking under your own steam and feel comfortable following comprehensive instructions, with the added assurance of 24/7 backup, a self-guided walking holiday in Spain is for you. If you'd prefer to follow an expert and find out new things as you walk, whilst not having to worry too much about where you're going, then a guided walking holiday in Spain is just what you're looking for.

At the end of the day, both options give you the chance to get outdoors and experience a side to Spain that few beach dwelling visitors will ever appreciate, safe in the knowledge that your luggage is waiting for you at hand-picked accommodation just around the next bend. Learn the language, watch the wildlife and meet the people that have been largely unhindered by tourism – both guided and self-guided walks encapsulate the surprisingly isolated natural beauty of Spain.
How tough are they?
If you've signed up for a walking holiday in Spain you really should know what you're letting yourself in for. All of Responsible Travel's walking holidays have been graded, introductory, moderate or strenuous, to help make your search easier with no hidden surprises.
Introductory walking holidays are perfect for those who like to walk but also want to save some energy to soak up the views. There are some great introductory walking holidays in Spain with the coastal trail to Cap de Creus Natural Park in Catalonia definitely worth exploring further. Moderate walking holidays step things up a bit and if you're contemplating a bit more of a challenge then the trail across the central mountains on Gran Canaria is one of many moderate walking options. Strenuous walking holidays tend to involve longer distances however, no technical knowledge or specialist equipment is required so you're not in the realm of challenging treks just yet. Check out the routes from Sarria to Santiago de Compostela which require walking for more than 100km over the course of a week.
Centre based or nomadic?
If you like to come home to a few familiar comforts after a good day's walk then Spain has some great centre-based walking holidays where you can return to a comfy bed and pick up your book from where you left off or catch some zzzzs before an evening meal. Alternatively, if you're looking to channel your inner nomad and walk from one place to the next, safe in the knowledge that your luggage will be ready and waiting for you on arrival, there are plenty of free roaming options to sate even the wildest of gypsy spirits.
Hut or high end?
Budget, energy and route will all play their part in where you're able to stay whilst on a walking holiday in Spain and if you fancy booking into a high end hotel, complete with four-poster and spa bath, or prefer to rough it a bit in a traditional shepherd's hut, then both options are ready and waiting. Walking can take its toll on the limbs so giving yourself a bit of comfort is definitely a good idea; however, if you're hoping to walk in remote areas then sometimes you're going to be restricted as to what type of accommodation is available. It all depends how far you're willing to walk.