Spain walking holiday highlights
Once you've walked over Spain's granite peaks, oak infused valleys and softened ridge lines you'll never associate this country with seaside resorts ever again. That said, some of the Mediterranean and Atlantic views that you'll be treated to are simply stunning and there's nothing better than a dip in the ocean after a day spent walking a dusty trail.

Several areas offer not just a different landscape for walkers but very distinct cultural variations too, with Catalonia, the Basque Country and Galicia all sporting very proud claims to their own regional identity. From snow-capped mountain peaks in the Sierra Nevada to the cave systems and underground lakes of Majorca, if you thought this was going to be a day at the beach then prepare yourself for some extremely pleasant scenic surprises with our Spain walking holiday highlights.
Our Spain walking Holidays
1. Alicante
There's nothing like the Sierra Altana to put you in the mood for a walk and you'll find this region a million miles from the overdeveloped horrors of the Costa Blanca. Alicante is full of steep, cultivated valleys criss-crossed with mule trails and walking paths which lead from one remote village to the next. Although these routes are well loved, it's rare to see other tourists – so a few words of Spanish will go a long way.
2. The Balearics
Don't be put off by the Balearics' bad boy reputation; parts of Mallorca and Menorca are perfect for walkers and far removed from the tourist hotspots along the coast. Northwest Mallorca is full of rocky trails leading to twinkling Mediterranean views, whilst Mallorca is incredibly laid back with an abundance of bays and sandy coves to finish a walk and read up on the island's fascinating prehistoric past.
3. Basque Country
A walking holiday in the Pais Vasco offers the best of both worlds, with the Cantabrian Mountains combining with the golden beaches off the Atlantic. Whether you're following coastal trails to Hondarribia or San Sebastian, or steering a path inland along the lush mountain slopes of the Pyrenees, this is a walkers' paradise stamped with cultural footprints – and some of the heartiest food in the country.
4. Canary Islands
The rugged volcanic landscapes, dense forests and coastal stretches of the Canary Islands are perfect for walking holidays, with year round warmth promising plenty of chances to visit outside of peak seasons. La Palma and Gran Canaria, in particular, offer an excellent mix of good quality paths, varied scenery and traditional hamlets with the occasional challenge presenting an achievable aim for the end of the week.
5. Extremadura
Everything about Extremadura screams food and if you're hoping to spend your days walking through chestnut woods, cherry orchards and citrus groves you'll be hard pushed not to tuck into that jamón ibérico sandwich that you stowed in your backpack. The Sierra de Montánchez is definitely the place to start, with numerous paved paths offering a relaxed pace accompanied by sheep bells and sunshine.
6. La Rioja
Take yourself off for a week or two walking in La Rioja and you'll become surrounded by terraced vineyards, mountain monasteries and shaded beech woods as you follow ancient pilgrims' paths from one isolated village or town to the next. This region is a must for walkers who love to compliment a good day spent outdoors with an equally worthwhile evening tasting some of Spain's finest gastronomic delights.
7. Las Alpujarras
This area of the Sierra Nevada is excellent for walking and will take you past ruined castles and meandering rivers or on circular routes which incorporate practically all of La Taha's nine villages. It's also a real treat for wildlife watchers and if you're hoping to walk whilst scanning the skies for eagles and buzzards or ibex and goats in the valleys below then what better way to escape and enjoy southern Spain.
8. Sierra De Grazalema
An absolute hikers' heaven can be found within Sierra de Grazalema National Park, where dolomite canyons collide with limestone cliffs to form an unimaginable backdrop and some of the most dramatic walking routes in Spain. Permits may be required for some of the paths, with the Pinsapar only allowing a maximum of 70 walkers per day which suits the resident raptors and griffon vultures just fine.
9. Sierra Nevada
Just a glimpse of the Sierra Nevada will help you understand what a walking holiday in Spain is all about. The valleys on the southern slopes are full of Berber influence with sustainable tourism now a major factor in keeping this area of Andalucia utterly untouched. White washed villages, glistening snowy peaks and lush green valleys; the Sierra Nevada is to walkers what the Alhambra is to Moorish poets.
10. Spanish Pyrenees
The Spanish Pyrenees will leave walkers breathless and not just because of the steep mountain terrain. Ordesa National Park is an absolute work of art and the autumnal forest foliage in the valleys is considered some of the best in Europe. The Sierra de Guara is another area that's synonymous with walking and features an excellent range of routes for all abilities alongside some staggering rock formations.


Our top Spain walking Holiday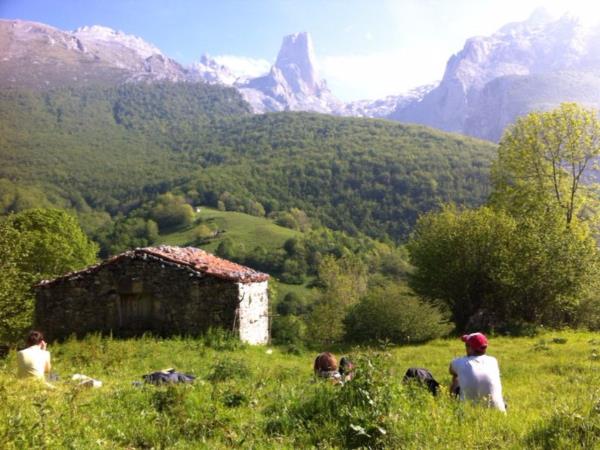 Walk and talk on this small group language holiday in Picos de Europa National Park
From
€719

to

€837
7 days
ex flights
Small group travel:
2022: 14 Mar, 21 Mar, 28 Mar, 4 Apr, 11 Apr, 18 Apr, 25 Apr, 2 May, 9 May, 16 May, 23 May, 30 May, 6 Jun, 13 Jun, 20 Jun, 27 Jun, 4 Jul, 11 Jul, 18 Jul, 25 Jul, 1 Aug, 8 Aug, 15 Aug, 22 Aug, 29 Aug, 5 Sep, 12 Sep, 19 Sep, 26 Sep, 3 Oct, 10 Oct, 17 Oct, 24 Oct
If you'd like to chat about Spain walking or need help finding a holiday to suit you we're very happy to help.

Responsible Travel experts recommend

Don't walk behind me, I may not lead. Don't walk in front of me, I may not follow. Just walk beside me and be my friend.

Ana Rodríguez García, founder of our supplier Peak Me Walking and Language School, shares her knowledge of walking in Spain: "The Picos region of northern Spain is superb for walking as there are routes for all abilities which, although steep, don't require any technical ability. There are also plenty of challenging walking routes within a very short distance however, it's only advisable to tackle these if you are an experienced hiker or you are accompanied by a qualified walking guide. Views are wild and rugged with a permanent mountain backdrop complementing the crashing ocean waves. The coastline is reminiscent of England's Cornwall as it's a karst area so you'll find stone and meadows mixed together as well as inland beaches and blow holes which have formed through centuries of erosion.

Although many of the walking tracks are obvious and well-posted you will need to be able to read a map and take extra care if you are heading away from the trails. The main reason for this is that the weather is so changeable in this area and visibility can lessen just like that. Due to the karst nature of the landscape there are holes everywhere which can be dangerous if you can't see them."
"Most people love walking in this area because of the variation in the scenery and the stunning views of both the sea and the mountains. There are hundreds of beautiful coves and beaches to be found along the coastline and you can be walking on a rugged mountain trail one moment and then ten minutes later you can be surfing at the beach.
As Picos de Europa National Park spans three provinces, Asturias, Cantabria and León, you will be able to explore a protected area of Spain that few casual tourists get to appreciate. This is real Spain where the food, drink and language don't change to suit foreign tourists; this region exists as it always has so don't expect to find fried breakfasts or British beer!"
Marta Marinelli, from our supplier, Exodus, shares her advice for walking in Spain:
"Northern Spain offers more challenging and longer routes, with the classic Camino de Santiago or the wilder Picos Mountains in Asturias. Andalucía, Catalonia and southern Spain offer easier trails (but not only!) which can be combined with some sightseeing in lovely authentic villages."
Victoria and Paul Fellows, from our supplier Walk Andalucia, share their recommendations when walking in southern Spain: "One of our favourite moderate level walks is the 9km route to the lost village of El Acebuchal which traverses dry river beds, high ridges, forest tracks and footpaths which were all used by the Civil Guard and the Republicans during the Spanish Civil War.

A more challenging walk is just over 11kms and takes you from the coastal village of Maro through a stunning gorge and shady forest tracks before ascending to a ruined farmhouse with beautiful 360º views of the Mediterranean and the Sierra Tejedas and Almijaras.

A walk we'd recommend in the Sierra Nevada Mountains is Dos Acequias and Refugio Poqueira which is 17 kms and follows ancient water channels and beautiful mountain countryside before climbing to a high mountain refuge for more stunning views of the surrounding area."