Catalonia walking holidays
One of many reasons why
Spain walking holidays
are so popular is that every region has its own distinct character, and perhaps none more so than Catalonia, with its unique and rich cultural identity. Walking holidays here typically focus on Baix Empordà and Alt Empordà , and inland the Garrotxa Volcanic Zone Natural Park, all around an hour by high speed rail link from Barcelona, but feeling like a million miles from that hectic city, and the crowded resorts of the Costa Brava too for that matter.
Here you can roam shaded Mediterranean forests and visit bays where the water is clear as glass, walk past whitewashed medieval pueblos blancos and through nature reserves where migratory birds throng. Our walks take you to pretty fishing villages and along idyllic coastal paths leading to golden beaches or rocky mountain crags. You might pause a night in Cadaqués, a favourite of Picasso and which so inspired Dalí he bought a home there; wander through ancient Greek and Roman ruins at Empúries, and drink in the sea air from Cap de Creus, the most easterly point of the Iberian Peninsula. Popping a swim costume into your daypack each morning is strongly recommended, for when you chance upon hidden coves or freshwater lagoons.
Walking in Catalonia means undulating but easy-going paths through unspoilt coastline, deep-green farmland, orchards, olive groves and vineyards that welcome you in for a tasting. It means fresh seafood on your plate every evening in one of Europe's most revered gastronomic destinations, tapas bars, sleepy hillside monasteries and local markets. As you get closer to the Pyrenees it can mean steeper, more challenging terrain that rewards with sublime views. Or how about crossing a field of extinct volcanoes covered in thick vegetation in Garroxta? Our walking holidays in Catalonia are enormously diverse, but what they all have in common is their capacity to keep motivating you to see what's around the next bend in the trail.
Our Spain walking Holidays
What do Catalonia walking holidays entail?
Walking tours in Catalonia are usually around a week long, however given that they are mostly tailor-made, there's nothing to say you can't add a day here, remove a day there, if preferable. It also means that you have greater flexibility when it comes to your routes, with operators happy to make adaptations and suggestions according to your preferences.

There is a great deal of choice available to you in Catalonia. Both guided and self-guided walking holidays operate, and you can opt for either a point-to-point trip, one superb route involves journeying from L'Escala to Girona, with different accommodations every evening and luggage transfers, or centre-based itineraries where you will embark on a series of enjoyable walks spoking off from medieval towns or traditional Catalan farming villages. You can also stay in a countryside sportshotel surrounded by scenic woodland trails.

Expect to be covering around 10-16km most days at a relaxed pace, walking for between three and eight hours. The terrain is for the most part easy to moderate, but some sections can be on quite rough ground and steep, so walking poles are advisable and you'll want to be in decent shape, perhaps getting in a little practise before departure.
Self-guided walking holidays in Catalonia certainly don't mean you're left to your own devices – you'll be provided with excellent maps and route notes that will feature points of interest along the way, and 24-hour support of course. Accommodations range from small hotels and pensions to rural bed and breakfasts, booked in advance for you and offering a warm welcome each afternoon.
If you want to take full advantage of that fabulous Catalan cuisine then why not choose an itinerary that blends gourmet foodie discovery in with your exertions? Visit olive oil, cheese and jam producers, tour fish markets and benefit from recommended restaurants that offer traditional and contemporary Catalan cooking: tapas, seafood paellas, recuit (a Pannacotta-like sweet cheese like served with honey).
Our top Spain walking Holiday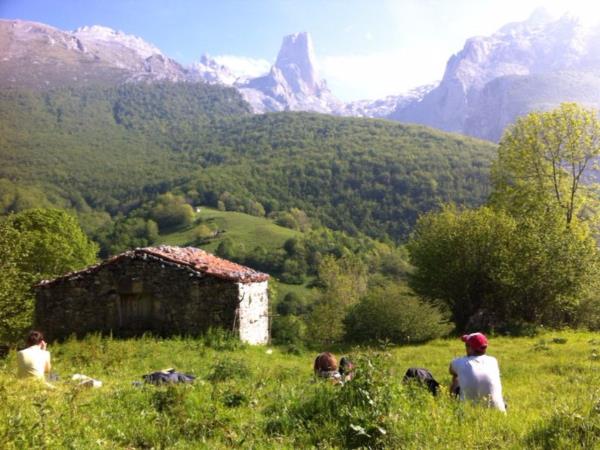 Walk and talk on this small group language holiday in Picos de Europa National Park
From
€719

to

€760
7 days
ex flights
Small group travel:
2021: 9 Aug, 16 Aug, 23 Aug, 30 Aug, 6 Sep, 13 Sep, 20 Sep, 27 Sep, 4 Oct, 11 Oct, 18 Oct, 25 Oct
If you'd like to chat about Spain walking or need help finding a holiday to suit you we're very happy to help.
Best time to go on a
Catalonia walking holiday
You can embark on a trip at
any time of year
, but many operate only in select months because the best time for Catalonia walking holidays is spring and autumn, avoiding the strong heat of summer. From March to June beautiful wildflowers fringe country paths, while September through to early November is harvest season, promising dry weather and pleasantly mild temperatures.
Family walking holidays in Catalonia
Why should the pleasures of walking in Catalonia be confined to adults? You can bring the kids along, with some Catalonia family walking holidays having a minimum age of just 10, and a maximum distance of just 14km per day. These itineraries are centre-based and cover easy to moderate terrain, allowing plenty of time to indulge in swimming off sandy beaches, relaxing by the pool or even sea kayaking.


Catalonia walking advice
from our travellers

MAKE SURE YOU DO THE EXTRA CLIMB TO THE CASTLE OF SAN SALVADORE ON THE LAST DAY. IT'S A GOOD IDEA TO DO SOME HILL WALKS BEFORE YOU COME SO YOU HAVE A REASONABLE LEVEL OF FITNESS FOR WALKING UPHILL.

"Bring a Spanish phrase book as English did not seem to be widely understood ( not a problem at the hotel) Not that easy to find veggie options when eating in local restaurants. However the hotel restaurant provided excellent veggie food and the owners can advise on where to eat." – Rachel Grubb

"We added two extra nights at the end of our trip to enjoy Girona at a more leisurely pace and we would recommend doing this. We also appreciated having two nights in Cadaques... It's worth noting that the heat in July can be quite challenging so a day's break in between walks might be a good idea!" – Anne Withers

"It was well organised, our bags were always at the next hotel, the instructions for the walks were mostly very clear. You definitely benefit from good walking boots and walking poles, especially for the latter walks... we loved being there in early June when there were few people around!" – Jane Patton

"Every day was a lovely little adventure and just being out in the environment was lovely... I had a number of days were I didn't want the walk to end!...The walk had a couple of challenging hills, but definitely was doable for someone with an average level of fitness. Definitely worth bringing a hiking pole for the last three days. I went mid March and the weather was ace, and there were still a number of restaurants open." – Georgina Alsop

We went in February when it was very quiet, if you go at this time of the year make sure you take over trousers and warm walking gear as it was cold even in the bright sunshine.

"Do not bother with extensive research each day unfolds so perfectly that you could not possibly match this attention to detail… Besides it would spoil all the delight and surprise of adventure travel." – Karen Balter

"For walking, I would bring sport sandals for the first two days, shoes that slip on/off easily for walking on the beach, bathing suits (or not…nudity not a concern here), good hiking boots and poles for the remainder of the trip. We needed fewer clothes than anticipated as we washed things out as needed." – Jane Cooper

"We did the trek with a 1 year old baby and had no issues. It was an easy trek but that doesn't mean it's flat, read the itinerary, it's detailed and is a good guide to the terrain you are walking and how much up and down there is and how long the days are. You don't need to be supper fit but do need to be aware. Wear good, broken in hiking shoes/boots and take some bandaids etc for blisters as you would for any long hike." – Jamie Sharkey

"Learn a few words of Catalan. Your efforts will be appreciated and you will be made to feel even more welcome. Remember a lot of places are "tancat dilluns" (closed on Mondays!)" – Alasdair Kenwright

"Book this trip in the shoulder season. We traveled the second week of May, and the weather was great. There were not many people on the trail, in the towns, or at the beaches. Wear a good supportive pair of hiking shoes or boots. We found hiking poles very helpful...We ate local tapas, seafood, and enjoyed local wines. We met many local people who were friendly and appreciative of this particular connection and support from touring folks." – Beth Scherfee