Walking in Spain travel tips
Packing advice
Victoria Fellows, from Walk Andalucia, shares her tips for walking in Spain:
"A light, cotton pashmina/sarong is a great item to keep in a rucksack. It can be used to keep sun off the neck and arms. Keep arms warm if the wind picks up. Something to sit on when resting or eating. It can be wetted in a stream if the weather is very hot. The terrain in southern Spain is very hard and rocky due to the lack of rain. Walking poles are a good idea as they provide extra support and if used correctly can help prevent fatigue."
Ana Rodríguez García, from Peak Me walking and language school, shares her tips on what to put in your daypack: "A bocadillo de queso picón (rustic cheese sandwich), empanada (like a Cornish pasty) and borona (corn flour stuffed with chorizo), are great for a hiker's backpack as they're compact foods with lots of tasty, fatty goodness to restore energy levels."
Marta Marinelli, from our tour partners Exodus, shares her tips for walking in Spain:
"I would recommend booking a guided tour if you are planning to take more challenging and remote routes. If you go for some self-guided walking on easy trails, make sure you have a good map and a mobile phone with you!"
Language tips
Ana Rodríguez García, from Peak Me walking and language school:
As northern Spain is sparsely populated with few tourists it's easy to practise the language when you visit a village either en-route or at the end of a day's walk. Every mountain village will have a shop, restaurant and pub so get chatting to local people about the weather as they'll be happy to give you their own personal forecast.
HEALTH
If you're walking at higher levels, particularly in mountainous areas, make sure you stay warm. Temperatures can fall very quickly so pack extra layers to ensure you're prepared for cold weather.
Be aware of altitude sickness in areas above 2,500m. This includes the Picos de Europa and the Pyrenees. If you feel ill (dizzy, nauseous, breathless, headache), the best remedy is to descend. Avoid alcohol and keep well hydrated to reduce your chances of feeling ill. Acclimatising for a couple of days in the foothills before attempting any high-altitude climbs is also advisable.
It's really important to protect yourself from the sun whilst walking in Spain so don't forget the three S's: sunglasses, sun cream and silly hat.
Tap water in Spain is safe to drink so fill up drinking bottles or hydration bladders to avoid getting dehydrated whilst out walking – and creating plastic waste.
Be wary of ticks when hiking in Spain, particularly La Rioja, as they carry Lyme disease. Make sure you carry tweezers so that you can remove them and be sure to inspect your body carefully at the end of each day. Top tip: Always apply a natural tick repellent first before sun cream.
Ever member of your party (including kids) will need to have a European Health Insurance Card (EHIC). This will give you access to state healthcare in Spain although don't expect it to cover you for every single aspect of medical treatment – this is not a substitute for good travel insurance
Always take out a travel insurance policy and read the small print to check that you're covered for all activities, especially if you're undertaking 'high risk' walking in mountainous areas.
SAFETY
Take safety seriously and always be prepared when self-guided walking in Spain by adding maps, compass, fully-charged mobile phone, GPS, first-aid kit, fire lighting equipment, waterproofs, torch and whistle to your backpack. Spain may seem like one of the safest, easiest travel destinations – but when it comes to extreme weather (heat, snow and storms) as well as high altitude – it's a much further cry from the UK than you might think.
If walking without a guide or group, always tell someone where you're going and when you estimate coming back. Keep emergency numbers safe and find out what the local rescue procedure involves prior to setting off. The emergency number in Spain is 112.
Storms can occur at any time so find out what to do in the event of flash flooding or lightning, especially if you're walking in the mountains. Best advice if there is lightning is to stay below the tree line, avoid isolation and get as low as possible.
Make sure you check local weather forecasts before setting off and ensure you know what to do if things turn bad whilst you're out walking. Have back up plans if things look a bit bleak and don't be afraid to cancel a walk if conditions are too unstable.
Avoid walking in Spain during the middle of the day or at the height of summer – though even in the morning and late afternoon you'll still need to stay hydrated and cover up to protect yourself from heat stroke or burning. Use a sunscreen with a high SPF, even on overcast days, and walk in shade wherever possible.
Walk with an experienced guide if possible or be extra diligent with every aspect of your safety if you're considering walking in high mountain areas. Be aware that due to the increasing number of climbers and skiers who get into difficulties due to negligence, Catalonia has begun to bill those who do not take adequate precautions and require rescuing.
Forest fires are common in summer months. Be extra cautious when using cigarettes and glass bottles, and never leave them behind. Causing a fire is a criminal offence even if unintentional.
Preparation is crucial for a successful walking holiday in Spain and don't even think about foregoing protective clothing and sensible walking shoes in favour of something more fashionable.
Learning basic first aid could make all the difference to the safety of you and your walking companions so learn CPR and what to do in the event of an emergency as well as packing a fully-functional first-aid kit. Find out what to put in a first aid kit.
Call the London-based Spanish National Tourist Office for safety and weather warnings on 020 7486 8077. If heading to the mountains for skiing, consult the European Avalanche Warning Services. For further information on health and safety in Spain, please visit the FCO or CDC websites.
Our top trip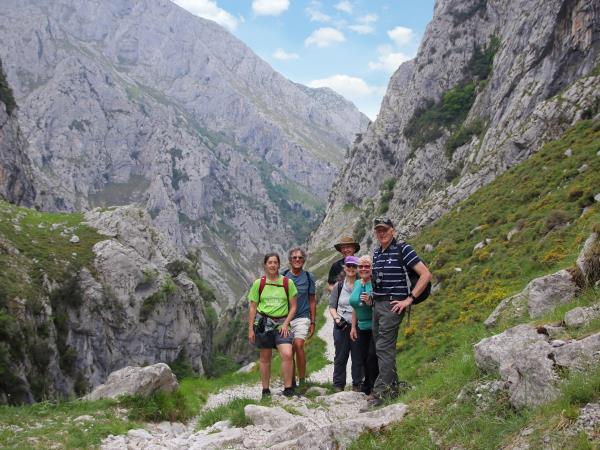 Walk and talk on this small group language holiday in Picos de Europa National Park
From
€750

to

€1500
7 days
ex flights
Small group travel:
Our team in Spain are on break from 6th Nov 2023 - 1st January 2024. All enquiries will be answered on their return from 1st January 2024.
If you'd like to chat about Spain walking or need help finding a holiday to suit you we're very happy to help.

At Responsible Travel, we think the best people to advise our travellers are often... other travellers. They always return from our tours with packing tips, weather reports, ideas about what to do - and opinions about what not to.

We have selected some of the most useful walking in Spain travel tips that our guests have provided over the years to help you make the very most of your holiday - and the space inside your suitcase.

Good walking boots, a reasonable level of fitness, an appreciation of the environment and a spirit of adventure. Be prepared to go with the flow.

- Joy Field, walking in Las Alpujarras
"My partner and I thoroughly enjoyed our week in Andalucia. It's the first time we'd gone on holiday with a relatively small company and we really appreciated the greater flexibility of travelling this way." – Sibyl Ruth, walking in Las Alpujarras

"Come with an open mind, be realistic about your abilities (especially given the nice hot weather) and be prepared to 'try out' your Spanish!" – John Freeman, walking in Andalucía

"Be prepared to take things as you find them, relax and enjoy the warm and friendly atmosphere of the town. The people here are so friendly, and you should try and engage with them as much as possible to add to your experience." – Martin Graham, walking and languages in Picos de Europa

"The walks can be adapted to your wishes and abilities, as can the Spanish of course. Take a travel kettle if you need cups of tea!" – Rebecca T, walking and languages in Picos de Europa

Be prepared for very variable temperatures and weather conditions - as you would expect in any mountain region.

- John & Meg Tyler, walking in Andalucia
More Spain walking articles