Comoros small group holiday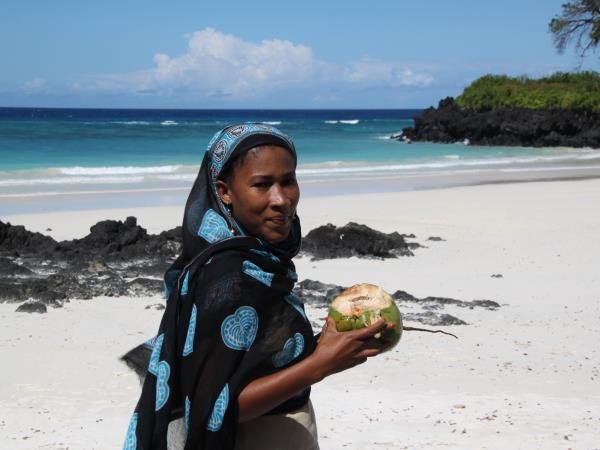 A nine day, small group holiday to one of the smallest island nations in the world. An Indian Ocean archipelago. Far out and fantastic.
Moroni
Grande Comore Island
Moheli Island
Livingstoneís fruit bats
Anjouan Island
Description of Comoros small group holiday
This idyllic archipelago is a mystery to most tourists but a totally magical place to visit, with an extraordinary melange of Swahili culture, ancient Arabic heritage, voluptuous volcanic landscapes and perfect beaches.

The holiday takes you on a tour of three of the four islands. Starting on the main island, Grande Comore, the capital city Moroni translates as "in the heart of the fire", because of its location at the foot of volcanic Mount Karthala, an active volcano. It is a city packed with history, where the medina and markets are the perfect place to stroll, the former sultansí palaces evoke stories and images of glamorous times gone by and the volcanic terrain is made for hiking.

Moving on to Moheli Island, the natural heritage is what strikes us most here, the Mohťli Marine Park a highly protected area created in agreement with the ten villages surrounding the park. Here we can go in search of the highly endangered, enormous and endemic Livingstoneís fruit bats, as well as equally endangered green turtles that come here every year to lay eggs.

Our final stop is Anjouan Island, where the luscious mountain terrain invites hikes to waterfalls, lakes and valleys that are overshadowed by the magnificent summit of Mount Ntingui which, if you manage to climb to its peak at 1595m gives the most amazing views of all four islands in the archipelago. A wonderful place to take in this collection of tranquil, unique landscapes which are still totally undiscovered in the world of tourism.

Check dates, prices & availability
Reviews
2 Reviews of Comoros small group holiday
---
Reviewed on 10 Sep 2022 by
Vickie VINCE
1. What was the most memorable or exciting part of your holiday?

Watching the turtles


2. What tips would you give other travellers booking this holiday?

Have no expectations. This is a rarely visited area of Africa where almost nothing runs to plan and guiding is very basic i.e. you are not made aware of the itinerary or what to expect/wear (e.g. we were informed only that we would be going to the beach but were then taken on a forest hike where it became dark during the hike. People were in flip flops and we had no torches). Be prepared for the huge amount of rubbish left everywhere including on the beach.


3. Did you feel that your holiday benefited local people, reduced environmental impacts or supported conservation?

Not really. Helped the local economy perhaps by bringing in some income. No apparent reduction in environmental impact (perhaps the opposite as the turtle guide had limited knowledge and did not insist of important aspects such as not using normal lighting and therefore the turtles seemed to become stressed).


4. Finally, how would you rate your holiday overall?

Enjoyed this new country and challenging experience. Would not return, however.
Read the operator's response here:
Hi Vickie,

Thanks very much for taking the time to write a review about your recent trip to the Comoros.

Iím really glad to hear that you were able to see the turtles. Another group member mentioned you were fortunate to see both the adult turtles and the hatchlings, which mustíve been a very special experience.

We take the welfare and protection of local wildlife very seriously and will be addressing the turtle situation you mentioned, with our local team and with great concern. A red light should always be used when viewing the turtles and a respectful distance from the turtles kept. It was not acceptable for anybody to get close to the turtles with a bright torch and this should have been managed by the guide. It is common for locals not to be educated about protection of the natural world and its wildlife but the guides should at least have a fairly decent grasp of this and Iím very sorry to hear that this didnít seem to be the case on your trip. We certainly do our best here to make sure that correct measures are taken when it comes to viewing wildlife and approaching their habitats and I will be addressing the management of this activity with our local team to avoid any incidents like this from occurring in the future.

With regards to your comments about benefitting local people, we work with a local team in Comoros, as well as smaller locally-owned accommodations and we employ local guides and drivers. This does benefit the local economy as well as providing an authentic experience for our travellers and keeping carbon emissions down by not employing a western guide.

I am very sorry to hear about the unpleasant experience of finding that islands were littered. As I know youíre well aware, this part of Africa is underdeveloped in terms of tourist infrastructure, especially in comparison to some of its other East African neighbours. The experience in a destination such as this is expected to be a raw and unpolished one, but I can really appreciate how seeing all of the litter you mentioned wouldnít have been pleasant. We are particularly interested in wildlife and the natural world and would be sad to see this, too. There is a long way to go in terms of educating these countries to look after their natural landscapes and wild habitats, but also, a long way to go in terms of local people actually being able to access the infrastructure and facilities to deal with the amount of rubbish they are discarding. I can appreciate itís not a a very nice sight but sadly this is the reality in many parts of the continent.

The guides should also have given clear information about activities and Iím sorry to hear that this wasnít always the case. Iíll be sure to speak to our local team about this, including the hike to the lake. Iím very sorry for the lack of clarity here. Please know that this is not how we intend our tours to be run and we are working hard with our local team to iron out the creases and to avoid this happening in the future.

Comoros is one of our more challenging destinations in terms of infrastructure, due to the sheer fact that it receives very few international tourists. Itís important to see a trip like this as a journey and an insight into island Africa and to manage expectations, as the experience will never be a perfectly polished one. That said, we will be working hard to make changes where possible and know our local team is keen to do so, in order to bring more tourism to the Comoros and to ensure that our travellers have a positive experience.

Iím glad you enjoyed the tour overall and we really appreciate the time you have taken to write with feedback.

---
Reviewed on 05 Sep 2021 by
Toni Jeffries
1. What was the most memorable or exciting part of your holiday?

Scenery and the people


2. What tips would you give other travellers booking this holiday?

Be prepared for untouristed challenges


3. Did you feel that your holiday benefited local people, reduced environmental impacts or supported conservation?

Donít know


4. Finally, how would you rate your holiday overall?

Poor communication of ground operators caused frustration
Read the operator's response here:
Thanks for taking the time to send in your feedback .

Comoros is probably our most challenging destination - not so much in terms of the destination itself, but in the fact that the lack of tourism here means that the infrastructure and level of services on the islands is much below what one can expect in other parts of Africa. Few local people have had the constant practice with tourists that helps them both to understand expectations and refine the services that they provide. We are constantly working with our partner here to improve services, but this is not always an easy task and so we try to highlight the issues involved in travelling here in all of the information that we send our travellers.

Despite our best efforts, itís often the case that things in Comoros donít always run as smoothly as we would like, and perhaps we should have made this clearer in the pre-departure information we sent you. That is not to abdicate responsibility - we do of course try our best to continually improve the quality of services here - but it can be a difficult issue to resolve in a country like Comoros. We will be discussing all of the issues that you mentioned in your email to us at length with our local team to see how best we can avoid similar problems in the future.

Thanks again for taking the time to provide us with feedback - this is always really important to us as it helps us to highlight any areas that may need improvement.

---
Responsible Travel
As the pioneers of responsible tourism, we've screened this (and every) holiday so that you can travel knowing it will help support the places and people that you visit, and the planet. Read how below.
Planet
We spend a lot of this trip exploring some of the landscapes of the Comoros on foot, and we take care to stick to the trails and not to damage any of the flora, as some parts of the region are quite a fragile environment. We operate a strict no litter policy on our tours, which includes the drivers. The Comoros Islands are home to rare and endemic wildlife, and it is particularly important these are protected.

At Itsamia, we watch turtles coming ashore to lay eggs. We ensure that our presence here does not disturb these animals, and only approach once they have started laying, rather than being on the beach when they land, potentially discouraging them from laying eggs. We limit our time with the turtles so as not to cause unnecessary distress.

Similarly, at Wallah we are careful not to disturb the Livingstone's fruit bats - this is a vulnerable species found nowhere else.

The Comoros Islands are one of the least visited countries in the world and western European norms regarding the environment are not so well entrenched, therefore it is quite common for local people to dispose of rubbish simply by throwing it out of the window. We work to educate our drivers and other service providers so as to avoid contributing to this problem.

Similarly, in conjunction with our local team we work with hotels and guesthouses to implement best practices when it comes to environmental matters Ė again in some places this is far behind what we might be used to in other parts of the world. This includes basic things like not replacing towels each day, as well as saving electricity and turning lights off Ė small things but as the country is still really in the early stages of dealing with tourism we hope that they can become ingrained into the culture.
People
On all of our tours we strive to include a strong focus on local communities and we are firm believers of tourism having the capacity to make a positive impact on the places visited. We stay at locally-owned guesthouses and hotels and where appropriate employ the services of local people in order not only to gain a greater insight into the complex traditions here but to ensure that they gain financial benefit from our visit, rather than just being Ďexhibitsí.

We try to employ the services of local guides, from the areas that we visit; not only are they able to offer greater insights and a more intimate connection with the place, but this helps to ensure that some of the income generated by our visit filters back to local communities rather than just being funnelled to centralised institutions. This also helps to show local communities that there is a financial benefit for them in preserving the natural environment.

Some of the areas that we visit are quite traditional with certain codes of behaviour, and the people here are not that accustomed to outsiders. We ensure that our travellers are appropriately briefed in order so as not to offend local sensibilities.

We visit a number of sites and monuments on this tour that do not necessarily receive much funding from other sources; the entrance fees that we include help to maintain the heritage of this country for future generations Ė not just western travellers but more importantly to local people to whom they have far more cultural and historical significance. We use locally owned suppliers and our partners here are deeply involved with the preservation of the culture and heritage of the country. Through carefully supervised tourism, greater worth is placed upon the rich heritage of the Comoros and it is hoped that local authorities will not only have the funds but also recognise the value in restoring and preserving such places.

Where possible we encourage our travellers to spend their money with local businesses; for this reason we do not include meals where it is feasible to eat outside of the hotels, in order that local restaurants are able to benefit from the presence of tourism, rather than the income being channelled just to the hotel.
Popular similar holidays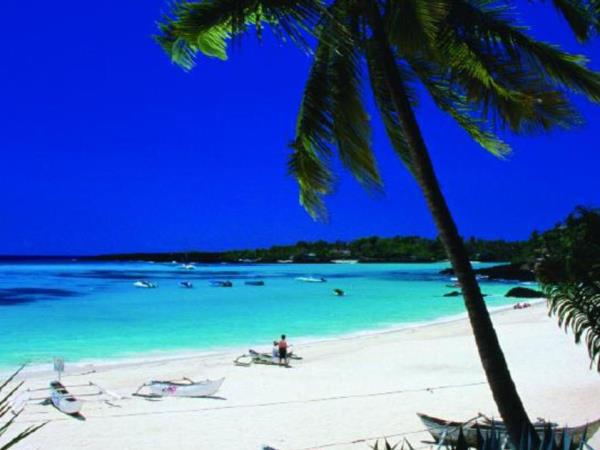 From £1599 11 days excluding flights
Dolphins, coral reefs & volcanoes with virtually no tourists