ALGERIA TRAVEL GUIDE
---
2 MINUTE SUMMARY
Algeria commands respect across the Maghreb region of northwest Africa with Berber, French, Arab and Islamic influence co-existing against a Mediterranean coastline that stretches for over 1,600km. Travellers can make the most of their time here by joining local guides and drivers who will reveal how communities knit together as well as explaining the background to historic UNESCO World Heritage Sites, such as Timgad, Djémila and the incredible Kasbah of Algiers. Train rides take you from Algiers to Oran whilst internal flights head off to Béchar, close to the oasis town of Taghit and the Sahara Desert, to ensure an Algeria experience doesn't feature too many long drives. The Romans left their mark on Algeria as did the Ottomans; however, it's the current inhabitants that might leave the biggest imprint on responsible travellers with traditional souks and street stalls appearing from urban labyrinths offering insight into an ancient world that perseveres in an often unforgiving climate.
Find out more in our Algeria travel guide.
ALGERIA MAP & HIGHLIGHTS
---
MAKE THE MOST OF YOUR TIME
Situated between vast desert nations, Algeria borders the Mediterranean and the Sahara to create the largest African country and the tenth largest in the world. The north coast capital city of Algiers is certainly the best point from which to set out and explore Algeria with Constantine, just over 320km to the east, leading to Timgad and the UNESCO Word Heritage Site of Djémila. Flights from Algiers to Béchar take around an hour and a half and place you on the edge of the Algerian Sahara whilst Tlemcen is about a 7hr drive north of Béchar, Oran is about 2hrs more and then it's 4.5hrs east, along the coast, and you're back in Algiers.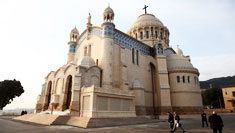 Algiers
Wind your way from the whitewashed waterfront through narrow side streets and expansive, French-style boulevards as Algiers peels back her veils to reveal cosmopolitan, colonial and Islamic contrasts seemingly stacked at random. Rooftop views over the Bay of Algiers from Notre Dame d'Afrique, the Kasbah and Maqam Echahid, captivate, especially when accompanied by an evening call to prayer.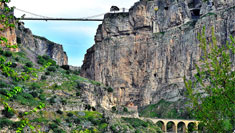 Constantine
Coined the 'City of Bridges' thanks to the canyon that cuts through its centre, Constantine offers an exciting yet ancient ambience where mosques and minarets stretch skywards whilst the Rhumel River flows below. Despite the dramatic setting, Constantine has remained beyond tourism which makes visits to the old town kasbah and market, and the Palace of Ahmed Bey, all the more enlightening.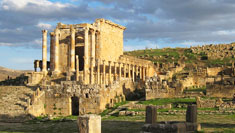 Djémila
The mountain village of Djémila boasts some of North Africa's best kept ancient ruins with an impressive Roman amphitheatre and numerous arches, columns and paved piazzas to be found straddling slopes some 60km inland. This is a unique example of a Roman citadel built on a mountainous landscape with dramatic views always appreciated just as much as the ancient architecture.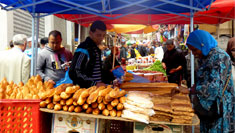 Oran
The coastal setting adds impact to a trip to Oran with the gigantic market at Medina Jedida, the 17th century mosque at Sidi El Houari and the all-encompassing views from Santa Cruz Fort, on top of Mount Murdjadjo, all to be found on a sightseeing tour of the city. Seaside resorts and ancient forts vie for space with modern structures as Oran tries to cope with an increasing influx of visitors.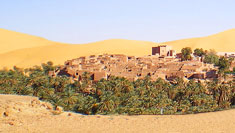 Taghit
Extreme conditions make the oasis town of Taghit all the more fascinating with date palms leading into the Algerian Sahara to add to the appeal of relative isolation. Nearby Neolithic rock carvings and ancient mud brick houses make Taghit an intriguing base between Béchar and Beni Abess as well as serving as an introduction to life overlooked by the dunes of the Grand Erg Occidental.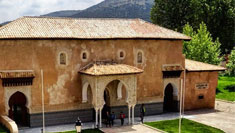 Tlemcen
Berber, Andalucian and Moorish influences have turned Tlemcen into an epicentre for art and architecture; a fine example being the mausoleum and adjoining mosque of Sidi Boumedienne. Leather and textile workshops can also be found throughout the city with the fortified citadel of Mechouar offering an oasis from where to escape the streets within its still imposing palace walls.



Hello.
If you'd like to chat about Algeria or need help finding a holiday to suit you we're very happy to help.
Rosy & team.
01273 823 700