We're all just big kids when it comes to deserts. They're sand pits for our imaginations, so incomprehensibly vast and empty, that we fill in the blanks. In the 19th century, there was a Jules Verne-worth plan to flood the Sahara with seawater, and make a Sahara Sea, but this desert isn't to be trifled with. Besides, it already has its own sand seas – known as ergs, which shift and sing and rumble like any ocean.

It's a bare, brittle environment, where trees die on their feet, and dust devils (whirlwinds) and sandstorms descend. The Saharan sirocco – a desert wind – can be felt right across the Med.

Thanks to the problem of desertification, the Sahara grows bigger every year, threatening to engulf the historic trade route towns on its edges. In summer, it reaches temperatures close to 50°C. Who would want to visit such a hostile place? Well, once you're on the top of Erg Chebbi and the sun is resting its molten form on the dune-soft horizon, you'll see. The draw of the desert is intoxicating, and everyone should experience it at least once.
The Sahara is...
Best experienced from a Beduoin desert camp – sleeping on the sand next to the cooling embers of a campfire comes highly recommended. Mr Sandman, bring me a dream.
The Sahara isn't...
A walk in the park. Expect a long drive to reach the edge of the desert, unmade roads and no shade to speak of.
Our Sahara Desert Holidays
What does visiting the Sahara entail?
So go on, we hear you ask, how do I visit the middle of nowhere? Well, first of all, most tours don't just magically drop you in the middle of the desert. It takes time to reach the Sahara proper from civilisation – which means a long drive to the gateway towns that sit precipitously on the desert's edge. To get to Chinguetti, Mauritania, for instance, it's 65km from the nearest town on unmade road. The most popular, accessible place from which to reach the edge of the desert is in Morocco. You can drive from Marrakech to Merzouga or M'Hamid in a day to see the
Moroccan Sahara
. Most tours will probably let you spend a few days in Marrakech, before heading up the Draa valley – as a small group, or in a tailor made tour, stopping at interesting settlements along the way. Once you reach the famous sand seas, you'll spend maybe one night in a desert camp, before heading back.
Morocco gives you a taste of the desert – but
Algeria
, well, Algeria is the desert. The Sahara occupies four-fifths of the country, so it's pretty hard to miss. Spend between 10 and 15 days in the country on a small group tour and you'll enjoy plenty of time in the dunes. On your trip, you can either drive down from Algiers or take an internal flight straight to the desert towns of Timimoun or Bechar. Four-fifths desert not quite enough for you? You can also find intrepid Sahara experiences in
Chad
and
Mauritania
(90 percent of which is in the Sahara). You can expect to spend a lot longer in the desert on these trips – between two and a half and four weeks – driving across wind-whittled plateau and water-haunted river valleys.
The Sahara's sand trickles into dangerous territories like Libya, where you can't currently travel. Some of the Sahara's most cinematic scenery is in Tunisia – the field of sand dunes known as the Grand Erg Oriental, and even abandoned
Star Wars
sets can be found here. Following the 2015 terrorist attack, though, a state of emergency has been in effect in Tunisia and in the UK, the
FCO
advises against travel to many areas. The Western Sahara is a disputed region, and the FCO currently also
advises against
travel to much of it. However, specialist small group tours do enter the region from Morocco.
Our top Sahara Desert Holiday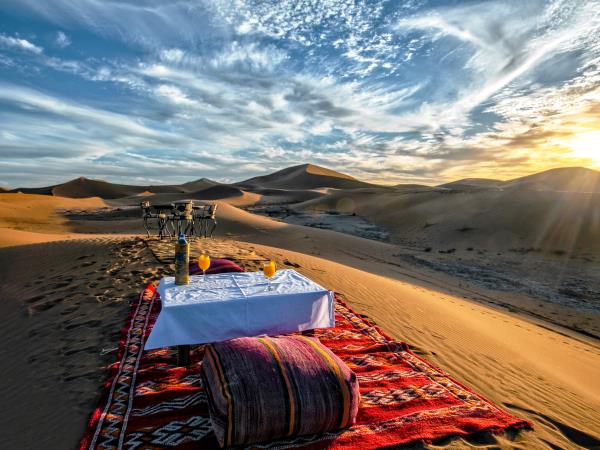 Marrakech and Sahara - stay in a Riad, sleep under the stars
From
£975

to

£1075
7 days
ex flights
Tailor made:
This trip can be tailor made throughout the year to suit your requirements
If you'd like to chat about Sahara Desert or need help finding a holiday to suit you we're very happy to help.

The Sahara is one cheap map to make, as there are very few landmarks plotted on its surface. The Sahara's 'highlights' are all on its edges: little towns are like drawing pins, stretching out a blank canvas of deserted desert between them. These 'last towns before the desert' feature sand-drowned stone houses, squat, square mosques and ancient ksars (fortified old towns). In the desert itself you'll find some surprising features. Rolling sand seas (ergs) make up 25 percent of the Sahara, low-lying oases provide brief areas of habitable land , whilst huge elevations, like Chad's Ennedi Plateau and Tibesti mountains, add dramatic topography.
1. Chinguetti, Mauritania
Chinguetti means a lot to Mauritania; its mosque is one of the symbols of the country. Yet this remote town is in danger of being swallowed by sand. Encroaching dunes loom all around, threatening to turn its long history into distant memory. Its ancient ksar (fortified old town) is on the UNESCO list. Its five libraries contain precious Quranic manuscripts left by pilgrims en-route to Mecca.
2. Erg Chebbi, Morocco
Morocco's most famous dunes reach over 100 metres above the plain, dwarfing the town of Merzouga beneath. The dunes' famous colour – a delicious apricot – ripens beautifully at sunset. Erg Chebbi is a popular spot, and the ergs come criss-crossed with the tracks of 4WDs. You might see tourists buried up to their necks in sand – don't panic, they're trying out an ancient rheumatism cure.
3. Erg Chegaga, Morocco
Erg Chegaga is at the end of the road. This rolling dune-scape is harder to reach than the more famous Erg Chebbi, and you'll be rewarded for your efforts with far fewer visitors. The nearest town, M'Hamid, is often considered the gateway to the Sahara. Camel caravans used to stop here before their epic 52-day desert trek to Timbuktu in Mali. It's two hours from M'Hamid to the foot of Erg Chegaga by 4x4, and a day's drive from Marrakech.
4. Ennedi Plateau, Chad
Chad's extraordinary Ennedi plateau is one of the highest points in the Sahara. A brutishly big massif the size of Switzerland, its sandstone rock formations form a natural sculpture park and Toubou camel herders corral their charges from guelta (billabong) to guelta in its folds. Guelta d'Archei is a firm highlight here. Rare Saharan crocodiles and herds of camels converge in the black water under its vast, sandstone bulwarks.
5. Tamegroute, Morocco
On the edge of the Moroccan Sahara is one of the area's oldest villages. This inconspicuous cluster of buildings is home to a prestigious Islamic school, the Zawiya Nassiriyya, which holds a library of exquisite illuminated manuscripts. Tamegroute ceramics are less precise in their beauty. Made out of clay dug from the Draa River, and hand dipped in a vivid green glaze, each one is unique.
6. South-Central Algeria
Skirt round the fringes of the Sahara on bumpy roads in south-central Algeria and you'll come across the towns of Taghit, Beni Abbes and Timimoun in slow succession. These outposts offer travellers respite as they come down from the windswept Grand Erg Oriental. Beni Abbes is known as the pearl of the Sahara. They say that it takes a single grain of sand to start a pearl: surrounded by soft dunes, Beni Abbes has more than enough.
More about Sahara Desert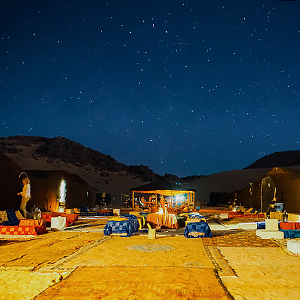 So, you want to visit one of the most hostile environments on earth? Prepare yourself for a place of extremes, soaring heat, and strange beauty. Read on to find out the best time to go to the Sahara.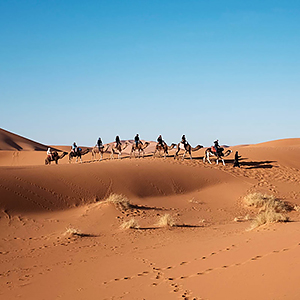 The Sahara is a playground for all sorts of fun activities – from off road driving to sporty sand boarding, but this fragile environment should be treated with care.