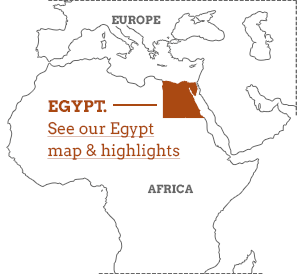 The sheer enigma of Egypt as a destination is so deeply ingrained in our perceptions of history, culture and civilisation that it's taken on an almost mythical quality; phenomenal ancient discoveries are still being uncovered today, which seems an impossible amount of marvel for one place to boast. It is the oldest tourist destination on Earth and its pulling power as a land of unparalleled landmarks shows no sign of waning today. Post-revolution, the country is stable and though tourist numbers are down, they are showing remarkably swift signs of recovery.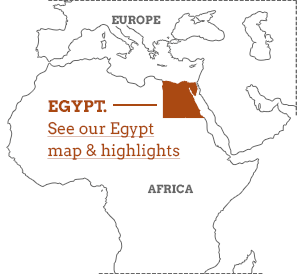 Egypt gave birth to what later would become known as 'Western Civilisation', long before the greatness of Greece and Rome.

– John Henrik Clarke, Pan-Africanist writer and historian
That the Great Pyramid of Giza is the only one of the Seven Wonders of the Ancient World still standing, is testament to Egypt's timelessness.
Egypt is...
An atmospheric cradle of over 5,000 years of history and culture.
Egypt isn't...
Cold. Temperatures in high summer have been known to hit 51 degrees centigrade and it very rarely rains.
What we rate & what we don't
Budget trips
You don't need to go luxe at Luxor or navigate the Nile in style. You can visit Nubian villages or hire a felucca for fun. Because budget trips do not mean compromising on culture. They might mean joining a small group tour at the last minute, or going on an overland trip between Egypt and, say, Jordan. So, forgo the thread count on your Egyptian sheets and see the countless Egyptian wonders instead.
Family adventure
Family trips to Egypt are the antithesis of dragging your kids to the British Museum to see the mummies. They can combine pyramids with PADI courses, Philae Temple with fun on a felucca and the Sphinx with snorkelling – with dolphin watching and dune boarding the icing on the cake. Great value to be had for families in Egypt right now too, with bargains available through our responsible holiday companies.
Felucca trips
What the felucca? You have to love this word, just as you have to love the thing itself – a traditional wooden sailing boat used on the Nile and the Red Sea by for fishing and transport. And now mostly for fun. With growing concerns about cruise boat pollution, feluccas float freely through the flotsam, are often run by small, locally run enterprises, and stop at glorious sites along the river for essential cultural hits.
Dolphin watching
From March-Nov dolphins dance and dive around a horseshoe-shaped reef which is "zoned" to ensure boats don't disturb them –only the curious come out to inspect the boats. Snorkel with dolphins, sea turtles and a huge variety of creatures here in safe, shallow bays. Check out responsible companies running highly supervised swimming with dolphin trips. Not theme park style, totally animal welfare style.
Pyramids
They aren't just rated, they are Egypt. Immense, mystical, ancient, sometimes spooky, other times beautiful, transfixing for some, transformative for others. And yes very touristy, but less so at the moment as visitors numbers have dipped drastically post 2011 Uprising. There are over 100 pyramids across Egypt, but the trio at Giza the medal winners, gold, silver and bronze all glittering as the sun sets.
Red Sea diving
You don't have to go to Sharm to scuba. Check out the joys of smaller places like Dahab for year round good diving. And shore based too, with the Red Sea dropping to great depths very quickly which makes this a fab place for beginners and family diving holidays. It's no amateur scene under water, however, with over 1,000 species of fish and 150 of coral. Always choose a responsible diving company.
Aswan
Home to the famous Aswan Dam, infamous to the region's indigenous Nubian people who were displaced only to watch their ancient homelands submerged into history when the dam was built in the 1960s. Their culture and language is re-emerging, however, with Aswan and its stunning environs home to villages, felucca trips and markets a must when you head to this, the Nubian beautiful south.
Abu Simbel Temples
Built by Ramses II, these temples were totally dismantled and rebuilt when the Aswan Dam was built and Lake Nasser flooded. Now carved into the rock face and tunnelled into the hillside, rather than standing alone. People gather here annually on the eves of Oct 22 and Feb 22 to watch the rising sun illuminate just three out of four of their statues leaving the God of Darkness, Ptah, in the shadows.
Sharm El Sheikh
A sterile land of ever-expanding infrastructure, which does nothing for its already very minimal appeal, Sharm El Sheikh is all about all-inclusive resorts and little else. Credit where credit's due, it does have a fantastic array of dive spots, but so does Dahab, a much less developed spot which we highly recommend as an alternative.
Straying in the Sinai
Since the 2011 Uprising, security measures have become more stringent – camping in the White Desert is a no-go, as is visiting the midst of the Sinai Peninsula (but that's been a no-go for more than a decade). Holiday companies are aware of this, which is one reason we highly recommend booking your trip through someone with an in depth and up to date knowledge of the region.
Giant floating hotels
As well as the giant ones on the Nile, many of which have dubious environmental records, there are huge liners pulling into Alexandria and Port Said. Peak season is during the cooler months of October to May if you want to avoid the passenger onslaught at major sites. At Responsible Travel we believe that tourism is definitely one area where we do not need a bigger boat.
Camel trekking
Everyone wants to do it, but be aware that many of the camels are mistreated, underfed and overworked. If they look skeletal or listless, then don't use them. And if you are unhappy with the way they are treated, tell your tour operator. And tourist board, if necessary. They might get the hump – but it's important they know that bad animal welfare practice isn't on.
If you'd like to chat about Egypt or need help finding a holiday to suit you we're very happy to help.

Eating & drinking in Egypt
Egypt is surprisingly great for vegetarians. Try Kushari , a pasta and lentil based dish with some chilli or garlic oil – it's so cheap, it's virtually free.

Fast food city is ful wa Ta'meya , or fava beans and falafel also made out of fava beans, unlike the Lebanese one which is chickpeas.

A 'stuff you to the gills' snack is hawawshi, a very flat pie made of minced beef and flat bread.

Seafood lovers, check out Sayadeya. White fish, cooked in a tagine with rice and tomato – it's sublime.

I knew about the pyramids and temples, but nothing about the indigenous Nubian people. A bit like the Maasai, they have survived discrimination and displacement with pride and dignity.

People & language
The official language is Standard Arabic, although Egyptian Arabic has many different expressions and dialects. A former British colony, English is spoken and understood by many, as is French. In the Upper Nile Valley around Aswan, there are also about 300,000 speakers of Nubian languages, mainly Nobiin, but also Kenuzi-Dongola. Ancient languages that were nearly lost, but are in the process of being revived.
Hello – Assalaam Alykum

Thank you – Shukran

My name is – Ismi

How much does it cost? – Kam el ugrat?

And if you would like to try your hand at Nobiin, Maskagna is the daily greeting.
Gifts & shopping
Check out the
Fairtrade Egypt
shop in Cairo for local artisan work, from
fabric makers to contemporary and classy jewellers.

Khan al-Khalili
is the 500-year-old market area of Cairo, but overwhelming.
Silk
is a great place to start. Check out old traditional silk family run shops, such as
Atlas on Sikket al-Badistan
.
Getting a book bound in leather
is a treat. Also possible in Khan al-Khalili. So, bring a favourite one with you if you like this idea.
Spices from the souks make great gifts
. Sold loose by weight, beware of cheap saffron, as it is usually safflower. Find real herbalist shops for the best.

We had been given the tip to have a book bound in leather in the medieval quarter in Khan al-Khalili. So we came prepared and had a photo album done for each of our kids.

How much does it cost?
A loaf of local bread – £0.10

Bottle of water – £0.40 – 0.80

Beer in hotels – £1.50 – 2.50

Falafel sandwich – £0.25 - £0.40

Shwarma sandwich – £1.50

Taxi from Cairo to the pyramids
– £3.50 - £5.50
A brief history of Egypt
Given that Egypt's history goes back 5000 years and classicists, archaeologists, linguists, anthropologists and many other 'ists have written doctorates on it, this section of our Egypt travel guide seeks merely to place the pyramids in perspective, the temples in time and the contemporary and ancient culture in context. Because in Egypt, history is overwhelming. And also, in the making.
In short, after the fertile lands around the Nile started to attract farming communities, and an understanding of trade began, Kingdoms started to evolve. They are now divided into three main periods: The Old Kingdom (about 2,700-2,200 BCE), Middle Kingdom (2,050-1,800 BCE), and the New Kingdom (about 1,550-1,100 BCE), all led by various kings, or pharaohs. Thus, a dynastic culture, not dissimilar to the Chinese led the way for millennia.
Read more