Luxor & the Valley of the Kings
At once a rapidly expanding modern town and a monument to ancient Egyptian history, Luxor is built around the banks of the River Nile on the 4,000-year-old site of Thebes. Described in Homer's Iliad as a "city with a hundred gates," Thebes was once the capital of the vast New Kingdom (1550-1069 BC), which stretched from Nubia to Palestine and at one point had a population of around a million inhabitants.

A hotspot for foreign tourists ever since the Victorians made their way down the Nile on steamers, both Luxor and the surrounding desert are littered with the remnants of a storied past, one that looms large in imaginations the world over. Standing proud in the centre of the city, on the Nile's east bank, is graceful Luxor Temple. Just outside the town is sprawling Karnak, an incredible site built over a period of 1,300 years, and the principal religious centre of the god Amun-Re.

As well as building public monuments to their gods, the ancient Egyptians created elaborate hidden underground tombs, the most famous of which are in the Valley of the Kings, on the Nile's west bank. This desolate valley was chosen by the pharaohs of the New Kingdom as their final resting place, and it holds the remains of Tutankhamun, Seti I, and Ramses II.
You'll need a good three days to take in the sights, and most organised tours will offer additional activities in the area, such as donkey rides in the surrounding countryside, sunset felucca cruises, joining a local family for lunch, or hot air balloon flights over the west bank of the Nile.
Valley of the Kings
This labyrinth of hidden underground tombs shows the thorough preparations that were made for the afterlife, in which pharaohs were expected to become one with the gods. Tombs were decorated with vivid paintings and filled with all the material goods that a pharaoh might desire in the next world, from dazzling golden masks and precious jewels to food and wine. Well loved pets such as dogs, cats and baboons have been found mummified and buried near their owners' bodies.

Mass tourism has been so damaging to these ancient sites that the Department of Antiquities has put dehumidifiers and glass screens in the worst affected tombs, and photography is forbidden. They have also introduced a rotation system: a set number of tombs are open to the public at any one time. An entry ticket gains access to three tombs, and you can buy additional tickets to see the tombs of Ay, Tutankhamun, Seti I and Ramses VI.
Karnak
Built on a gargantuan scale as a home for the gods, Karnak, a collection of sanctuaries, pylons and obelisks, covers over 2sq km. The main structure, the Precinct of Amun, is large enough to house several cathedrals, making it one of the world's largest religious complexes. The regular sound and light show may be kitsch, but it's a great way to explore the temple at night.
Luxor Temple
Construction of this grand temple began in 1400 BC and continued during the reigns of two superstar pharaohs: Amenhopis III, a staunch supporter of the arts, and Ramses II, sometimes called the 'great builder'. It's dedicated to the gods Mut and Khonsu and was the focus of one of the key religious festivals in ancient Egypt – the annual Opet Festival. Visit early before the crowds, or at sunset when the stones are infused with light.
Memorial Temple of Hatshepsut
Partially cut from rugged limestone cliffs that rise some 300m above the desert, this extraordinary temple is a feat of engineering way ahead of its time. Dedicated to Queen Hatshepsut, Egypt's only female Pharaoh, it's set on the Nile's west bank and marks the entrance to the Valley of the Kings.
Our top Egypt Holiday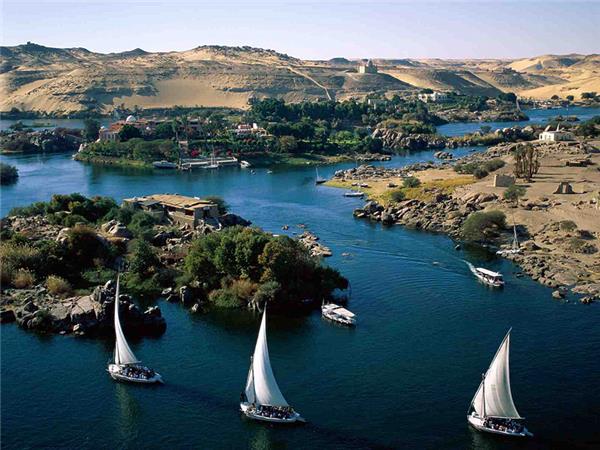 Discover ancient temples & tombs & travel by Nile cruise boat
From
£2099

to

£2849
9 days
inc UK flights
Small group travel:
2023: 8 Apr, 22 Apr, 6 May, 13 May, 27 May, 23 Sep, 30 Sep, 7 Oct, 14 Oct, 21 Oct, 28 Oct, 11 Nov, 18 Nov, 25 Nov, 2 Dec, 9 Dec
2024: 6 Jan, 13 Jan, 20 Jan, 10 Feb, 17 Feb, 24 Feb, 2 Mar, 9 Mar, 16 Mar, 30 Mar, 6 Apr, 13 Apr, 27 Apr, 4 May, 25 May, 21 Sep, 28 Sep, 5 Oct, 12 Oct, 19 Oct, 26 Oct, 2 Nov, 9 Nov, 16 Nov, 23 Nov, 30 Nov, 7 Dec, 21 Dec
If you'd like to chat about Egypt or need help finding a holiday to suit you we're very happy to help.

How to get to Luxor
You can arrive in Luxor by road, rail or river, and organised tours make use of all three. Of the boats that slowly make their way from Cairo to Luxor, feluccas are the most romantic, offering less pollution and more peace, and are often run by locals. Trains are another comfortable way to travel between Cairo and Luxor. There are beautiful views of the Nile amongst fields and palm trees, and you can also take a sleeper train to ramp up the atmosphere a notch.
How to get around Luxor
Private vehicle, bicycle and even horse drawn cart are all options for touring the local sights, and all can be hired in Luxor. Alternatively, a local ferry goes from central Luxor on the Nile's east bank to the west bank, from where it's a further 3km to the Valley of the Kings visitor centre. The road into the Valley of the Kings is a slow, hot climb, so bear that in mind if you want to do some walking.
Best time to visit Luxor
Tombs can be baking hot, particularly in the summer months, so it's best to visit during late autumn, winter and early spring. If you do visit in the summer then get up early so you can visit when it's cooler and there are fewer crowds. Your tour leader or local guide will know the local routines, and will plan the best time to visit depending on the time of year and day of the week.
Where to stay
There are plenty of hotels and guesthouses in Luxor from which to visit the nearby temples and monuments, though if you're on a Nile cruise your boat will dock near Luxor and you will visit the sights from there.