Egypt and Jordan holidays
Jordan and Egypt are Middle Eastern marvels both boasting not only a cornucopia of culture but also desert and delta adventures, yet few people think to combine them into one spectacular holiday. However, with a couple of weeks to spare, you can take in Petra and the Pyramids, the Nile and Nubian culture, wadis and other desert wonders on one trip of a lifetime. You can also go for a speedy version and do it in eight days. It is amazing how many flavours you can pack into a Middle Eastern menu.

Choose between a tailor made trip or a small group tour, a family focused holiday or one that has adventure at its core. Although in our book, both Egypt and Jordan feel like an adventure from the day you arrive, with 80 percent of Jordan made up of desert, and the Nile, with its traditional felucca trips, forming a magnificent natural and cultural artery through Egypt.
What is the typical route of this double whammy 'wunder-voyage'?
Most of our Egypt and Jordan holidays start in Cairo and end in Amman, although there are a handful of itineraries that go the other way. All of the holidays involve a flight between the two countries in the middle of your trip, and there are various ways of doing this. If you are starting in Cairo, you will probably head south as far as Luxor and then take either a quick flight back to Cairo and then from there another one to Amman. Or you can take an overnight sleeper train from Luxor back to Cairo and then fly to Jordan after that. Whichever way you choose, your holiday company will organise all transfers between trains, planes and automobiles to make the journey as smooth as possible.
Is combining Jordan and Egypt a bit much for families?
Not at all, in fact we think this is a fantastic holiday to do with families, especially if you opt for a tailor made option, organised by family experts who do this all the time. With them you can discuss all your family's interests, age ranges and any Middle Eastern promises you think might appeal to your loved ones. These expert family holiday tour operators know how much time to recommend on board a Nile felucca, how long to spend in Petra, how to find the perfect guide to turn the archaeology of the Valley of the Kings into the coolest history lesson ever, and how best to wander in a wadi. They also know that beach, snorkelling and diving time is a must. Red or Dead.
These experts also know the best time to go on a family holiday in Egypt and Jordan and can help you find flights to fit in with school holiday dates. It does get boiling hot in summer and so, for a two week break, the Easter holidays are probably ideal and also October half term if you are lucky enough to have a fortnight of fun granted to you by the powers that be.
Our top trip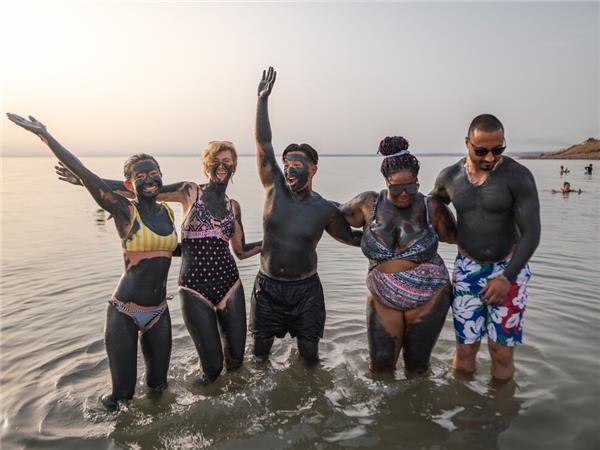 Adventure through historical landscapes of Jordan & Egypt.
From
£881

to

£1270
9 days
ex flights
Small group travel:
2023: 23 Dec
2024: 13 Jan, 27 Jan, 3 Feb, 17 Feb, 2 Mar, 16 Mar, 23 Mar, 30 Mar, 4 Apr, 13 Apr, 20 Apr, 27 Apr, 4 May, 11 May, 18 May, 1 Jun, 13 Jul, 3 Aug, 17 Aug, 5 Sep, 7 Sep, 12 Sep, 14 Sep, 19 Sep, 21 Sep, 26 Sep, 28 Sep, 5 Oct, 10 Oct, 12 Oct, 19 Oct, 26 Oct, 31 Oct, 2 Nov, 9 Nov, 16 Nov, 23 Nov, 30 Nov, 7 Dec, 12 Dec, 19 Dec, 21 Dec, 26 Dec, 28 Dec
2025: 11 Jan, 1 Feb, 15 Feb, 22 Feb, 1 Mar, 8 Mar, 15 Mar ...
If you'd like to chat about Egypt or need help finding a holiday to suit you we're very happy to help.

Cultural highlights
The cultural highlights of Egypt and Jordan are some of the most famous UNESCO World Heritage Sites in the world. In Egypt there are seven UNESCO sites, and on tours that combine both countries you will most definitely be taking in their top two, namely the Pyramid Fields and Ancient Cairo. Enjoy guided tours around this ancient arcadia which may also include Nubian monuments from Abu Simbel to Philae and of course the
Valley of the Kings
.
In Jordan the sandstone
wonders of Petra
are what everyone wants to see, and it is absolutely one of the region's most spectacular sites, especially if you catch it in the dark when it is lit by 1,500 candles. Take lots of time to explore this ancient city carved out of the rock, roaming not only caves and carved corners but also its Bedouin history. If you have a longer trip, Madaba is another must see in Jordan, an ancient town dating back 3,500 years which is famous for its magnificent mosaics that are scattered around the town. The most famous is the "Map of the Holy Land" or "Map of Jerusalem", a well preserved, 6th century mosaic in the floor of the Basilica of St George.
Adventure seekers
After having fed your culture vulture, there is plenty of time to step out of your comfort zone and immerse yourself in Jordan and Egypt's living culture, while also scratching that adventure itch. Camping out in Jordan's immense Wadi Rum with Bedouins is an unforgettable experience, as is careering over the dunes in a 4X4. Explore the Aswan Dam and then spend time in a village of the indigenous Nubian people, feasting on a home cooked dinner with a local family. Another wonderful experience is sleeping under the stars on board a traditional felucca, guided by Nubian experts along the Nile. Or finish off a trip of dusty deserts and a head full of history at Aqaba in Jordan, where the country dips its toes into the Red Sea. This designated marine park has over 20 dive sites and a plethora of marine wildlife including green turtles.