How to choose a Nile cruise in Egypt
Boats have sailed up and down the Nile River for thousands of years; not only for trade but also for pleasure. Cleopatra and Julius Caesar sealed their storied union by cruising the Nile in opulent style, and Victorian tourists piled onto traditional sailing barges and later, steam ships, in search of Egypt's ancient treasures. Today the river may no longer be vital for transporting goods, but it remains one of the most romantic ways of seeing the country's highlights. Not only will you get to explore the tombs and temples near Luxor, Edfu and elsewhere, but the sights and sounds you'll encounter along the river are a window onto a world which in many ways has remained unchanged since the time of the pharaohs.

There are three different options for cruising the Nile: a small ship cruise, a dahabiya or a felucca. You'll usually spend your time on just one type of boat, though many small ship cruises offer the option to spend a day, or even a night on board a felucca. While you could certainly fly to Egypt just for a cruise, most people explore the river as part of a longer holiday that includes the pyramids, Cairo, the Red Sea and other highlights.
Small ship cruises on the Nile
By far the most common tourist boats, with around 300 on the Nile, these carry between 50 and 150 passengers and include all meals and excursions. They're equipped with everything you could need for a waterborne jaunt – even the smaller ships offer air conditioned, en suite cabins, as well as a restaurant and bar, a pool, a sun deck and a lounge where lectures and the odd fancy dress party take place. For wheelchair users, the M/S Amarco 1 is the only accessible cruiser in Egypt.

Tours ply the route between Luxor and Aswan or vice versa and typically last between three and seven nights. They always include a stopover at the temples of Edfu and Kom Ombo and provide guides and small coaches at each stop to take guests sightseeing. These boats spend less time on the river than other tourist vessels, and often spend a couple of nights in Aswan or Luxor (or both) docked outside of town in a row of similar ships. When you are on the river, however, the views are magnificent; if you can arrange it, plump for a cabin on a higher deck, to make sure your view isn't obscured by the riverbanks.
Feluccas
These traditional wooden boats, powered usually by sail, although sometimes by oars, offer travellers the chance to travel the River Nile as people have since time immemorial. Carrying between six and eight passengers, they don't have cabins or running water, but you do get a mattress on deck for night time stargazing (and sleeping!), and during the day a canopy offers shade and protection from the sun. Some captains have installed toilet facilities on board and on some tours a support boat will join you to provide a clean toilet, shower and kitchen. Your sailing crew (usually Nubian) will prepare your food, which is simple and often vegetarian.
Almost all journeys start from Aswan, and since feluccas are forbidden to sail on the Nile after dark, it will take longer to visit all the main sights. No matter, the real benefit to felucca travel is the chance to interact meaningfully with locals as well as to reach destinations that the larger ships can't, such as visiting Daraw for the camel market or hiking through the sands of Wadi el- Chott. All guiding, meals, cabins and historical site visits are included in the price of a cruise.
Dahabiya
A dahabiya, essentially a houseboat with sails, offers the nostalgic allure of a felucca without the need to rough it. These elegant vessels were much loved by upper class Egyptians and Victorian tourists in the 19th century but fell out of favour after the introduction of the steamship to Egypt in 1869. Now back in vogue, a typical dahabiya accommodates between 12 and 20 passengers and has a spacious lounge, wood panelled cabins with en suite bathrooms, a library and an upper deck for dining. A resident chef cooks fresh food bought daily from markets and farmers, and trips are accompanied by a professional Egyptologist. Some boats are the real 19th century deal, while others have been built as replicas, but all are much smaller than the ubiquitous cruise ships.

Three- to five-day tours usually start or end in Aswan or Esna, while seven-day itineraries go from Luxor to Aswan, or vice versa. Their schedules are less rigid than those of the larger ships, so as well as the main temples at Esna, Edfu and Kom Ombo, they can also stop at El-Kab and Gebel el Silsila historic sites, where the bigger boats can't dock. Some tours also offer walks and village visits, to help you get a handle on local life. As with the other boats on the Nile, meals and outings are included.
Our top Egypt Holiday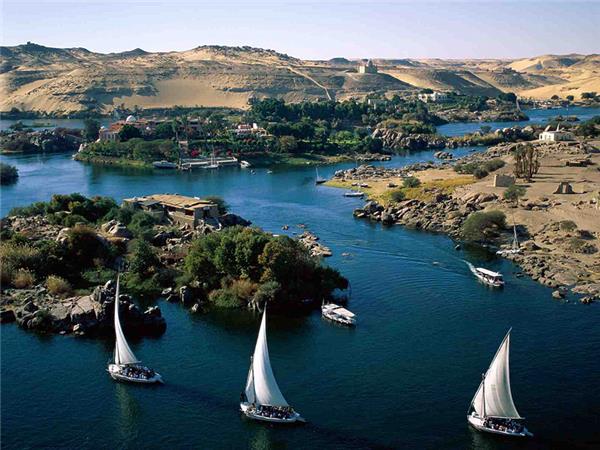 Discover ancient temples & tombs & travel by Nile cruise boat
From
£2099

to

£2849
9 days
inc UK flights
Small group travel:
2023: 8 Apr, 22 Apr, 6 May, 13 May, 27 May, 23 Sep, 30 Sep, 7 Oct, 14 Oct, 21 Oct, 28 Oct, 11 Nov, 18 Nov, 25 Nov, 2 Dec, 9 Dec
2024: 6 Jan, 13 Jan, 20 Jan, 10 Feb, 17 Feb, 24 Feb, 2 Mar, 9 Mar, 16 Mar, 30 Mar, 6 Apr, 13 Apr, 27 Apr, 4 May, 25 May, 21 Sep, 28 Sep, 5 Oct, 12 Oct, 19 Oct, 26 Oct, 2 Nov, 9 Nov, 16 Nov, 23 Nov, 30 Nov, 7 Dec, 21 Dec
If you'd like to chat about Egypt or need help finding a holiday to suit you we're very happy to help.

Where to go on a Nile cruise
Most Nile cruises travel exclusively on the Luxor-Aswan section, and last between three and seven nights. This is only a small part of the river, but most of the key historic sites – including the temples of Kom Ombo, Karnak and Edfu – are along this stretch. In 2015, the Cairo to Luxor section of the Nile reopened to tourists, having been closed to tourist traffic for almost two decades due to security concerns. These cruises have yet to match the popularity of the Luxor to Aswan routes.
Best time to go on a Nile cruise
October to April is the best time to cruise the Nile as the days are warm but not uncomfortably so. The peak heat of June, July and August can make sightseeing at the temples very uncomfortable, with daytime temperatures regularly surpassing a scorching 40°C. During the colder months (October to March) it can get chilly at night so you'll need warm clothes for evenings out on deck; and a sleeping bag is highly recommended if you're spending any nights on a felucca.