Things to do in the Sahara
Meet the local people
A visit to the Sahara is nothing without encountering the people who aren't just 'visiting'. You may meet Berber, Tuareg and Bedouin people on your trip. These groups have lived in the Sahara for centuries – what better people to introduce you to its wonders.

The Tuaregs are a Berber people who are almost entirely nomadic, and best known for their indigo-dyed clothes. If you explore the Western Sahara you may encounter Requibat nomads, while Toubou nomads drive enormous herds of camels across Chad – and you may also encounter the Woodabe if you stop in Chad's Sahel on your way into the Sahara.

If you choose to stay with a Berber family you may see some traditional carpet weaving, be entertained my mesmeric drumming performances, and share plenty of cups of sweet mint tea and stories round the fire. Bedouin desert camps are one of the most popular ways to stay in the Sahara, but don't expect to 'rough it' when you rock up. These desert camps are often 'glamps', with intricately woven rugs, dressing tables and four-poster beds in the rooms, and pretty serviceable bathrooms.
Camel riding
You might be tempted to use the desert as a giant sandbox, ripping up dunes under the tyres of a four wheel drive. Instead, we'd encourage you to slow down and enjoy the desert by dromedary camel. These amazing beasts are well adapted for desert life – thick eyebrows, alluring eyelashes and self-closing nostrils help them deal with any sand troubles, their legendary hump store a healthy supply of fat, and they have soft, padded hooves. They can even survive 30 percent water loss (a loss that would reduce most other wildlife to raisins).

Once used to cross from Morocco to Timbuktu in Mali in famous caravans, their usefulness makes them crucial to the survival of some desert people. In general, camels are highly prized and well cared for by their owners. Riding them is an adventure, as they walk and jog along, though you probably won't be able to endure their awkward, swaying motion for long. Most camel riding takes place in small groups, for a couple of hours at most.
Desert trekking
Exploring the desert on foot is a surefire way to make you feel ant-like. Lots of people do short desert walks from their camps – normally no further than up to the top of the nearest dune to watch the sunset. Even this can be a test for the endurance as the dunes are never as easy as you think to climb, especially Erg Chebbi in Morocco which rises 150m above you. You'll find that ascending Erg Chegaga – the high dunes at the edge of Morocco – can take you a whole day of climbing.

For the ultimate expedition, try desert trekking. You might love the idea of a camel trek, but be aware that it's slow, and can get quite uncomfortable, so most people don't travel any real distances by dromedary. Instead, they walk, leading the camels behind them. You'll wild camp as you go, and a trusty camel will be your own personal luggage trolley. Pack a sleeping bag – and a sense of adventure.
Our top trip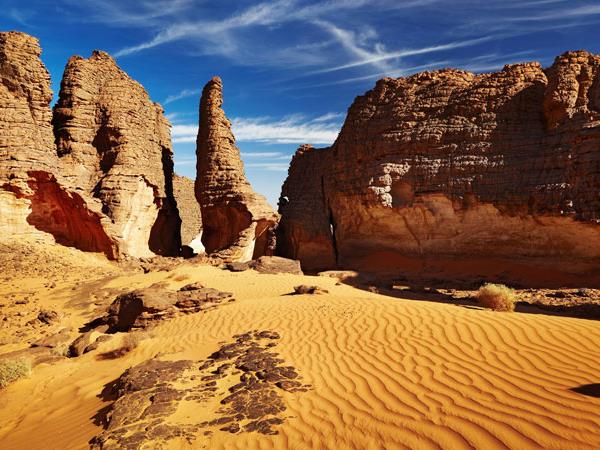 An expedition through Algeria's wild Sahara desert
From
£2675
13 days
ex flights
Small group travel:
2024: 3 Feb, 28 Sep
2025: 1 Feb, 27 Sep
If you'd like to chat about Sahara Desert or need help finding a holiday to suit you we're very happy to help.

Family adventure holidays
Kids will love the idea of a desert adventure, but will they be happy getting sand in their shoes and hold still when you wield the sun cream? The answer is, yes! Your little ones will probably already know about the Sahara – it's got that kind of legendary status – and they'll probably be even more excited than you are about desert camps and camel rides.

There are a few tours of the Morocco Sahara which are particularly run for families, with a packed program of fun activities for children aged five and up. Try sand boarding, by far the most exciting way of getting a shot of sand up your nostrils, or stargaze and listen to campfire stories on a night sleeping under the stars in a remote desert camp.

Be aware that all journeys to the Sahara involve long drives – some up to nine hours – so be sure to brush up on your '10 green bottles', and bring games and snacks for little ones for the journey.
Horse riding holidays
Horses beat camels for comfort and speed. They can't, however, beat them on hardiness; horse riding trips in the Sahara operate in the winter only, as summer is far too hot for them to be transporting tourists. If you want to participate in one of these seasonal treks, you'll need to be comfortable riding at all paces, from trot to gallop, on rough terrain.

Ride along dry river beds, pause atop falaises (cliffs) for windswept views, and eventually reach the fabled sand seas that are the gateway to the Sahara. Making your way softly through the sands, you might be lucky enough to encounter gazelle and ostriches. Your mount will be either an Arab or a barb horse (a tough north African breed). Both are agile and sure-footed; andspeedy, too, designed to run and run in the desert, and they have 'soft mouths', making them responsive and easy to control, though you'll need to be under the weight limit of 95kg to ride.
More Sahara Desert articles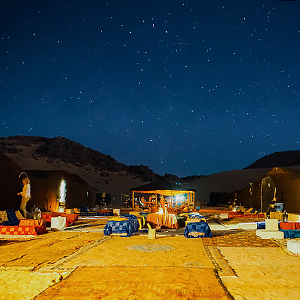 So, you want to visit one of earth's most hostile environments? Read on for the best time to go to the Sahara.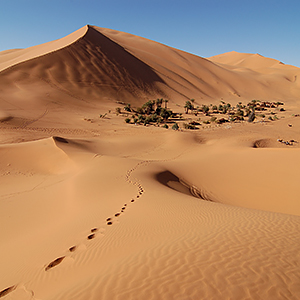 The Sahara Desert will surprise you. Get to know this misunderstood monster with our Sahara travel guide.