Best time to go to Armenia & Georgia

Churches and monasteries in Armenia and Georgia are especially atmospheric in winter, with scented candles and choral singing. It's just a pity it's so darn dark and cold outside.

Landlocked Armenia doesn't benefit from Black Sea breezes or beaches like Georgia; however, Lake Sevan does supply swim spots in summer. April to May is the best time to go to Armenia and Georgia for walking in comfortable temperatures (pac-a-mac) as is September and October where wine regions and forests are fuelled with fiery foliage. Armenia's Easter festivities in March or April are great fun, as is Orthodox Easter, commemorated a week later in Georgia. As our small group tours tend to start in early May, you may just catch the completion of celebrations with many of the monasteries and cathedrals still lit by candles and burning incense.
Chris Ellis from our Armenia and Georgia holidays supplier, Explore, shares his best times to go:
"Easter is a great time to visit Armenia, with spring in the air and flowers in bloom, it's not only a beautiful time but you may witness local people celebrating – whether lighting incense, gathering in squares with lanterns or attending church."
Our Armenia & Georgia Holidays
Armenia & Georgia festivals & events
Tushetoba
Tushetian cultural heritage is celebrated every August in Tusheti National Park, northeast Georgia. This remote region has remained relatively unchanged and you'll find folk dancing, cheese making and traditional arts and crafts showcased alongside horse racing, sheep shearing and archery events.
Varadavar
This Armenian festival takes place in late July (98 days after Easter), but interestingly it dates back to Pagan times. Associated with Ashtghik, goddess of water, the day-long festivities find people throwing water over friends, family and random strangers with gleeful abandon. Expect to get wet.
Armenia & Georgia month by month
March and April ease the thaw with Easter celebrations and an upturn in temperatures. Expect showers, as well as wildflowers.
Armenian Genocide Remembrance Day takes place on April 24th to mark the atrocities of 1915-17. Thousands of people attending moving ceremonies in Yerevan and leave flowers by the city's eternal flame.
Late April and early May are great for walking in Armenia and Georgia and definitely the best time of year to tackle the steep slopes leading to Gergeti Trinity Church before the heat of summer.
June is drier and warmer in and a good time to visit before the summer stampede to Lake Sevan and the Black Sea coast.
July and August are a fantastic time to be in Armenia and Georgia even if temperatures can take an upturn in Tbilisi and the surrounding lowland areas. Summer is a great for hiking in the more mountainous areas where conditions are cooler and less crowded. Yerevan can also be slightly cooler in the summer with plenty of parks providing perfect places to enjoy life outdoors.
September is a beautiful time as conditions are dry and slightly cooler. As autumn approaches in October the oak and beech forested valleys of the Southern Caucasus and the gnarled grape vines of the Kakheti wine region conjure colourful contrasts while village markets and town squares burst with fresh fruit and vegetables. Snow appears on higher ground in October, although freshly made soups, breads and grilled meats and red Georgian wine will keep you warm.
For more details of the best time visit Armenia and Georgia please visit our dedicated guide pages.
Our top Armenia & Georgia Holiday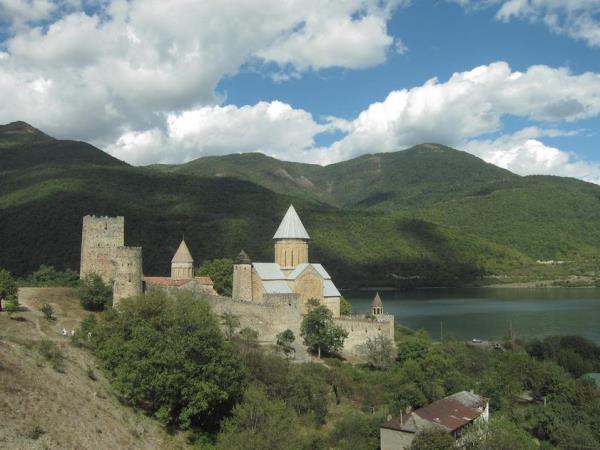 Journey to the furthest reaches of Europe
From £3325 to £3660 16 days ex flights
Small group travel:
2023: 8 Jun, 8 Sep, 6 Oct
2024: 24 May, 21 Jun, 13 Sep, 4 Oct
If you'd like to chat about Armenia & Georgia or need help finding a holiday to suit you we're very happy to help.

Armenia & Georgia travel advice
Cultural encounters
Jim O'Brien from our supplier Native Eye discusses visiting Armenian villages, and his favourite place to visit in Georgia: "Many of the ethnic villages that we visit aren't particularly 'opened up' for tourism yet, so it's really a case of wandering around, occasionally stopping to meet and have a chat with the locals. It's interesting just to learn a little about their history and how they came to end up in this far flung corner of the Russian empire. At Garni we sometimes have lunch in a local home, with opportunities to help prepare it too which is a fun activity. The Tusheti region in the northeast of Georgia is one of my favourite places to visit as it has remained somewhat hidden from the outside world. It presents a much more low key and simplistic approach to life as opposed to what you'll find in the cities."
Subjects to avoid
Chris Ellis, Armenia and Georgia expert for our supplier Explore, advises on some conversation topics to avoid: "Armenia is considered by some to still be at war with Azerbaijan over the contested territory of Nagorno Karabakh. This is one subject to steer clear of. Armenia's relationship with Turkey is also frosty, as Armenia still lays claim to land that was annexed by the Ottoman Empire and is now part of eastern Turkey. Whilst Armenia's relationship with Russia is cordial, Georgia's is less-so after the Russian invasion of Abkhazia and South Ossetia."
Ecclesiastical experiences
Jim O'Brien from our supplier Native Eye on the monastery experience:
"Armenia's monasteries and churches are so atmospheric, especially if you happen to be visiting during any kind of service. You can expect lots of singing, scented candles being burned – very interesting just to watch quietly from the back. Georgians take religion a lot more seriously than many other European countries and their Georgian Orthodox church services are very involved and often quite lively."
Language leaders
Chris Ellis, from our supplier Explore:
"Neither Georgian nor Armenian is easy to understand. Both have their own unique languages and scripts. Russian, however, is widely spoken in both countries. This means tour leaders can converse with local people on both sides of the border. We use a local leader in Armenia, and a local leader in Georgia."
Recommended reading
Chris Ellis, from our supplier Explore:
"The book 'Prisoners of Geography' by British journalist Tim Marshall is a personal favourite of mine as it really helps you understand how certain country's histories (and futures) are shaped (and restricted) by the land in which they inhabit. This is certainly the case for Armenia and Georgia. The 'Great Game' by Peter Hopkirk is also recommended reading by many of our Georgian tour leaders, and Levison's Wood TV series where he walked across the Caucasus is a great advert for the region."
Reflections from our holiday reviews
At Responsible Travel, we think the best people to advise our travellers are often… other travellers. They always return from our tours with packing tips, weather reports, ideas about what to do – and opinions about what not to.

We have selected some of the most useful Armenia and Georgia tips that our guests have provided over the years to help you make the very most of your holiday – and the space inside your suitcase.

Rising over the hill to see Gergeti Trinity Church, set against the magnificent Caucasus Mountains, which still retained valleys of snow, in the bright clear air, was one of my favourite memories of this tour.

"The walks to the monasteries are mostly uphill over rocky ground. Transport cannot get you closer than a few hundred yards in most cases and in some the walk is a lot longer. Heat in summer is in the upper 20's and low 30's but some days the thermometer is above the 35°C mark, be prepared."
– Baron-Vahl Amos

"Be prepared to have your eyes opened as to the depth of Christianity practised in both countries, both in the past and still today. Bring healthy appetites, for the food is very good and tasty and so plentiful. I would definitely recommend this trip (with extension to Azerbaijan), to people who want to see more than the well trodden tourist routes in Western Europe." – Judy Schneider

"Walking through the village and then the woods before rising over the hill to see Gergeti Trinity Church, set against the magnificent Caucasus Mountains, which still retained valleys of snow, in the bright clear air, was one of my favourite memories of this tour. Go with an open mind. Welcome the pride in the culture, towns, churches and heritage. These are amazing countries with a fascinating history at the crossroads of Europe and Asia. Small group holidays are made by and very dependent on the quality of the guides and the sharing of the travellers. We learned so much." – Martin Bigg

Bring healthy appetites, for the food is very good and tasty and so plentiful.

More about Armenia & Georgia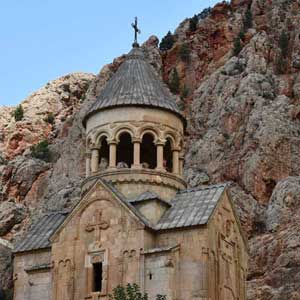 Our Armenia and Georgia holidays guide opens up an area once occupied by the Soviet Union and allows travellers to understand the importance that the past still holds on the present. Nowhere is this more pertinent than within the monasteries, churches and cathedrals contained within the Southern Caucasus. Take a look at our map and highlights to find out more.