Best time to visit Armenia

Autumn is the best time to visit Armenia. Days are long, sunny and mild with beautiful colours in the trees, and everywhere you go there are the fruits of the harvest.

Armenia's mountains, valleys, canyons and forests, result in a range of microclimates, with weather conditions varying significantly by altitude. The south broadly has a subtropical climate, whereas the north tends to be more continental. Spring can be a case of blink-and-you'll-miss-it, with the heavy snow of Jan-Feb quickly turning to rain in Mar, before ramping up the heat from June onwards. Autumn takes longer to change, so drier Sep-Oct is usually a good time to holiday in Armenia, especially in Dilijan National Park where the foliage moves to rich shades of orange and yellow.
Winter is the low season in Armenia. Temperatures drop, precipitously in some places, from December onwards and heavy snow is likely in mountainous regions as well as Yerevan. In January and February the temperatures can fall as low as -14°C in the mountains. Be warned that many sites, such as Amberd Fortress, may be closed in winter and some are pretty much snowbound from November all the way through to April. Many roads, already not well maintained, can be difficult to travel. In the capital ice skating is a popular winter activity, and there is a growing appetite for skiing at the nearby Tsaghkadzor resort. Armenia usually has quite a short spring, though the scenery is undeniably lush. The weather can be unpredictable, with rain showers common in March and April. Typical spring temperatures average around 17°C in Yerevan, but will be cooler at higher altitudes. By late April and heading into May, Armenia is a lot warmer and drier, with flowers in bloom across the country. This makes late spring a good time for hiking in the mountains and visiting the country's many monasteries. Summer is a fantastic time to take an outdoorsy holiday in Armenia. By June the days tend to be long, balmy and dry, with brilliant blue skies and green landscapes creating an idyllic setting for hiking, ballooning and watersports on Lake Sevan. July and August are typically the hottest months of the year, with average temperatures of around 26°C, but mountainous regions are a lot cooler. A long autumn begins in September, which is probably the most enjoyable time to be in Armenia. You're going to start seeing a lot of fresh fruits and vegetables everywhere, especially apricots which are the (unofficial) national fruit. Temperatures start to fall from October, with rainy spells likely, but up until November it's still a good time for photographers and hikers to explore areas such as Dilijan National Park. As with spring, frosts are also likely in the late autumn.
Our top Armenia Holiday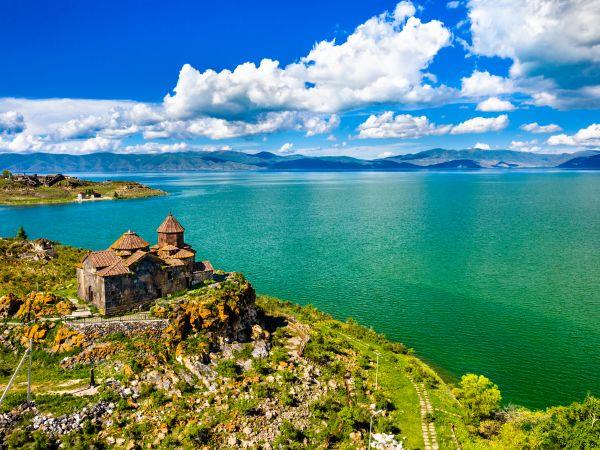 Group tour to Armenia's culture, nature, cuisine & history
From
£1760
8 days
ex flights
Small group travel:
2024: 18 May, 14 Sep
If you'd like to chat about Armenia or need help finding a holiday to suit you we're very happy to help.

Festivals & events in Armenia
Varadavar is a Christian festival taking place 98 days after Easter, but interestingly it dates back to Pagan times. Associated with Ashtghik, goddess of water, the one-day festival sees people throwing water over friends, family and random strangers with gleeful abandon. Expect to get very wet.
On April 24th every year, the Armenian diaspora honours Armenian Genocide Remembrance Day, marking the horrific events of 1915-17. In Yerevan, many thousands of people queue to leave flowers by an eternal flame in a moving ceremony.