Churches & monasteries in Armenia

The Armenian Christian Church was founded in the 1st century AD, making it one of the oldest in the world. 300 years later it became Armenia's state religion, the first branch of Christianity to do so.

These days the Armenian Apostolic/Orthodox Church is followed by practically all Armenians with few alternative religions practised in the country. Etchmiadzin Cathedral is Armenia's spiritual and political heart and one of the world's oldest churches having being built in the 4th century. It sits in the Holy City of Vagharshapat, and the numerous other UNESCO-listed churches here include the 7th century Saint Hripsime – one of the oldest preserved examples of Armenian ecclesiastical architecture.
Vagharshapat is just the tip of the sacred cross when it comes to what you'll find in Armenia. There are thousands of churches – 4,000, in fact – in cities, towns and villages across this country, which has a population under three million. From the largest – Saint Gregory the Illuminator Cathedral in Yerevan, to the smallest – the 7th century Karmravor church in the Ashtarak region, Armenia earns its nickname as the 'land of churches'.
Monasteries in Armenia
Monasteries, too, play important roles in Armenia's cultural heritage. Many are located in protected and slightly concealed settings, close to rural communities. This was to ensure monks were provided with privacy and the ability to carry out a virtuous lifestyle in the eyes of God. Nowhere in Armenia exhibits the relationship between location and humility better than the Haghpat Monastery that sits halfway up a hillside overlooking the Debed River. Together with the Sanahin Monastery, Haghpat has long been a highlight for those travelling in northern Armenia and is a chance to observe local village life continuing in much the same vein as it has done for generations.

Central Armenia's Geghard Monastery also has a spectacular setting, with certain sections of the church complex carved out of the surrounding cliffs. Many of Armenia's monasteries are still inhabited by monks, including the precariously placed Tatev Monastery that can be reached via the world's longest reversible cable car. The 5.7km ride takes 12 minutes from the village of Halidzor. Khor Virap Monastery, on the plains of Mount Ararat, is another significant site, just a stone's throw from the Turkish border.
Understanding Armenia's history
The Armenian Apostolic Church is what binds together these monasteries, churches and cathedrals. That and some incredible settings. Visits to many of the monasteries, especially, will require a hike, sometimes up a steep slope. On arrival all aches are forgiven as you get to observe ornate carvings and marvel at surrounding views that are often nothing short of biblical. The history of the sites is just as important as the relationship between local Armenians and the Church. For instance, the pilgrimage to Khor Virap Monastery is made all the more enlightening when you discover that this was where Gregory the Illuminator, the Patron Saint of the Armenian Apostolic Church, was imprisoned for over a decade before finally being released and converting the entire country from Paganism to Christianity. His remains are held within the cathedral that bears his name in Yerevan.
Tour leaders and local guides will help you understand what you are seeing on guided visits. For example, do you know your khachkars from your Caucasus? Both will feature prominently on a visit to Armenia. One is a decoratively carved stone cross, the epitome of ecclesiastical Armenian craftsmanship, the other is a mountain range that runs through Armenia to link Asia with Southeast Europe.
While tour guides are incredible sources of knowledge, modern and ancient, we do recommend reading up on Armenian history before coming here. The Armenian genocide say 1.5 million Armenians killed at the hands of the Ottoman Empire, from 1914 to 1923. Learning about this tragic event brings new meaning and understanding to the monuments that you'll find on a tour of the country. The memorial khachkar at Etchmiadzin Cathedral and the Tsitsernakaberd memorial in Yerevan – which is visited each 24 April by thousands of Armenians to commemorate the victims – are incredibly important monuments to this atrocity.
Respectful visits to Armenian churches
When entering an Armenian church or any place of worship, you'll be required to be as quiet as possible, certainly whilst a ceremony is taking place. Main church services (Soorp Badarak – Holy Mass) are usually held each Sunday around 10.30am. Participators are asked to look towards the altar at all times with hands by their sides, not in pockets nor held behind. Crossing of legs whilst seated and placing hands over a pew is also not deemed respectful. Both men and women should dress conservatively, and women are asked to cover their heads; men's heads should remain uncovered.
Candle burning in front of holy paintings and pictures as well as making the sign of the cross is commonplace in Armenian churches. Standing at the back of the church and observing a service or choral recital is permitted for visitors although patience needs to be observed if a service is already under way as you might be requested to wait to enter until an appropriate break in proceedings. Eating, drinking or chewing gum in an Armenian church is not respectful.

Armenia's monasteries and churches are so atmospheric, especially if you happen to be visiting during any kind of service. You can expect lots of singing, scented candles being burned – very interesting just to watch quietly from the back.

– Jim O'Brien from our supplier Native Eye
Our top Armenia Holiday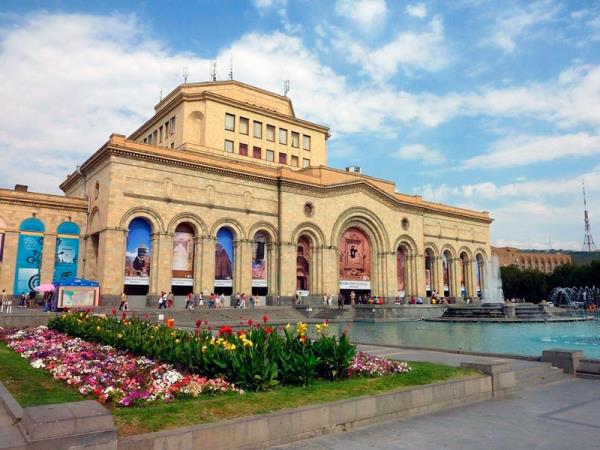 Independent tailor made holidays to Armenia
From
£1169
8 days
ex flights
Tailor made:
This trip can be tailor made throughout the year to suit your requirements
If you'd like to chat about Armenia or need help finding a holiday to suit you we're very happy to help.

RECOMMENDED CHURCHES & MONASTERIES IN ARMENIA
Echmiadzin Cathedral
Thought to be the world's oldest cathedral and the Holy Church of Armenian Orthodox Christianity, Echmiadzin Cathedral, in the Holy City of Vagharshapat, is incredibly atmospheric and it's certainly worth attending a service or lighting a candle. It is just 20km from Yerevan.
Geghard Monastery
This medieval monastery has been partially carved from a section of the Azat River Gorge to create a complex of cave chapels and monastic chambers. The UNESCO site was formed on the spot of a sacred spring and features numerous engraved, free standing khachkars.
Tatev Monastery
Although cable cars weren't around in the 9th century when Tatev Monastery was built they are now and there's nothing better than a record breaking 12-minute ride on the 'Wings of Tatev' to deliver you to one of Armenia's monastic centres of religious, scientific and cultural learning.
Khor Virap Monastery
This is one of Armenia's most notable pilgrimage sites as it was here that the patron saint of Armenian Orthodox Christianity – Gregory the Illuminator – was held by the King of Armenia. Views into Turkey and over the plains to Mt Ararat should be equally as anticipated.
HOW TO SEE ARMENIA'S
CHURCHES & MONASTERIES
A one or two week tour of Armenia usually begins in the capital, Yerevan. From here, many sites – Echmiadzin Cathedral, Geghard Cave Monastery and Khor Virap Monastery – are easily accessible on day trips. In southeastern Armenia, around four hours from Yerevan, the town of Goris another good base for visiting the churches and monasteries in the surrounding mountains.
Guided tours are the best way to find out more about the history of the churches and monasteries and how to visit them in the most respectful manner. Joining a small group holidays lets you make friends with similar-minded travellers and explore with more confidence. This style of tour will certainly resonate with solo travellers and those interested in gaining a deeper understanding of Armenian culture and the part that religion plays in Eastern Europe. You don't have to be deeply devout to tour Armenia. Churches and monasteries are symbols of Armenian cultural heritage and often provide a uniquely atmospheric experience as well as opportunities to learn about Armenian people, and their past. Explore with an open mind; and don't forget your walking boots as some of the sites that you'll be visiting are breathtaking, in every sense.