With the exception of overland Caucasus trips most Armenia holidays will begin and end in the capital, Yerevan. Conveniently, the city is situated pretty much dead centre, allowing you to easily reach destinations such as Lake Sevan to the east, Etchmiadzin Cathedral (Armenia's 'Mother Church) just west, or Tatev Monastery and the Khndzoresk Cave Village further south. But it would be a terrible error to see Yerevan as nothing more than a transit hub, somewhere to use merely as a launch pad for Armenia's monasteries and natural landmarks like the nearby Garni Gorge.
The democratic and peaceful
Velvet Revolution
of 2018 may have signified a break from the old politics in Armenia, but in Yerevan is ever-present. Ancient churches and mosques, some in ruins and some preserved – tourism here provides valuable funds for preservation – blend surprisingly well with stark Soviet architecture and residential areas that sprawl haphazardly, with extensions built upon extensions built upon extensions.
Babushkas
mingle with fashionable students in cafes along wide, tree-lined boulevards, old men spend their afternoons peacefully gathered in shaded courtyards and flower-filled parks to play
nardi
, similar to backgammon, and tourists wander the imposing Soviet-era Cascade, or the busy stalls of the open-air Vernissage Market in search of trinkets.
Yerevan is one of the oldest continuously inhabited cities in the world, dating back to the 8th century and thought to have been founded shortly before Rome. The city really came to prominence however during the Caucasian country's years as part of the Soviet Union, and many of the buildings and structures from this period have been rendered in the volcanic tuff stone that sees them glow an appealing pink colour at sunset. Among the most prominent of Yerevan's monuments is the 22m-high Mother Armenia, looking down on the city from Victory Park.
The capital is the most cosmopolitan part of Armenia, a
great city for families to explore
, and of course a perfect base from which to take day trips to other key locations including Lake Sevan. On clear days you can see all the way across the Ararat Plain to the silhouette of Mt. Ararat (Armenia's most sacred mountain and reputed to be the resting place of Noah's Ark, but actually just over the border in Turkey). To discover Armenia's spirituality, visit some of its many monasteries. For an insight into its history and culture, nowhere beats the capital. Miss Yerevan at your peril.
What to see in Yerevan
The majority of Armenia holidays are small group tours, led by local guides. Even in a major city where it's easy to get around by yourself, you definitely benefit from a guide able to offer deeper explanations of what you're seeing. Yerevan's heritage and culture is best unpicked by someone that has spent their life among it.

Probably the best-known landmark in the capital is the Cascade, a gigantic, multilevel limestone stairway lined with restaurants, cafes, fountains and art exhibitions, and a popular spot from spring to autumn for outdoor concerts. If you're bringing the kids and want to wear their energy out a little, they can charge up and down the steps to their hearts' content. At the top of the Cascade is Victory Park, where you'll find another icon of Yerevan, a huge Ferris wheel, along with a boating lake, a small forest, and the Mother Armenia statue. To eat, best to head away from the Cascade however to one of the many little restaurants you can find in the side streets of the city centre, where you'll eat well for a fraction of the price and at the same time put money in the pocket of local people.
The
Matenadaran
is a vast repository of over 17,000 rare and ancient Armenian manuscripts, and is named for the inventor of the Armenian alphabet whose statue sits out front. After the terrible genocide of 1915, an event that the Armenians are still fighting for global recognition of, millions of Armenian people were scattered far and wide across the globe. The Matenadaran therefore holds immense cultural significance, a "repository of Armenian myths and hopes" as Thomas de Waal puts it in '
Black Garden
'. On 24th April, Armenians arrive by their thousands to commemorate the genocide at the hilltop
Genocide Memorial
. 12 stone slabs encircle an eternal flame, while a 44m stele symbolises the nation's rebirth.
Our top trip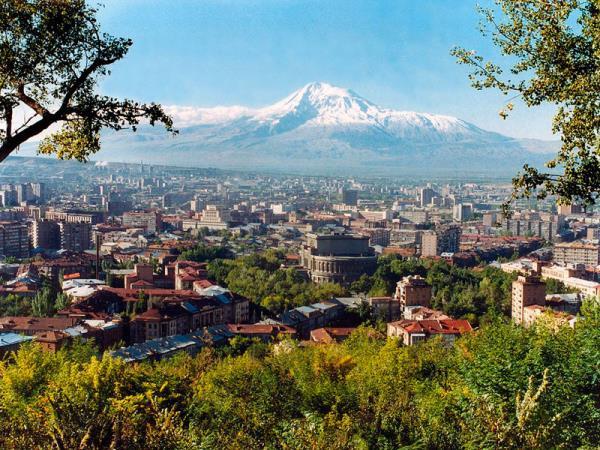 Three stunning countries in one unforgettable tour
From
£1673

to

£1771
13 days
ex flights
Small group travel:
2024: 14 Apr, 28 Apr, 12 May, 26 May, 2 Jun, 9 Jun, 11 Aug, 25 Aug, 1 Sep, 8 Sep, 22 Sep, 6 Oct
If you'd like to chat about Armenia or need help finding a holiday to suit you we're very happy to help.

Yerevan is best visited on a weekend for the Vernissage open-air market, essentially a huge flea market where you can buy anything you want, or had no idea you wanted until you got there. There are hundreds of stalls frequented by locals as well as tourists, and it's a great place to source locally made handicrafts, antiques, artworks, jewellery and the ubiquitous Russian nesting dolls. You can find Soviet memorabilia, wooden chessboards and of course, authentic Armenian carpets.
Armenian rug and carpet weaving dates back to around the 7th century, and were spoken highly of by ancient historians. In Yerevan the best place to purchase one, or just have a poke around and admire some, is in the prestigious Megerian Carpet Factory, which has hosted Pope Francis among other luminaries, and where you can take a guided tour. Another classic Armenian export is brandy, and Yerevan is the headquarters of the Yerevan Brandy Company, maker of the famous ArArAt cognac and in operation since 1887. Again, some Armenia holidays will include a tour and, if you're lucky, a tasting session too.
Travel through the Caucasus region has expanded in recent years, but Armenia remains on the edges of the tourist radar for the most part. Yerevan, along with Lake Sevan and the
monasteries
, sees most visitors. It's a capital city that despite being weighed down with history, much of it quite sombre, feels irresistibly vibrant.