Armenian wine & cognac
Nune Tatunts, from our supplier Arara, with some tips for wine lovers:
"Armenia has more than 10 endemic grape varieties such as Areni, and many local producers. The Areni village holds an annual wine festival on the first weekend of October, and there is also the Yerevan Wine Days festival held in early May on Saryan Street which is full of wine bars. Armenia wines have taken many gold medals in recent international competitions. Cognac/brandy making is also popular here, the most famous company being Ararat. We have over 100 years experience in brandy making, so you can expect some good stuff!"
Natalie Fordham from our supplier Wild Frontiers on the capital's cultural highlights:
"We always include the Matenadaran, and the Erenuni archaeological district, for the history. The Armenia Genocide memorial is an important place to visit, and we recommend visiting Yerevan over a weekend so you can see the Versaj open air market. Yerevan is far and away the most modern part of the country and you really notice it as soon as you venture beyond."
Great for vegetarians & vegans
Great for vegetarians & vegans
Nune Tatunts, from our supplier Arara, shares some highlights of Armenian cuisine:
"Apricots and pomegranates are very special in Armenian culture – the Latin name for apricots is fructus armeniacus, while the pomegranate is another symbol that often appears in Armenian architecture and old carvings. Typical Armenian foods everyone should try include spas, which is a white soup you can eat hot or cold; khash, which is a beef broth said to have medicinal properties and eaten ritually, and khorovats, our delicious barbecue. But Armenia is not just for meat eaters; our cuisine uses many vegetables, fruits and herbs so we have no problem creating different menus for vegetarians and vegans."
Visiting monasteries
Natalie Fordham from our supplier Wild Frontiers on Armenia's religious highlights:
"Each monastery has its own distinctive features and while there is probably such a thing as too many, we try to include them wherever they fit into an itinerary. Tatev with its cable car, and Khor Virap with Mt. Ararat in the background are the most visually impressive. We always suggest Etchmiadzin too, because it's such a significant place, and Geghard offers something fun and a little different. Visitors need to dress modestly; knees and shoulders should be covered. Women will sometimes need a headscarf so we recommend packing one."
Jim O'Brien from our supplier Native Eye on the monastery experience:
"Armenia's monasteries and churches are so atmospheric, especially if you happen to be visiting during any kind of service. You can expect lots of singing, scented candles being burned – very interesting just to watch quietly from the back."
Cultural encounters
Jim O'Brien from our supplier Native Eye on visiting Armenian villages:
"Many of the ethnic villages that we visit aren't particularly 'opened up' for tourism yet, so it's really a case of wandering around, occasionally stopping to meet and have a chat with the locals. It's interesting just to learn a little about their history and how they came to end up in this far flung corner of the Russian empire. At Garni we sometimes have lunch in a local home, with opportunities to help prepare it too which is a fun activity."
Buzzy working
Nune Tatunts, from our supplier Arara, explains why Armenia is so sweet:
"In rural areas almost every family keeps bees and makes honey, usually naturally and organically. Some people take it very seriously – they have special big cars or even buses which they sleep in, and load shelves with beehives. Then they drive their bees from place to place to catch seasonal flowers for a good honey harvest – you see it especially in alpine areas."
Our top trip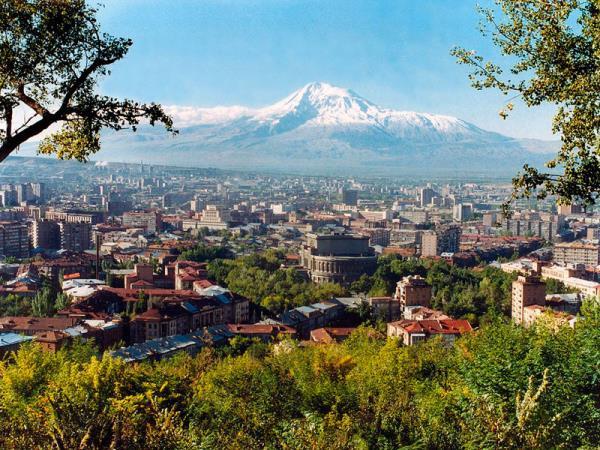 Three stunning countries in one unforgettable tour
From
£1673

to

£1771
13 days
ex flights
Small group travel:
2024: 14 Apr, 28 Apr, 12 May, 26 May, 2 Jun, 9 Jun, 11 Aug, 25 Aug, 1 Sep, 8 Sep, 22 Sep, 6 Oct
If you'd like to chat about Armenia or need help finding a holiday to suit you we're very happy to help.

Armenia tips from our traveller reviews
At Responsible Travel, we think the best people to advise our travellers are often... other travellers. They always return from our tours with packing tips, weather reports, ideas about what to do – and opinions about what not to.
We have selected some of the most useful Armenia travel tips that our guests have provided over the years to help you make the very most of your holiday – and the space inside your suitcase.

The walks to the monasteries are mostly uphill over rocky ground - the transport cannot get you closer than a few hundred yards in most cases and in some the walk is a lot longer

"Be prepared to have your eyes opened as to the depth of Christianity practised in both Armenia and Georgia, both in the past and still today. Bring healthy appetites, for the food is very good and tasty and so plentiful. If you can extend your trip by a couple of days (before and/or after the guided sections), you can experience more of the local capitals. " – Judy Schneider

"The trip is advertised as a cultural holiday and the itinerary mentions that many monasteries will be visited. Complaints about "not another monastery" are unwarranted. The variety and environment in which all of these are found varies and the journey to and from them is quite spectacular." – Maddy Ball



Try the local home made produce you can get from vendors outside the monasteries.

"Travelling through Armenia, Georgia and Azerbaijan means an action-packed 2 weeks, but you'll see everything from grim Soviet-era relics to incredibly beautiful ancient monasteries on remote mountaintops. Be flexible, wear good walking shoes, and come prepared for all sorts of weather." – Paula Lozar

"The walks to the monasteries are mostly uphill over rocky ground - the transport cannot get you closer than a few hundred yards in most cases and in some the walk is a lot longer and over the time that the holidays are offered the temperatures the heat is in the upper 20's and low 30's but some days the thermometer is above the 35 degree centigrade mark, be prepared. " – Baron-Vahl Amos

"Try the local home made produce you can get from vendors outside the monasteries. The bread filled with herbs we bought at Tatev was delicious and the walnuts wrapped in fruit was also very good. Fruit brought from roadside sellers also recommended." – Wayne Smith