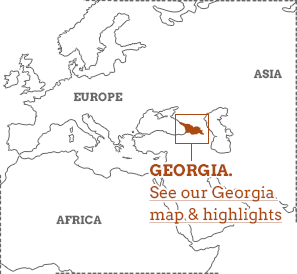 Georgia holidays open a world where ancient stone towers appear organically from velvet green mountain shelves and legendary characters are toasted with the same golden tongue as peace, wives and new-found friends. As our Georgia travel guide reveals, this is a land at the crossroads of civilisations, not quite Asian nor European, where you're just as likely to find an Orthodox Christian church as you are an inn or guesthouse; and where neighbours, such as Armenia and Azerbaijan, offer their own distinctly different experiences to help keep cultural travellers totally captivated.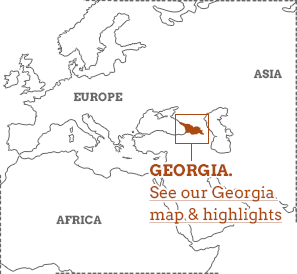 Georgia has enormous soul and is one of those countries that won't leave you thinking: 'where can I go to next' but 'when can I come back?'

Prepare your feet for the foothills of the Caucasus, your ears for polyphonic singing and your spirit for Georgian hospitality, which always includes at least two or three drinking toasts. From Tbilisi's cobbled labyrinths to the Stalin museum in Gori or the medieval monuments of Mestia, in the stunning Svaneti region, Georgia stands alone when it comes to cultural epitaphs and has long melted the iron apron strings of mighty Mother Russia.
Georgia is…
as welcoming as a warm hug on a cold winter's day.
Georgia isn't…
just a misplaced piece of a Russian jigsaw.

UNDERRATED

RATED
OVERRATED
Eating & drinking in Georgia
Eating & drinking in Georgia
Diverse and delicious, Georgian food has been shaped by outside influences throughout the centuries, from the Mediterranean world, to Arab, Persian and Mongol kitchens.
Georgian food and wine culture is exemplified through supra – a traditional feast lasting several hours and featuring a mindboggling array of dishes and accompanied by huge amounts of wine.
Georgia's Kakheti hills are a wine producing hotspot. Georgians boast that their country invented wine some 8,000 years ago, and many rural people make their own wine in a qvevri, or clay pot.
People & language
Hello = gamarjobat
People & language
Georgian is the country's official language. It is a Kartvelian language (there are three other minority Kartvelian languages in the country – Mengrelian, Svan and Laz) and is unrelated to any other language in the world. Its beautiful and unique alphabet is thought to have been adapted from Aramaic as far back as the third century AD. Russian is widely spoken in the country.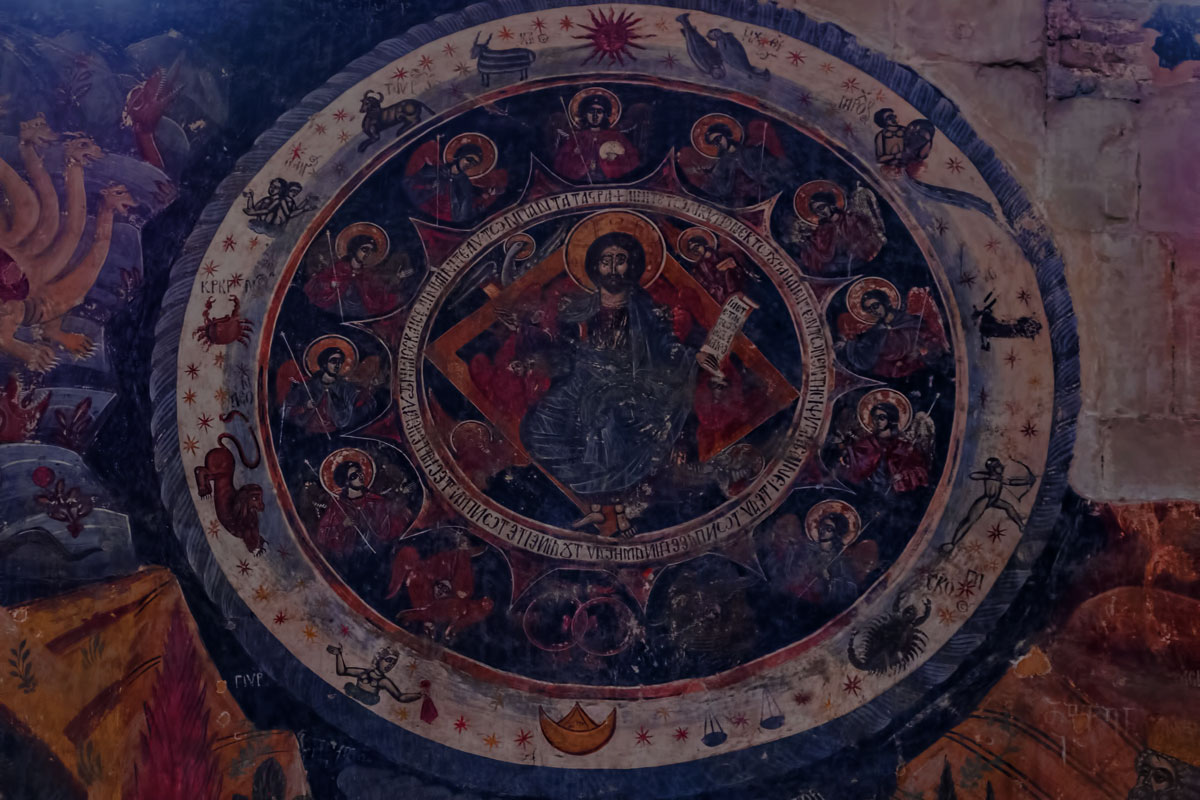 The Orthodox Church in Georgia is booming. Over 80 percent of Georgians say they belong to the Church and that number is growing.

Gifts & shopping
Georgians have a strong tradition of wool and silk carpet making, said to be inherited from the Byzantine master weavers. Georgian rugs are known for their strong contrasts and use of black and brightly coloured fibres.
Another famous Georgian textile is lurji supra or 'blue tablecloths'. These beautifully patterned indigo cloths were once found in every household in the country's east and are still hugely popular with both residents and tourists. Traditionally, lurji supra are made by transferring designs onto cotton using woodblock prints. Common patterns include dancers, warriors, crosses, and decorative paisley motifs.
The sweet toothed can pick up churchkhela – traditional Georgian sweet made from thickened grape juice and walnuts, and tklapi – a pureed fruit sheet which ranges from sour to sweet.

Georgia has Europe's highest permanent settlements – the villages of Bochorna and Ushguli, which stand at 2,345m and 2,100m above sea level, respectively

A Georgian carpet = from around £200
A meal in a local restaurant = £5
A bus ticket in Tbilisi = 15p
Our top Georgia Holiday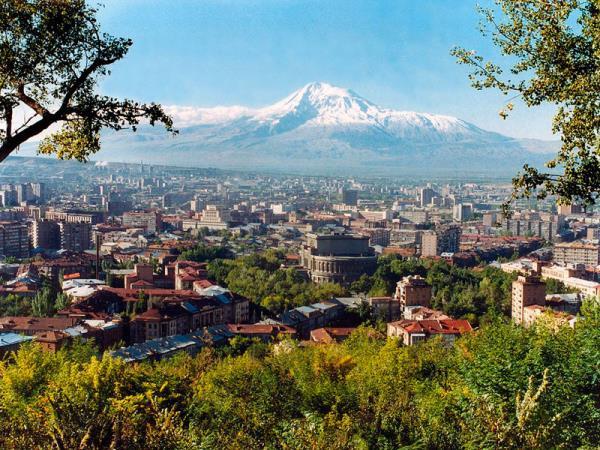 Three stunning countries in one unforgettable tour
From
£1673

to

£1771
13 days
ex flights
Small group travel:
2024: 14 Apr, 28 Apr, 12 May, 26 May, 2 Jun, 9 Jun, 11 Aug, 25 Aug, 1 Sep, 8 Sep, 22 Sep, 6 Oct
If you'd like to chat about Georgia or need help finding a holiday to suit you we're very happy to help.

A brief history of Georgia
Early Georgia
In classical times, Georgia was made up of two kingdoms: Colchis in the west and Kartli in the east and south. In the 4th century, it became the second country to adopt Christianity, when King Mirian and Queen Nana of Kartli were converted to the faith by St Nino. In the 5th century, Colchis forged relations with the Byzantine Empire, while Kartli came under Persian control. King Vakhtang Gorgasali (447–502), considered the father of the Georgian nation, forced the Persians out for a time, moving the capital from Mtskheta to Tbilisi, but the conquerors came again, this time in the form of the Arabs in 654, and then the Turks in the 11th century.
Read more