Sydney to Cairns self drive itinerary
Reaching Sydney, Australia, is a bit of a pinch-yourself moment for many travellers. Perhaps you've only seen the city's opera house on a postcard, or a phone screen. It doesn't prepare you for being actually here, at the harbour. Especially if you choose to do a Dreamtime tour, "It's a beautiful way to see the harbour," agrees Kate Tyler, of our 
Australia east coast road trip
partner Journey in Style. An Aboriginal guide will tell you a story about the harbour land that will heighten your experience of the city, and tell you a story that eclipses its sights in scale and grandeur.
Now you're here, you think,
it's going to take something pretty epic to induce me to leave.
Step forward, the east coast road trip, which coaxes travellers out of Sydney. How does it do it? With the lure of long sandy beaches, quirky towns, beautiful islands, and the biggest sight of all: the Great Barrier Reef.

It's big scenery, and then little stops that make a road trip so fun. Pull over to see a giant mango, or to join a platypus viewing platform.

Road trips up from Sydney to Cairns
 take you past some of Australia's most famous sights. You can visit Brisbane, the Great Barrier Reef, Bondi Beach and see kangaroos and platypuses. Just south of Brisbane, the Gold Coast is a gold rush of high rises, hotels, and sand, and then north of the city, surfers ply the waves of the Sunshine Coast and Capricorn Coast until the Great Barrier Reef does its job and absorbs their swell.
"Sydney to Cairns is a well-trodden route," says Kate. It's a popular road trip – for Australians as much as overseas visitors, and you'll make friends with people making the same journey.
In fact, you can take full advantage of the social aspects of this trip by swapping your car hire for camper van hire. On choice stretches of the coast, this is a great way to travel. "You get a different point of view," says Kate, "You're mixing with a variety of other tourists – swapping travel stories on your way."
Australia is a great place for a taste of van life – "There's a camper van community in Australia," says Kate, but you can try it without committing to the lifestyle. "Unless you're an avid motor home enthusiast it's nice to be able to stop". You can then switch to a car for the remainder of the trip.

It's window down, elbow out driving weather. If you drive from Sydney to Cairns the sea is always outside your driver's side window.

How long should I allow for a Sydney to Cairns road trip?
This is a long trip. The distance from Sydney to Cairns is over 2,000km – in that time you're travelling from a temperate climate to a tropical one, across two states (New South Wales and Queensland). The journey is made longer – but definitely better – by the stops and detours along the way.

You can take your leisurely time travelling between Sydney and Cairns over four weeks. To make the best use of your days, you could choose to fly from Sydney to Brisbane – that means you can focus on the coasts past Brisbane and give in to the temptation to sunbathe every now and then. As you go further north, the palm trees multiply.
Aboriginal culture
There's a movement in Australia to do more to acknowledge Aboriginal culture. Whilst Fraser Island in Queensland was restored to its Aboriginal name K'gari, in 2023; there's more to be done. Your first experience of the cultural shift might be the use of Aboriginal names on some road signs, but to get to know, and support the preservation of, the Aboriginal roots of the places you are visiting, turn to indigenous-owned businesses. You might hear Dreamtime stories – creation stories from Aboriginal peoples to describe the formation of the land by their ancestors – during a Dreamtime tour of Sydney. If you don't know where to start, large operators can put you in touch with smaller local businesses at different points in your trip to find out more.
Original wildlife
When you're travelling through Australia it's only a matter of time before you see a stunning endemic – as the yellow road signs might warn, but it's the very special Daintree Rainforest where you should sharpen your focus. Here, there are tree kangaroos, and everyone wants to see a flightless cassowary, Australia's heaviest bird, which is not endemic, but rare here. They live up to their name and are wary of humans. When you do spot one, though, they are unmistakable; with their turkey-like naked heads – alien blue, with red wattles and prehistoric-looking helmets.
If you'd like to chat about Australia self drive or need help finding a holiday to suit you we're very happy to help.

Sydney to Cairns self-drive itinerary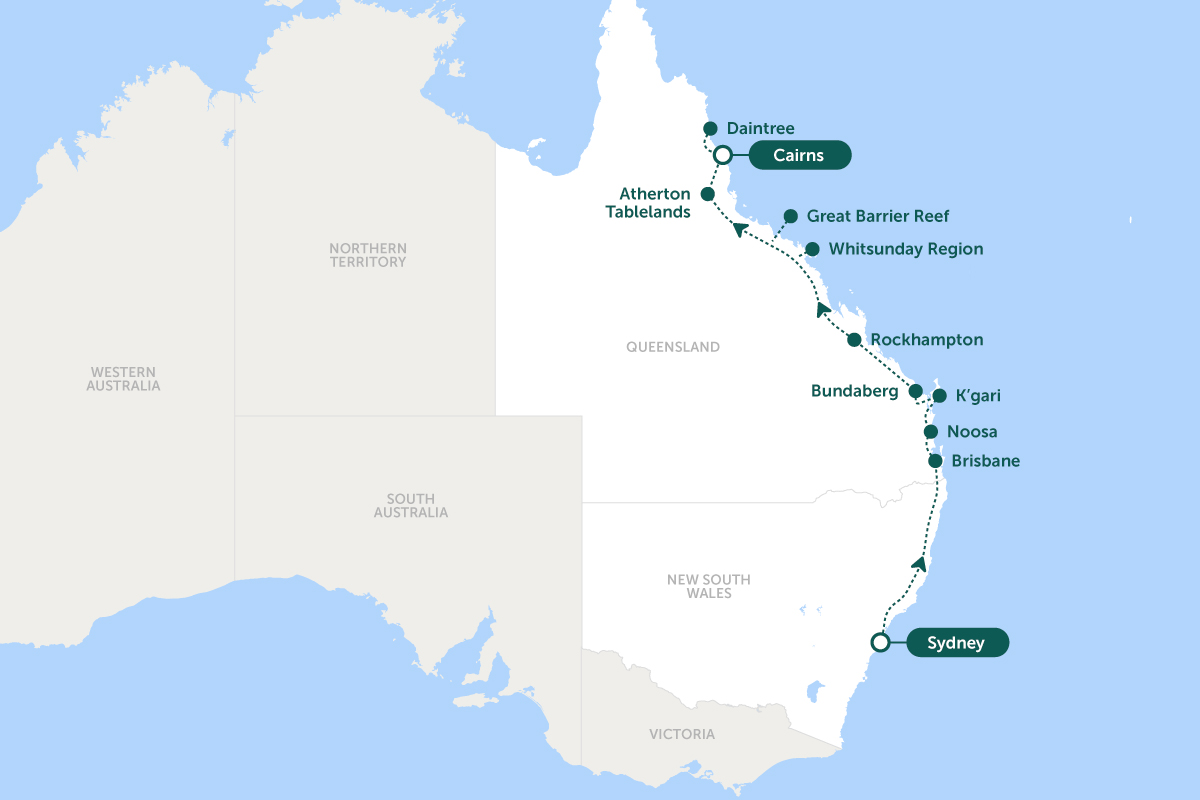 Leaving Brisbane, your focus should be on exploring as you see fit – there aren't many wrong turns. You could go to small towns like Noosa, and Bowen, and rum-producing Bundaberg; locally known beaches like Agnes Water and Horseshoe Bay; and interesting cities like Rockhampton, centre of a massive cattle farming industry. Unmissable sights among the local treasures include K'gari, the massive sandy island off the east coast, the Daintree Rainforest, and the Whitsunday Region. As you draw closer to Cairns, stop at the Atherton Tablelands – a green plateau with walking trails and waterfalls.


Brisbane
Brisbane, capital of Queensland, is Australia's only tropical city – and it's come a long way from its penal colony origins. Whilst very different from Sydney, its riverine neighbourhoods are up and coming, and there are art galleries on the banks of the Brisbane River. Just south is Byron Bay, and just north you can drive to the Sunshine Coast, and Noosa National Park. Some road trips fly from Sydney to Brisbane first, so your drive to Cairns starts from Brisbane.
K'gari
K'gari – formerly known as Fraser Island – presents a beautiful opportunity to ditch the driving for a bit and let someone else take the wheel. You'll need a guide to take you out in a 4WD on the largest sand island in the world, where there are wild dingo packs, and rainforests. Flee down long white sandy beaches ahead of the tide, with nothing breaking up the view until you reach a solitary shipwreck on the shore.
Whitsunday Region
You can't drive to the Whitsunday Islands, of course, but you can park up at Airlie Beach, the cool surfer bay in the region, or hang out in the town of Bowen. The 74 Whitsunday islands themselves are a boat ride away; famous for fantastic tropical resorts and sailing adventures, bang in the centre of the Great Barrier Reef.
Daintree
Pack your car onto the cable ferry and cross the Daintree River to enter the famous Daintree Rainforest. This rainforest would be remarkable alone, but it's made more so by being right next to the Great Barrier Reef, so you can stand on a beach and be on the edge of two fantastic ecosystems at once. The cassowary hides here, but it's not alone. There's a lot to be found in this thick jungle.
Great Barrier Reef
Ditch the car for a boat if you want to visit this massive sight. The inner reef might be more accessible, but the best coral is on the outer – meaning that a day or two on a reef island might be the best way to make the most of the off-coast wonder. The Great Barrier Reef Marine Park encompasses an enormous offshore area, including many islands with white sand beaches and lovely coves, as well as the reef itself.
Cairns region
Cairns is a city where people come to stock up on reef-safe sun cream and prepare themselves to visit the GBR. For a quieter pace of life, whilst still within striking distance of reef trips, many choose to stay in Palm Cove, half an hour's drive north of the city. In this resort there's mud crab on the menu, and a relaxed atmosphere. The Queensland's Great Tropical Drive is a tourist driving loop centred on Cairns.
Four weeks is a great amount of time to explore Australia's east coast – as there are so many sights on the coast and out at sea that will draw you away from your vehicle.

Even with this long timeframe, road trips often include an internal flight from Sydney to Brisbane, to shorten the amount of driving you do. You can fly out of Cairns at the end.
More Australia self drive articles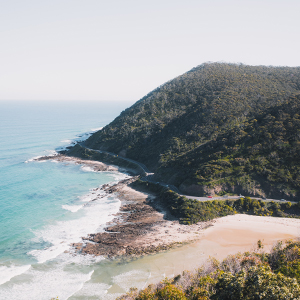 Read our guide to find out why road trips are the best way to really get to know Australia.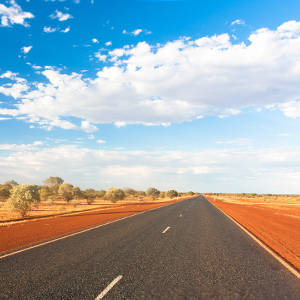 The massive state of Western Australia is best accessed with a car – and then by snorkel.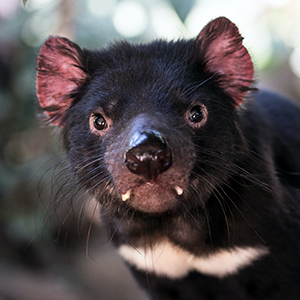 Discover the wild delights of exploring the island state on a self drive itinerary.