SELF DRIVE HOLIDAYS TRAVEL GUIDE

Don't 'guesstimate' driving times. Use detailed trip notes written by those who've driven routes themselves and found the best places to stop, stare and stay overnight

The added freedom you get from hiring a car on holiday is unquestionable. However, to ensure travellers get to experience driving without the stress, an organised tour lets you wind down the window, throw off the driving gloves and make the most of map routes that are as much about the highlights that you'll discover en route as the handpicked accommodation waiting around the bend. Views of the Adriatic on Croatia's Peljesac Peninsula; driving through the Drakensberg en route to a South African farmhouse; tackling Tasmania and meeting the locals, one B&B at a time; whatever your driving dream, a self drive holiday really puts you in the front seat, without the: 'are we there yet'. Explore the world like a local as you head out on the holiday highway and reach places that will send your Sat Nav into submission and allow drivers to become just as rested as passengers.

Read on in our self drive and fly drive holidays travel guide.
What do self drive holidays entail?
It's always easier when you know your way around, right? Those scenic routes and out of the way hidden landmarks; that coastal road leading to the beach that no one knows about; or that winding country lane that ends up overlooking the whole of the valley below. Local knowledge is what makes driving worthwhile. It cuts out the guesswork when considering how long a journey will take. It ensures you minimise your time on motorways but also reach a destination as efficiently as possible, without the stress. That's why an organised self drive or fly drive holiday makes sense. The trip notes have been tailored to your wishes by an expert who has actually driven the routes themselves. You get the added security of 24-hour assistance, just in case, and the chance to stay at handpicked accommodation that might only be accessible by car.
If the weather's bad then you can keep going or, if things clear up, you can stop for an extended break. Driving notes will also include things to look out for along the way as well as local recommendations as to where to stop for a bite to eat or scenic viewpoint that might otherwise pass you by. Once you've arrived at your accommodation you're able to do much, much, more than simply stretch your legs. You can stay a couple of nights, or longer. Your tailor made itinerary might include activities or walking routes or places to visit in the car or on foot.
When you're ready you can jump back behind the wheel and head to the next destination. Perhaps you'll cross borders or swap a city hotel for a remote rural retreat. Maybe you'll head for a couple of nights at the seaside or drive into a deep, dark forest where a log cabin by a lake awaits. Who knows! Self drive and fly drive holidays put you in control. They exemplify freedom but also give you the added comfort and confidence of local knowledge where and when you need it most. In a nutshell: you're in the driving seat even if you're miles from home.
Our top trip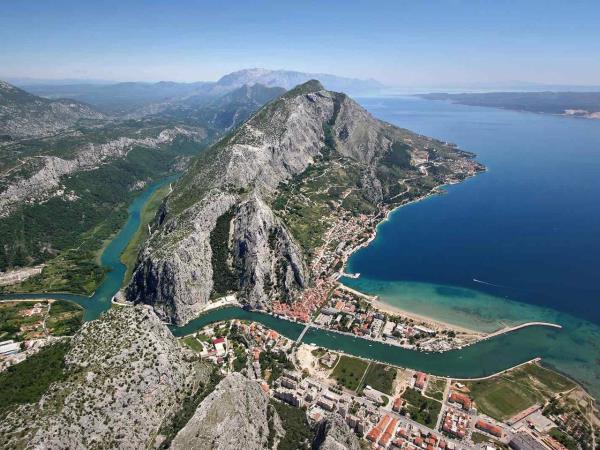 A tailor made holiday that entices you to get your feet walking — and your toes wet
From
£1045

to

£1575
15 days
ex flights
Tailor made:
This trip can be tailormade throughout the year and can be adapted to suit your interests, budget and requirements as necessary
If you'd like to chat about Self drive & fly drive or need help finding a holiday to suit you we're very happy to help.

THINGS TO DO ON SELF DRIVE & FLY DRIVE HOLIDAYS
Things to do on a self drive & fly drive holiday...
National Parks hold some incredible driving routes with the likes of Kruger in South Africa, Plitvice in Croatia, and Skaftafell in Iceland all promising to make the journey equally as anticipated as the arrival. Self drive holidays allow travellers to get deeper into the landscapes that exhibit a country at its best, and where roads have been designed with the environment in mind. Speeds may be limited so as to further ensure the safety of wildlife and give drivers a chance to take their foot off the pedal, to get out and explore.
Just because you're driving doesn't mean you can't swap the wheels for a ferry or, better yet, drive onboard and set off again no sooner than the gang plank's down. A fly drive holiday north of Scotland, for instance, takes you off the mainland and onwards to Orkney prior to boarding the overnight ferry to Shetland where you're free to explore with just seals and seabirds for company.
The beauty of an organised fly drive holiday is that you're free to travel under your own steam in some really exciting environments. Getting out of the car to stretch your legs is one thing but hiking the trails in Cuba's Sierra del Rosario Biosphere Reserve, for example, or spending a day fly-fishing in Tasmania's Central Highlands, is quite something else. Horse riding, kayaking, biking or hiking; you name it and you can do it on a self drive holiday.
Things not to do on a self drive & fly drive holiday...
Watch it all through a window. Obviously, the clue is in the title and yes, self drive holidays do require a certain amount of time spent behind the wheel. However, it would be a shame to come all the way to Cuba, South Africa, or Scotland, for that matter, and not take your time to enjoy the sights without the windscreen. Shorter journeys, ferry rides and guided sightseeing tours on foot all add up to time well spent for drivers who prefer to live life without windows.
Stick to the busy beaches. Croatia, in particular, is one such fly drive destination that screams 'hit the beach' with island hopping and the coastal route from Ston to Dubrovnik definitely recommended for those who long for ocean views. Sometimes it's nigh on impossible to head to the coast without queues, especially in the summer, which is why a little bit of local knowledge goes a long way with secret coves and sand covered trails both bound to be recommended in your self drive trip notes.
Stay in one place. The beauty of a self drive itinerary is that you can stop off at any number of different places away from the tourist hotspots and discover those tiny, secret treasures that only local people know about. Staying in one location is fine for day trippers but if you're looking for a deeper understanding of a country then listen to the call of the wild as you drive beyond the outer limits and explore with the freedom of Hopper and Fonda in Easy Rider.
More Self drive & fly drive articles