Self drive holidays in Iceland
Tolkien, who was inspired by Icelandic mythology in all his works, created the Lord of the Rings. And even though you may not visit Iceland in search of elves and trolls, most people who choose to navigate their way across these dramatic landscapes do want to become Lord of the Ring. Given that the main road that takes you around the island is called the Ring Road, and master it they shall.
Driving the Southwest
Self drive holidays in Iceland - also called fly drive holidays - are tailor made to suit your interests. Holiday companies will talk you through the regions you could visit, the time you might like to take it all in, and the type of vehicle you require. Although in most cases, the cars are four wheel drive (4x4). The most popular self drive route for people travelling to Iceland for the first time is around the southwest and the hotspots of the Golden Circle.
The Golden Circle
The Golden Circle is another golden ring, but one that emanates from marketing minds rather than Middle Earth ones. It is the name coined for the famous tourist trail that is within easy reach of
Reykjavik
, so you can see a lot of Iceland's geological gorgeousness in a short break. It takes in magnificent sights such as the Gullfoss Waterfall tumbling 32m into Hvitargljufur gorge. Then onto the great fissures of Thingvellir National Park, superb for leaving the car behind for a while and exploring some hiking trails. And then of course, basking in the Blue Lagoon and gawking at the magnificent Geysir are a must on this trail. The advantages of travelling on a self drive holiday in the southwest of Iceland are that you can travel at your own pace and, given that these magnificent sites can get very crowded, you can head there before or after the tourist coaches arrive.
Heading north
You can of course also go further afield on an Iceland self drive holiday, one of the most popular locations being Snaefellsnes Peninsula, north of Reykjavik. This is where the extraordinary Snaefellsjokull ice cap that features in Jules Verne's Journey to the Centre of the Earth can be seen, as well as virtuosic volcanic peaks, lava fields and magnificent beaches. This is definitely one region where you will want your hiking boots and binoculars in the back seat of the car. Even further north are Iceland's Highlands; definitely 4x4 territory although it is so lunar-like in terrain it sometimes feels as if you might need a space shuttle instead. Another option for discovering the north by car is to take an internal flight from Reykjavik to Akureyri in the far north and pick up a car rental there to explore this hub of magnificent Icelandic hiking.
Our top trip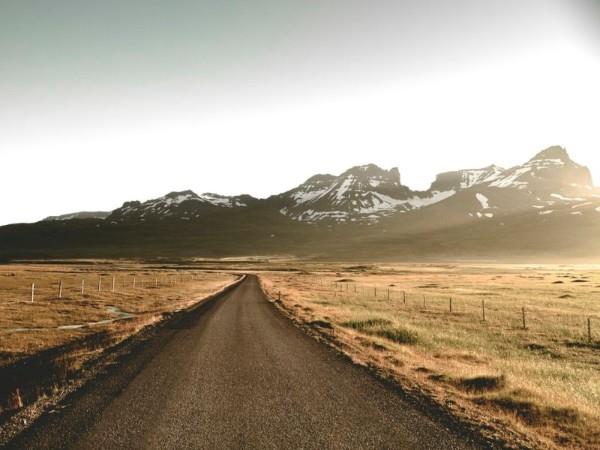 6 days exploring highlights of Iceland
From
£1278
6 days
ex flights
Tailor made:
Everything is tweak-able, giving you the freedom to build a unique and personal trip for your chosen date. Upgrade your accommodation for all - or just part - of your trip, slow down the pace with few extra nights here and there or add a few more active adventures along the way.
If you'd like to chat about Self drive & fly drive or need help finding a holiday to suit you we're very happy to help.

Mastering the Ring Road
On tailor made holidays you can, of course, aim to do the full circuit or Ring Road, also known as Route 1. You can take on these 1,339km in a clockwise or anticlockwise direction, with your accommodation booked in advance to help things run smoothly. But either way is good. Although there is one Icelandic rule of thumb that is worth bearing in mind – if the weather is bad down south, head north. And vice versa. The road is generally really well maintained and well ploughed in winter but there are few hard shoulders. So beware in the chilliest months, if you are stepping out of the passenger side onto the side of the road to look at something gorgeous, because that bit won't be ploughed and you could be up to your knees in snow as soon as you step out. The other thing you need to master is single lane bridges along this road, where you basically give way to whoever is closest to the start of the bridge. Pull over into the space provided and leave them plenty of space to pass you, but be careful not to swerve into deep snow when doing so. There are also some single lane tunnels through fjords but the sign will show you which person has right of way. And in general, always pull over slowly and safely into specific areas to take in the views and only park where you believe it is safe. Parking on the ring road is very dangerous in winter.
Knowing the mechanics
Just to make up for all those scary thoughts, it is actually very easy driving in Iceland because the holiday companies are experts in what you need, depending on where you are going and what time of year it is – as are the car rental agencies. The vehicles will have the correct tyres for the season and the gears are easy to manage these days in modern 4x4s. If you are driving in winter, however, or planning to park and go hiking off road, then it is wise to tell someone where you are going. Your holiday company should be able to provide you with contact numbers and are there to help you should you get into difficulties. But it is also worth downloading the
112 Safety app
that the Search and Rescue Association of Iceland (ICE-SAR) has cleverly launched which enables you to have immediate access to local emergency services.
Don't journey into Middle Earth
Don't journey into Middle Earth
One place that must remain a fictional universe for drivers in Iceland, however, is the one that lies off road. Pure and simple, all off road driving and driving outside of marked tracks is prohibited by law. Not just because it can be very dangerous but also because Icelandic nature is delicate and tyre tracks from off road driving cause substantial damage to vegetation, leaving marks that can last for decades. Because this country really is, in the words of Tolkien, 'a blessed realm' and Icelanders would like you to keep it that way for generations to come.
More Self drive & fly drive articles