Things to see & do in Reykjavik, Iceland
The worldís northernmost capital is in fact more like a regular town in size and population. Established by a 9th century Norse chieftain and isolated for centuries by its remote location, the city is now Icelandís centre not only of power, but of culture, too. It also soaks up the majority of tourists coming into the country on planes and cruise ships, and suffers from overtourism.
So if youíre planning to visit Icelandís capital, on a short break or as part of a longer exploration of the island, try to visit during quiet months Ė July and August remain peak season Ė and once here, evade the crowds by strolling off the main tourist drags, often lined with souvenir shops and little else. Reykjavik lends itself to exploration on foot. If booking through a responsible holiday company, they will help you discover hidden gardens and parks, colourful houses clad in corrugated iron, waterfront routes where locals jog and cycle, and dramatic views of the mountains that rise up just beyond the cityís boundaries. For a brush with Icelandís wilder side without leaving the city limits, explore Ellidaardalur Valley, popular with walkers and cyclists, and Laugardalur (Hot Spring Valley) to the east of the city centre, the capitalís go-to spot for sports and recreation.
Explore the cityís past
Reykjavikís reputation as a fun, cool place for a whistlestop weekend has grown up since the banking crisis of 2008, when prices dropped and visitors were invited in with open arms, but it hardly does justice to the long and rich history of this city. If youíre spending time in Reykjavik, show it the respect it deserves by investigating its past. Mug up on life in Viking times at the Settlement Exhibition, built around a carefully excavated longhouse from the 10th century or at the National Museum, which romps through Icelandís history, from the Vikings right up to contemporary times. Families will appreciate the Saga Museum, which recreates key moments in Icelandís history and helps kids imagine how life was once lived on this remote, volcanic island.
Enjoy some capital culture
As well as being geothermally active, Iceland is a veritable hothouse of creativity, with Reykjavik its epicentre and its museums and galleries a window onto the islandís unique cultural life. Reykjavik Art Museum and National Gallery is a great place to start, with shops featuring cutting edge Icelandic design, and do swing by the big statement modernist centrepiece that is Harpa Concert Hall, too.
Our top trip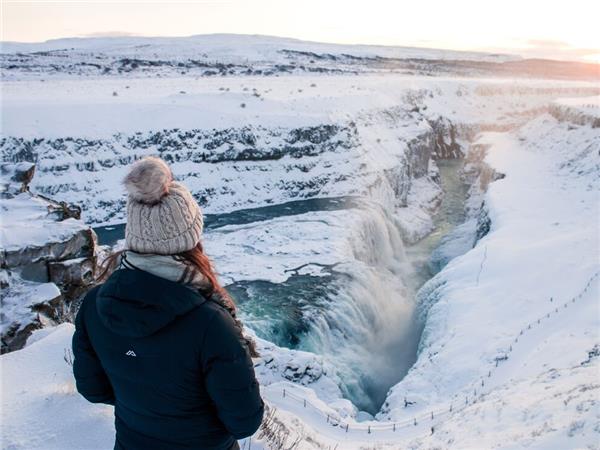 Springs, waterfalls, volcanoes and Europeís biggest glacier
From
£1328

to

£1980
6 days
ex flights
Small group travel:
2023: 8 Dec, 10 Dec, 12 Dec, 13 Dec, 14 Dec, 15 Dec, 16 Dec, 19 Dec
2024: 3 Jan, 4 Jan, 6 Jan, 7 Jan, 9 Jan, 10 Jan, 11 Jan, 13 Jan, 14 Jan, 16 Jan, 20 Jan, 23 Jan, 30 Jan, 4 Feb, 9 Feb, 11 Feb, 13 Feb, 16 Feb, 17 Feb, 18 Feb, 20 Feb, 22 Feb, 23 Feb, 24 Feb, 27 Feb, 1 Mar, 2 Mar, 3 Mar, 6 Mar, 7 Mar, 9 Mar, 10 Mar, 13 Mar, 15 Mar, 17 Mar, 20 Mar, 22 Mar, 24 Mar, 27 Mar, 30 Mar, 15 Oct, 19 Oct, 21 Oct, 23 Oct, 25 Oct ...
If you'd like to chat about Iceland or need help finding a holiday to suit you we're very happy to help.

Then be sure to make time for a potter through the cityís quieter streets, popping in and out of small galleries, independent shops and contemporary spaces to see whatís happening at grass roots level. Keep your camera handy, too, so you can snap some of the sensational graffiti gracing the cityís walls and be sure to extend your stroll to include sculpture ringed Tjornin Pond and the waterfront. Here, youíll find the Sun Voyager sculpture, which looks like a Viking ship, but was created by sculptor Jůn Gunnar Arnason as a dream boat and ode to the sun. As you explore, stop off for a coffee or a snack in small, neighbourhood cafes, placing your tourist money directly into local hands, where itís most appreciated.
Reykjavik has been designated a UNESCO City of Literature Ė the first non native English speaking city to receive this prestigious title. Discover some of its original medieval manuscripts at the Culture House, including the Poetic Edda, a collection of old Norse poems brimming with important Nordic mythology. Bring some more up to date reading with you, too; the Reykjavik based crime novels of Arnaldur Indridason would be ideal.
Take in a festival
Reykjavik hosts a huge number of festivals Ė theyíre hard to miss, so join in. Film, food, jazz and blues, literature and childrenís literature, a Viking festival and winter lights events all keep the capital hopping throughout the calendar. As the first country in the world to elect an openly gay head of state, Jůhanna Sigurūardůttir in 2009, Iceland also hosts a wonderful Pride festival in August each year.
Strip off for a dip
Thermal baths pepper volcanic Iceland and the most famous is the Blue Lagoon, a large pool and spa which is fed by the futuristic Svartsengi geothermal plant. Itís certainly beautiful and otherworldly, but itís also one of the most visited attractions in Iceland, conveniently located close to Keflavik airport. To avoid contributing to its crowds, dip into an equally warm and wonderful experience, and a more authentic one, too, by visiting one of the many public pools in Reykjavik. Here, for a few krona you can enjoy a swim, sauna, steam room and hot pools heated to various temperatures alongside locals who come here every week. Just be sure to have a full shower before diving in, to ensure the water stays perfectly clean.
Get out of town
Reykjavik is tiny, so youíre never far from the great outdoors. Dramatic mountains, stormy seas and populations of puffins exist just on its fringes and although two thirds of Icelandís population lives here, they remain intimately connected to this wilderness on their doorstep, which informs their art, culture and lifestyle.
Even if you are only in Reykjavik for a short time, try to travel beyond its boundaries. Youíll have the joy of seeing extraordinary landscapes in clear, clean light, while also easing the pressure on the busy capital. The best option is to join a guided tour. Many of these head to the famous Golden Circle, which includes Thingvellir National Park, where two tectonic plates meet, regularly spurting Geysir and the waterfall Gullfoss. This is very much a go-to day trip circuit, but a good local guide will lead you to lesser known viewpoints and know when the crowd numbers drop, so you can have a more intimate experience of these rightfully popular spots.
Better yet,
seek out a tour
that takes you to lesser known places within striking distance of the capital, to walk, explore and learn more about the landscape from an in-the-know local guide. If you prefer to drive yourself, choosing an
organised self drive holiday
rather than just hiring a car is the best option. You'll benefit from carefully planned routes designed with insider knowledge, that lead you away from overtourism hotspots and towards little visited treasures.