Iceland small group holidays guide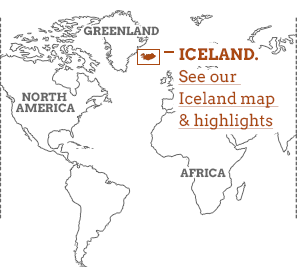 There are several reasons why the majority of our holidays in Iceland are small group tours. Mainly because one of the most responsible ways to travel in Iceland is with a local guide. But it is also the most insightful. Yes, there are some honeypots and set routes to follow such as the Golden Circle but there are also so many landscapes, lakelands and lore to seek out, all of which are tucked into an expert guide's little black book. Or black chair, perhaps, as you could also think of small group guides in Iceland as all boasting Mastermind style specialist subjects. Geology, photography, mythology and, most definitely, funology.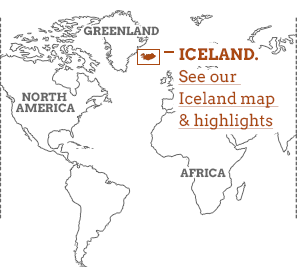 Travelling to Iceland with other photography enthusiasts was absolutely the best way to go. I learned so much from my fellow travellers as well as from our fantastic Icelandic teacher.

Take an amphibious vehicle around icebergs. Bathe in hot thermal springs way off the beaten tourist path. Seek out orcas off the Snaefellsnes Peninsula and snorkel between two tectonic plates in the Silfra Fissure. Small groups are rarely sleepy groups. Read more in our small group travel guide to Iceland.
WHAT DO ICELAND SMALL GROUP HOLIDAYS ENTAIL?
It's all about the itinerary
Your small group Iceland holiday usually begins in the heart of Reykjavík. Some tour operators may offer transfers into the city centre if the group is all booked onto the same flight. You will have been given a detailed itinerary before arrival, as well as trip notes about what to pack and what to expect weather wise (although this is four-seasons-in-a-day terrain, so it is always a bit of a guessing game). The key of small group tours is the itinerary, however, with holiday companies creating itineraries that they are proud of. Responsible operators always seek out authentic, fun experiences, so don't expect to be on the beaten track in Iceland for too long. The joy of a small group tour is that you just hand yourself over to your group leader and enjoy the Iceland experience, accompanied by likeminded travellers of all ages and backgrounds.
How big is a small group?
How big is a small group?
It could range between four and 16 participants, and is usually a real mix of people. Before booking, it is common for travellers to enquire about the group make up. Will you be travelling with other couples, are they mostly solo travellers, mostly male or female? You can also enquire about the minimum age in case you would prefer to travel with adults only, although the majority of small group tours to Iceland are aimed at adults. Photography holiday group sizes tend to be smaller, usually around 10 people maximum.
Kristijan Svajnzger, tour leader at our Iceland supplier Intrepid:
"The average age on our group trips is 40. My favourite moment as a group leader is sitting down in the evening with the group at one of our guesthouses, opening up a beer or a bottle of Vine and letting the experiences of the day fully sink in, while stargazing at the amazing sky over Iceland."
What is the accommodation like on small group tours in Iceland?
As with any holidays, it varies, but the joy of a small group tour is that tour operators usually have established working partnerships with hotels and guesthouses, and they know what makes their guests happy – so you can trust them on that. You can also trust that fact that accommodation in Iceland is expensive, so even though tour operators negotiate good deals, you won't feel as if you are getting as much for your money as you might in other parts of the world. But that is just the Icelandic way.
On an Iceland circuit holiday you might stay in a mixture of modern hotels with en suite facilities, farmhouses or even a school or social centre that has been converted into hostel style accommodation in remote areas for the summer. If you are travelling solo, sharing a twin room with someone of the same gender is the norm, or you may have the option to pay a supplement for your own room. This isn't always the case, however, so do check with your holiday company.
Your small group guides
Iceland is an exciting country to visit and once you step off the beaten tourist trail with your small group, you will be heading into a land of adventures. This is where expert guides come into their own, in whom you can put your trust, have some good banter and will end up respecting no end as they lead you to the best places imaginable. These may be photography teachers keen help you capture the Northern Lights in the wildest of spots, or geographers who know the geology of this unique country inside out. And then you get guides who have encyclopedic knowledge of Icelandic mythology and history. A qualification from the national guiding school is also the important seal of approval that responsible tour leaders are proud to show off. Small group tours are made special by the quality of their guides and we are proud of all the guides we have used to date.
Kristijan Svajnzger, from our Iceland supplier Intrepid:
We use driver guides who have all had to go through Icelandic Guiding School in order to be able to correctly explain the sights you see, country you are travelling through, customs, food, etc.
Iceland small group holiday activities
What to do on a small group holiday in Iceland…
Going on a small group tour to see the Northern Lights means that you have an expert guide on hand at all times who knows all about aurora alarms, camps and photographic tips. Of course, you can never be guaranteed to see the 'temperamental lady', but small group tours take you to remote spots like Hvolsvollur Valley or Lake Mývatn to swap artificial light for the joys of natural lightshows.
You don't have to be a pro to go on a small group photography holiday in Iceland, just a fan of the exquisite aesthetics the landscapes and light produce here. Some people say that the black lava fields contrasted with glaciers proffer the perfect monochrome territory; others can't get enough of the myriad blues and whites in icebergs and inlets. Photography guides always know the best spots for the best shots.
Circumnavigating Iceland is a popular small group option as most people don't have the time or expertise to organise this independently. Some do it in one week, others slow down and hike glorious swathes of it in two. Seeing all points of the compass gives you chance to explore remote peninsulas such as Snaefellsnes in the northwest or deep glacial valleys of Trollaskagi in the northeast.
A lot of our small group holidays are specific walking holidays, and our Iceland walking holidays travel guide offers more detail about these.
What not to do on a small group holiday in Iceland…
Save the whales, don't eat the whales. Sadly, whale meat is still served here and a lot of this cetacean cuisine is driven by tourism demand, as a 'novel' thing to do. Nauseating more like, this outdated tradition with only five per cent of the population actually eating it now. And while we are at it, please don't eat puffin. And yes. Some people do.
Please travel responsibly and try not to add to the crowds, with overtourism in Iceland becoming a major issue. Although don't let that put you off. Our responsible small group holidays take you off the beaten path far from the 98 percent of visitors who fly in, dip into the Blue Lagoon, get splashed by Gulfoss, gobsmacked by Geysir and then go again. That leaves two percent of visitors to enjoy about 98 percent of wilderness.
It may be wild and there are so many bits of the country off road, but that doesn't mean you have to behave like a wild thing. Expert guides know all the remote roads where it is legal and safe to drive. And when you are hiking, remember to leave no trace at all.
Don't wear layers of creams and potions into the geothermal pools. They are totally natural, and Icelandic people are careful of keeping them cosmetic free. So always wash yourself thoroughly before getting in.
Our top trip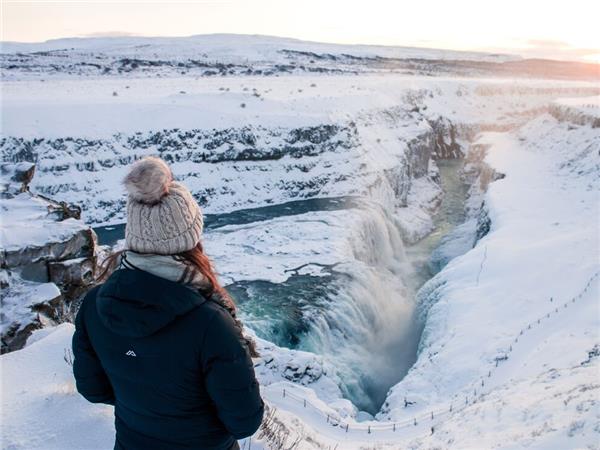 Springs, waterfalls, volcanoes and Europe's biggest glacier
From
£1328

to

£1980
6 days
ex flights
Small group travel:
2023: 8 Dec, 10 Dec, 12 Dec, 13 Dec, 14 Dec, 15 Dec, 16 Dec, 19 Dec
2024: 3 Jan, 4 Jan, 6 Jan, 7 Jan, 9 Jan, 10 Jan, 11 Jan, 13 Jan, 14 Jan, 16 Jan, 20 Jan, 23 Jan, 30 Jan, 4 Feb, 9 Feb, 11 Feb, 13 Feb, 16 Feb, 17 Feb, 18 Feb, 20 Feb, 22 Feb, 23 Feb, 24 Feb, 27 Feb, 1 Mar, 2 Mar, 3 Mar, 6 Mar, 7 Mar, 9 Mar, 10 Mar, 13 Mar, 15 Mar, 17 Mar, 20 Mar, 22 Mar, 24 Mar, 27 Mar, 30 Mar, 15 Oct, 19 Oct, 21 Oct, 23 Oct, 25 Oct ...
If you'd like to chat about Iceland small group or need help finding a holiday to suit you we're very happy to help.

Best time to go on an Iceland small group holiday

A small group tour that combined Iceland's natural wonders with its aurora awesomeness – it felt like the best 'buy one get one free' ever.

Small group holidays in Iceland are all on chosen dates and some of them book up quite far in advance, such as the Northern Lights holidays. The tour operators are seasonal experts, however, and create itineraries that are suitable for each season. Photography during midsummer all day light. Whale watching during the summer months or seeing the Northern Lights in the heart of winter. Whenever you go, the weather is unpredictable. And rarely is it hot, maximum temperature being low twenties.
Be aware that peak tourist numbers are in July in August in Iceland, and so if you are going on a small group tour during these months, check that it also goes off the beaten path. If not, be prepared for crowds. And they like to party, especially given that the days never end during this time.
During these summer months, it is a great time to take on a small group tour of the whole island circuit, because the hiking routes are dry and you will travel well away from the crowds.
Northern Lights appear from September until April, but February and March are two of the best months for seeing them at their most dramatic (September and October are also excellent) and lots of small groups tours take you there during this time. Snow is more common around February which makes the sky a bit cloudier for aurora viewing. Makes for more fun while you're waiting though.
May-September is the best time to visit Iceland if you want to go whale watching which means that if you pick a small group tour during September you could get orcas and auroras on one trip.
If you are travelling here in winter to see the Northern Lights, do pack your thermals with temperatures diving as low as -30°C. You can still dive into the famous Silfra fissure in winter though, with drysuits provided. December to February are the coldest months in Iceland.
Just as Iceland has glorious all day long summers, the days are very short indeed during December and January.
More Iceland small group articles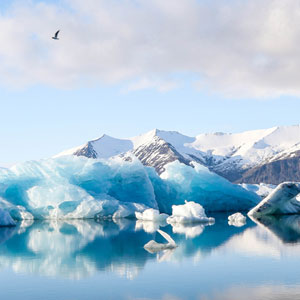 The popular south of the country features, but also to the north, east and west.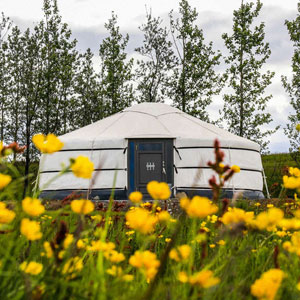 Mongolian yurts have found their way to the wilds of Iceland, and you can stay in one on your holiday.