Staying in a yurt in Iceland
"Why don't we build a yurt camp?" When Simon Grove from our adventure holiday specialists, Explore, threw out the idea, he didn't expect that the next two years would be spent overseeing the building of a
campsite in southwest Iceland
. And not any old campsite – a clutch of Mongolian yurts anchored into the harsh Icelandic countryside in the Golden Circle.

Aurora camps, far-flung farmhouses, geothermal guesthouses – and now Mongolian yurts.

But as bizarre as it might seem – even for Iceland, a country that's no stranger to the bizarre – the Nattura Yurtel camp was designed as an antidote to two of Iceland's tourism woes:
overtourism
and expensive accommodation. But why yurts? And why now?
Our Iceland small group Holidays
The Golden Circle – minus the crowds
"Imagine Wembley Stadium on FA Cup Final day," says Simon. "That pretty much sums up the car park at Gullfoss. There can be hundreds of vehicles, with everyone walking along the same narrow walkway to see the thundering falls."
Iceland has been creaking under the weight of tourists since the 2010s, with the
2.3 million
who visit honing in on a handful of the places: Reykjavik, the Blue Lagoon and the Golden Circle.
There are plenty of good reasons to explore the Golden Circle tourist circuit, after all. It lays out Gullfoss: the vast waterfall that crashes down the tiered Hvita river canyon. There's Thingvellir National Park: home to the Viking Parliament and the active Almannagja fault line. There's the Strokkur geyser, which dutifully spouts boiling water 30m into the air every few minutes. This corner of southwest Iceland is gut-punchingly beautiful – when not blighted by crowds.
Hannah Methven, who looks after Explore's Iceland holidays, explains how Simon and her team thought that new accommodation options could be a powerful way to solve overtourism: "They [the yurts] came about as an idea from Simon, as a way to stay outside the main cities in Iceland, to both support the smaller rural communities and allow people to see the sites away from the peak times where large coach parties turn up."
The best accommodation in Iceland encourages you to stay for a few nights instead of joining the one-day coach tours that set out from Reykjavik. When you stay a five-minute drive away from Gullfoss, you can visit in the early morning, before the coaches rumble in. "With no-one there you can hear the falls," says Simon. "You don't trip over people taking selfies and you can just admire them for what they are – with no-one else around. It's magical."
When you approach Iceland like that, your accommodation becomes more than just a place to lay your head. That's true of the yurts at Nattura Yurtel, says Simon: "It's a real escape from the daily grind. Being able to sit out in the evening and watch the stars is a highlight."
You'll need at least three days to wring the most out of your lodgings. Iceland isn't made for rushing. Roads weave widely through inhospitable lava fields, while the best hot springs sit a hike off the main road – hot springs where you'll want to soak in the weirdness of lying in hot tub-warm water while surrounded by luminous meadows and bleak skies. Or you can just stay put, watching mountainous clouds bubble and break over the land from your doorstep.
Our top Iceland small group Holiday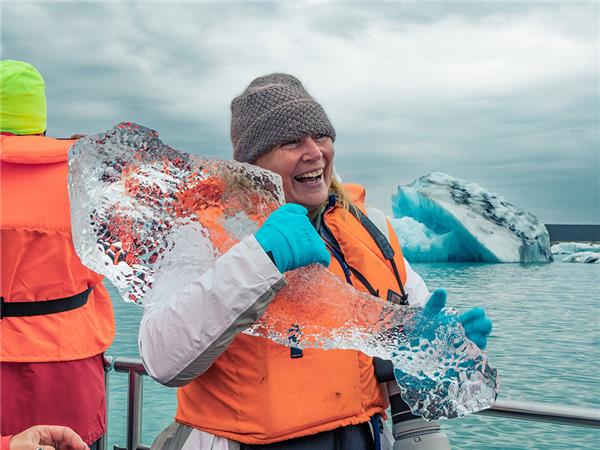 Delve into the ancient land of Vikings and volcanoes
From
£2052

to

£2460
8 days
ex flights
Small group travel:
2022: 24 Aug, 31 Aug, 9 Sep, 12 Sep, 14 Sep, 23 Sep, 28 Sep, 3 Oct, 7 Oct, 9 Oct
2023: 21 Apr, 24 Apr, 28 Apr, 5 May, 8 May, 12 May, 15 May, 19 May, 22 May, 26 May, 29 May, 2 Jun, 5 Jun, 7 Jun, 9 Jun, 12 Jun, 14 Jun, 16 Jun, 19 Jun, 21 Jun, 23 Jun, 26 Jun, 30 Jun, 3 Jul, 5 Jul, 7 Jul, 10 Jul, 12 Jul, 14 Jul, 17 Jul, 19 Jul, 21 Jul, 24 Jul, 26 Jul, 28 Jul, 31 Jul, 2 Aug, 4 Aug, 7 Aug, 9 Aug, 11 Aug, 14 Aug, 16 Aug, 18 Aug ...
If you'd like to chat about Iceland small group or need help finding a holiday to suit you we're very happy to help.

Yurts in Iceland aren't quite as strange a concept as you'd think. They blend near seamlessly into the landscape, they don't use environmentally damaging construction practices, and they don't price Icelanders out of their neighbourhoods
like Airbnbs
. At first, the idea even seemed simple to Simon and his team. You just needed land ("plenty of that in Iceland") and yurts ("there's enough of them in Mongolia"). But the course of building sustainable accommodation never did run smooth.

If at first the idea is not absurd, then there is no hope for it.

First things first: Simon and his team had to pick the perfect point on the map. Somewhere wild, but within a couple of hours' drive of Reykjavik; somewhere close to the sites that tourists wanted to see, but that avoided contributing to Iceland's overtourism woes. After dabbling with over 30 locations, they ended up working with Asa and Hjalti, who owned a horse farm in the Golden Circle.

"Initially they were going to run the camp on our behalf," says Simon, "however it is a huge undertaking and so we employed Hubert and Beata to run the camp for us. They are Polish (as are 10 percent of the Icelandic population) and were initially drawn to move to Iceland through a love of Icelandic music."
When you stay with islanders like Hubert and Beata, you'll realise that their love of their island is wholehearted – and infectious. Only the brave carve out a living in the lava landscapes of a storm-swept island with short, cool summers and long, pitch-dark winters. Your hosts are walking guidebooks, too. You'll find that Icelanders can't help but steer you away from the Blue Lagoon and instead point you towards the secret hot springs invisible from the main road. Or recommend that you swap the budget-breaking restaurants in Reykjavik with the restaurant down the road with handwritten menus and the best kjötsúpa (lamb soup) in the southwest.
So, location: check. Next up: the accommodation. Sustainability was key, so Simon and his team set out to Mongolia to design a yurt with craftspeople who would know how to make the camp fit the Icelandic landscape like a mitten. Yurts are traditionally heated by log burners – tricky in the treeless world at the edge of the Arctic Circle – so underfloor heating was a must. Glass skylights were needed for an unobstructed window onto one of Iceland's best views: the starry sky and elusive aurora borealis.
Transporting the yurts from Mongolia to Iceland was an adventure in itself. Longwinded customs clearances scuppered the planned train trip through Russia, so the yurts were unpacked and put into an empty lorry returning from Mongolia to Europe. A 15-day road trip later, and the yurts were packed onto a ferry from Denmark to Iceland – arriving just one day before the camp construction was scheduled to begin.
Was it worth it? Simon says yes – and not just because they blend in so well with the landscape: "They were also chosen because they are so different. Much of the accommodation in Iceland is clean and functional; the yurts are a highlight in themselves and give people something to talk about."
More about Iceland small group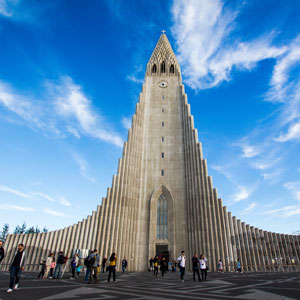 This Iceland small group holidays travel guide shows you all the trips on offer if you prefer to travel with some likeminded travellers.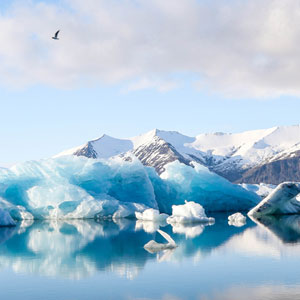 Our map and highlights of small group tours in Iceland take you not only to the popular south of the country but also to the north, east and west.