Best time to see the Northern Lights in Iceland
When you read articles about the Northern Lights, they usually open with definitions of what they actually are, descriptions of their various different names, such as the Aurora Borealis or even the Dawn Goddess, as well as various scientific explanations. The reason for this is because it is nigh on impossible to put the experience of seeing them into words. They are, in fact, ineffable. Or beyond words. What we can tell you, however, is that Iceland is an exquisite place to embrace the ineffable, because the countryís other worldly landscapes proffer the perfect backdrop for this already surreal and yet totally sublime experience.
One of the secrets of our
Northern Lights holidays in Iceland
is that they take you as far away from artificial light, so that you can see the real thing as clearly as possible. The real thing being electrically charged particles travelling 93 million miles from the sun, then colliding with gases in the earthís atmosphere to create different coloured lights Ė just to get the obligatory scientific blurb out of the way. And if you travel with a tour operator that is expert in taking you to such remote spots, not just a few kilometres outside the capital on a burgeoning bus trip, you will hopefully get to experience the lights in some of the wild, coastal and lava filled landscapes that Iceland is so celebrated for.
Some of these dark sky landscapes include Borganes on the Borg Peninsula, about 75km north of Reykjavik, which overlooks the Borgarfjorour Fjord. Or the Jokulsarlon Lagoon area in the south east of the country, where you can stay in a remote waterside hostel with few other people around, once the sun has set and the day trippers have returned to the city lights. In the east, Hofn is another popular spot on the coast for waiting and watching, and is also gateway to Vatnajokull National Park which has the largest ice cap outside the poles, as well as active volcanoes rumbling all around.
The swirling movement and the array of colours is what makes your heart miss a beat when you see the Northern Lights, and has everyone reaching for their cameras. Greens and yellows are the most common, while rare reds and blues are highly sought after. No matter what they produce on the day, as if to protect their magic, they are almost diva-esque in their willingness to be photographed. This is where Icelandís photography holiday experts step in, who lead trips specifically to help you learn the techniques necessary to capture the Temperamental Lady, another northern namesake. These trips vary in length between five and ten days generally, with the latter taking you further north to the likes of Snaefellsnes Peninsula where its eponymous volcano, topped by a glacier, is a gift to all photographers. Lights or no lights.
Northern Lights holiday specialists in Iceland are also very au fait with the Northern Lights alert systems which are now becoming very popular. They tap into meteorological sites and even NASA to get up to date information, in order to predict the celestial spectacle and avoid hours spent out in the middle of nowhere playing a guessing game. Of course if you go on a small ship cruising holiday to Iceland, you are ever on the move through dark sky nirvanas and donít have to travel further than the deck when the lady grants a viewing.
Our top trip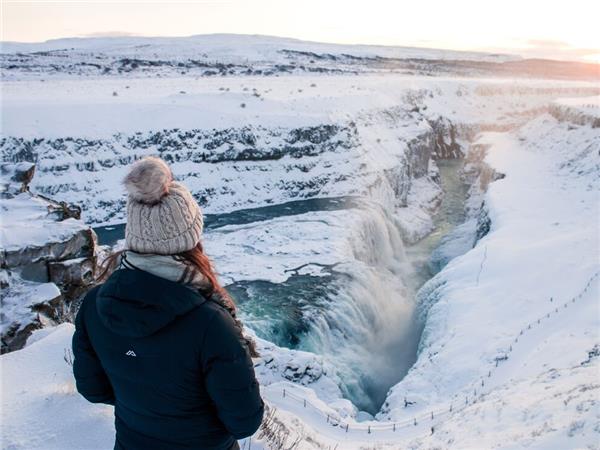 Springs, waterfalls, volcanoes and Europeís biggest glacier
From
£1328

to

£1980
6 days
ex flights
Small group travel:
2023: 8 Dec, 10 Dec, 12 Dec, 13 Dec, 14 Dec, 15 Dec, 16 Dec, 19 Dec
2024: 3 Jan, 4 Jan, 6 Jan, 7 Jan, 9 Jan, 10 Jan, 11 Jan, 13 Jan, 14 Jan, 16 Jan, 20 Jan, 23 Jan, 30 Jan, 4 Feb, 9 Feb, 11 Feb, 13 Feb, 16 Feb, 17 Feb, 18 Feb, 20 Feb, 22 Feb, 23 Feb, 24 Feb, 27 Feb, 1 Mar, 2 Mar, 3 Mar, 6 Mar, 7 Mar, 9 Mar, 10 Mar, 13 Mar, 15 Mar, 17 Mar, 20 Mar, 22 Mar, 24 Mar, 27 Mar, 30 Mar, 15 Oct, 19 Oct, 21 Oct, 23 Oct, 25 Oct ...
If you'd like to chat about Iceland or need help finding a holiday to suit you we're very happy to help.

In order to prevent too much disappointment if the protagonists donít perform, it is a good idea to book a holiday that offers lots of other activities alongside. Such as walking on glaciers or frosty lava fields, climbing up to a volcanic crater, bathing in hot springs or boating along a fjord, where you will have such an extraordinary experience that seeing the Northern Lights will just be the multi-coloured icing on an already delicious cake. These holidays only run during the best time to see the Northern Lights, which is between September and April. February to March and September to October are thought to be the very best months, particularly around the equinoxes.
For the ultimate in Iceland Northern Lights trips, however, you can combine witnessing the biggest light show on earth with seeing the some of the biggest mammals on our planet. During February and March, orcas Ė or killer whales Ė are passing along Icelandís coasts. And yes, there are specialist whale watching, wildlife and Northern Lights holiday companies out there. If you are lucky enough to see both the lights and orcas dancing at the same time, it is not only ineffable, it is unbeflippingbelievable. Which we made up, of course. Because for sights like these, there simply are no words.