Why choose a tour to Iceland
Iceland has a reputation as an easy place to travel around independently. Many visitors to the island simply show up on a short flight from Europe or on a stopover from North America and move around under their own steam (if they move around at all, that is Ė see our article on
overtourism in Iceland
to discover how the Reykjavik area is getting swamped by visitors). This accessibility certainly deters some travellers from booking an organised tour here, but there are other factors, too.
Iceland is a well organised and safe nation, with a population that speaks excellent English. To attract visitors and boost GDP after the banking crisis of 2008, Iceland also marketed itself as the country where you donít have to pay for anything Ė car parks, historic and geographical sights, even toilets. Many of those key sights lie within driving distance of Reykjavik, too, so even time pressed travellers on a short break can tour the capital, visit the Blue Lagoon and bag a geyser or two while here.
As tourism numbers have boomed Ė up from 500,000 in 2010, to 2,200,000 in 2017 Ė Airbnb has rushed in to plug a gap in accommodation supply. Many homeowners now rent out their property, despite new legislation in 2017 to limit how long they can do this without paying a fee, making accommodation easy to book, abundant and often competitively priced. Suddenly, even the least intrepid traveller can see their way to visiting Iceland independently, but that doesnít mean itís the best or most responsible way to do so.
Hello. If you'd like to chat about Iceland or need help finding a holiday to suit you we're very happy to help. Rosy & team.
01273 823700 (UK)
There are so many benefits to booking an organised tour in Iceland; to you, to the landscape and to the people of Iceland. You also remove the stress that is sometimes associated with independent travel and ensure that your holiday here is memorable for all the right reasons. In 2016, American tourist Noel Santillan misspelled the address of his central Reykjavik hotel when he programmed his hire car SatNav. He then went 266 miles in the wrong direction, leaving Keplavik airport and ending up in the north of the island after five hours of driving through snowy conditions. Donít be a Noel. Thatís all weíre saying. Just donít be a Noel.
Benefit one: choice and expertise
There is a huge choice of organised holidays to Iceland. We have over 60 Iceland holidays on our site, including photography tours, hiking, snowshoeing, horse riding and cycling, small ship cruises, Northern Lights spotting, whale watching and wellbeing breaks. Many holidays combine several interests and they range from three day trips to fortnights.
There is also a huge range of both small group trips and tailor made, so basically, if thereís something you want to see or do in Iceland, you can arrange it. You want to hike but also visit some thermal baths and eat like a local. No problem. You want to see the aurora and snowshoe, too. Thatís fine.
Tour companies know every corner of the island Ė from the best place to photograph seabirds to how long it takes to drive from A to B (Amazing waterfall to Beautiful glacier). They have relationships with local guides who can take you hiking, snowshoeing or birdwatching, with the right kit and the necessary supplies. They know where thereís a great bakery to stop at during a road trip, where youíll be met with a big smile and hot coffee by the woman who runs it. You might not have found that on your own, but that might prove to be your fondest memory of the holiday Ė who knows? Really, itís the difference between simply arriving somewhere and visiting a friend. The friend knows all the deserted beaches, good restaurants, short cuts, cool cafes and cashpoint locations. So if youíre here for a week or just a few days, you can be sure that your time is full of memorable experiences and awesome sights, and not full of fretting over SatNav and stocking up in supermarkets.
Benefit two: access to out of the way locations and experiences
The insider knowledge youíre getting when you book an organised holiday gives you privileged access to the island. Tours take you to little visited places and wild landscapes, away from the crowds that now dominate some popular sights. On a walking holiday you might set off from the outskirts of Reykjavik to explore moss covered lava fields, old volcanic craters and a lake, on a trail thatís loved by Icelanders but not known to foreign tourists. A photography holiday might travel to the largely uninhabited and beautifully preserved Westfjords in snowy February Ė not an easy location to get to, especially in winter Ė where a welcoming hotel on the westernmost tip of Europe opens just for your group. Now thatís exclusive.
Our top Iceland Holiday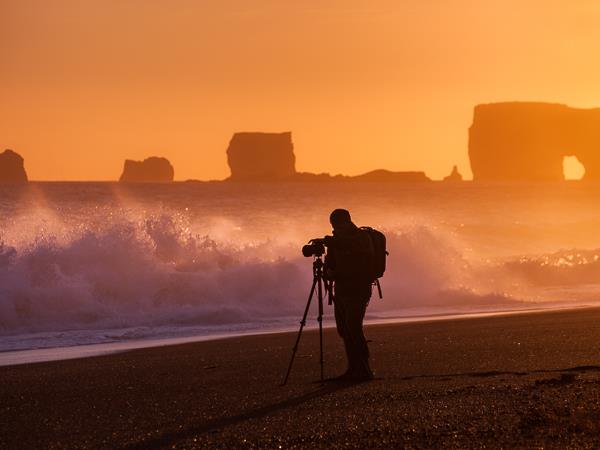 Photographic trip in the stunning west and southeast Iceland
From
£2950

to

£3150
10 days
ex flights
Small group travel:
2018: 30 Sep, 26 Oct
2019: 1 Feb, 15 Feb, 3 Mar, 30 Sep, 10 Oct, 20 Oct
Benefit three: avoiding overtourism hotspots
Organised tours that take you to more remote locations in Iceland not only benefit you, the traveller, but they avoid contributing to the overtourism that is impacting Icelandís people and environment negatively. Overtourism is defined as too many people descending on the same place at the same time, and it happens in Reykjavik and the surrounding area, including the Golden Circle. Obviously, organised tours do visit these popular spots, but they may at least go outside peak summer season and will often combine them with more remote places, too. Other tours whisk you out of Reykjavik as soon as possible, avoiding the busy hotspots altogether. It means you can visit this hugely popular island without contributing to the overtourism problem. It also means you get to see the very best of Iceland, without having to elbow your way through crowds to do so.
Benefit four: helping the local economy
A tour that takes you away from overtourism hotspots also brings benefit to the Icelandic economy. Your tourist buck is spread across the island and handed directly to local people who benefit most from it. Rather than the Reykjavik region soaking up the money spent by tourists, your cash goes further Ė literally.
Benefit five: travelling safely and responsibly
Iceland is open to tourists all year round, with winter a particularly great time to spot the Northern Lights and photograph the snowy landscape, but conditions can be challenging at this time. Freezing conditions, high winds and storms can make driving treacherous to inexperienced drivers, while setting out on a self guided walk anywhere remote isnít recommended at any time of the year. Browse the Iceland Monitor and youíll find numerous stories about tourists getting their cars stuck in snow drifts or dying on mountainsides from hypothermia. Iceland has plenty of wilderness and a variable climate, too, but an organised holiday ensures all activities are guided and fully supported, so youíre safe whatever the weather.
Small group holidays are also more environmentally responsible, with groups transported in a single vehicle rather than numerous hire cars Ė or giant coaches. Small ship cruises, meanwhile, take you to quiet harbour and remote coastline, so you can enjoy unspoiled Iceland and visit small local communities, where your visit is valued. Itís a very different experience to the large cruise ships that dock at Reykjavik harbour each year, disgorging thousands of tourists into the capital who flood the streets and donít even spend the night there Ė causing pain, not gain, for local people.