For such a tiny island, in such a remote location, Iceland packs a huge cultural punch. With a population of just under 330,000 people – about the size of Reading – spread across a landscape riven with thermal pools, spouting geysers, lava fields and active volcanoes, Iceland has an absurdly high concentration of writers, artists and musicians. This is a resilient and industrious nation, which has recovered from an economic crisis and is at the mercy of around 30 active volcanoes and extreme winters, but still finds time to create extraordinary music, writing, art and, yes, knitwear.
Often, Iceland's unique geography and isolated location are cited as the reason for this super abundance of cultural riches, from the Sagas, told to while away long winter nights and build a sense of common identity in a newly settled land, to classical music inspired by waterfalls and geysers. Iceland's literary legacy and storytelling culture has been the dominant art form since the island was first inhabited, but spend time here today and you'll discover live music everywhere, amazing visual arts and inspiring design.
Many Icelanders can trace their family tree back to the country's first Viking settlers who rowed over from Norway and, since written Icelandic has changed very little down the centuries, they can also quote huge chunks of the Sagas. Fans of the Iceland football team electrified stadiums during Euro 2016 by performing the Viking Thunderclap, too. Icelanders are proud of their heritage, but they are also forward thinking, enjoying a cultural identity characterised by independence, egalitarianism and effortless style.
Our top trip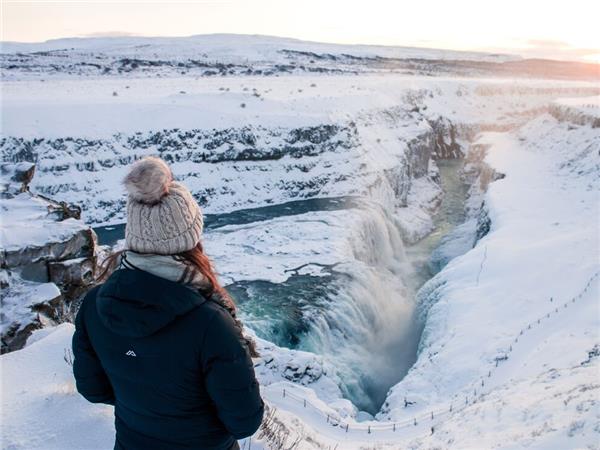 Springs, waterfalls, volcanoes and Europe's biggest glacier
From
£1328

to

£1980
6 days
ex flights
Small group travel:
2023: 19 Dec
2024: 3 Jan, 4 Jan, 6 Jan, 7 Jan, 9 Jan, 10 Jan, 11 Jan, 13 Jan, 14 Jan, 16 Jan, 20 Jan, 23 Jan, 30 Jan, 4 Feb, 9 Feb, 11 Feb, 13 Feb, 17 Feb, 18 Feb, 20 Feb, 22 Feb, 23 Feb, 24 Feb, 27 Feb, 1 Mar, 2 Mar, 3 Mar, 6 Mar, 7 Mar, 9 Mar, 10 Mar, 13 Mar, 15 Mar, 17 Mar, 20 Mar, 22 Mar, 24 Mar, 27 Mar, 30 Mar, 15 Oct, 19 Oct, 21 Oct, 23 Oct, 25 Oct, 27 Oct, 29 Oct, 30 Oct, 31 Oct, 2 Nov, 3 Nov, 5 Nov, 6 Nov, 7 Nov ...
If you'd like to chat about Iceland or need help finding a holiday to suit you we're very happy to help.

Icelandic literature – Nobel prizes & still-read Sagas
Iceland has a fantastic storytelling tradition. Many tales and anecdotes belong in an oral tradition, and concern the huldufólk, meaning hidden people. These are not the same as elves, who live amongst humans. Spend any time in Iceland and it's easy to see how the island's remoteness could lead to a belief in folk living in the wind and the storm, just out of view, but watching. Not every Icelander believes in the huldufólk, mind you, but most are happy to accept their place in the country's cultural identity.
Perhaps Iceland's most famous stories are the Sagas – big, bloody, muscular works that also brim with wisdom and sing with poetry. They document the real people and events of Iceland's age of settlement – the 9th, 10th and early 11th centuries – and have the jump on Shakespeare, with their sprawling families, doomed love affairs and long lasting feuds.
Most Sagas weren't actually written down until the 13th and 14th centuries, generally by unknown authors, so over the generations stories became embellished with each retelling. They were created when the country was still finding its feet; its settlers were a mix of Vikings, adventurers and pioneers, but also social outcasts and renegades. Imagine Iceland as an early Norse Wild West and you can see why embellishing the Sagas was not only a natural consequence of oral storytelling, it was a PR job, exaggerating each protagonist's strength and power, to protect his family's lands from marauders. The Saga of one of the region's first settlers, Bárður Snæfellsás, was first written in the 15th century, and explains how his father was half giant. Coded message: don't mess!
After the excitement of the Sagas, Icelandic literature became concerned with sacred verse and rhymed, epic poems for a few hundred years, but at the beginning of the 19th century found its literary groove again, with romantic, realist and naturalist poetry flowering throughout the century, alongside short stories and plays. Most famous of all Iceland's writers is Halldór Laxness, who was awarded the Nobel Prize for Literature in 1955. He wrote everything from poems to essays, but his novels Independent People and Iceland's Bell are most widely translated. The former is also a fascinating insight into Icelandic life in the early 20th century – dark (literally and metaphorically), tough and little changed since the first Norsemen arrived, but also full of poetry and ghosts; a contemporary Saga, in fact.
Music
Iceland's remote location has had a dramatic effect on its musical culture. The music of the Middle Ages was still on everyone's playlist right into the 19th century; other forms of music simply didn't make it over to Iceland. Choral singing was first heard here in the mid 19th century and instrumental music, in the usual sense of that term, was nonexistent.
Icelanders broke free of this musical time warp in the 20th century, when their latent creativity surged to the fore. As ever, musicians and composers were inspired by the wild terrain. One of Iceland's best known classical composers, Jón Leifs (1899-1968), wrote works about Icelandic nature, inspired by a volcano, a waterfall and a geyser: Hekla, Dettifoss and Geysir.
By the 1980s, popular music was exploding, too. The Sugarcubes put Iceland on the global music map, with Sigur Rós and Of Monsters and Men following behind. In 2018, the Iceland Airwaves festival, which started off as a one off event in an airport hangar, celebrates 20 years and is now a huge showcase for the country's abundant homegrown talent. There are numerous other festivals, too, focussing on jazz, blues, classical and hard rock.
Let's not forget that this is the nation that gave us Björk, too. When this musical innovator and creative genius was born in 1965, she belonged to a nation of just 200,000 people – demonstrating again how this tiny island seems to be a cultural hothouse. Björk has released nine studio albums, but not content to simply write amazing music, she combined her love of nature with her formidable creativity to design an app that allows children to compose intuitively, launched around her Biophilia album of 2011. In fact, her earliest memories of music and composing are intimately connected to her home country. She said during an interview with Wired Magazine in 2013: "Being brought up in Iceland, I've always had a relationship with nature... Living in a capital in Europe, but you're still surrounded by mountains and ocean. My relationship to music was probably strongest just walking outside to school and back. It was a 30 minute walk and I would sing to myself. Very quickly I started mapping out my melodies to landscapes."
Iceland's reputation for creativity draws artists in, too. American singer songwriter John Grant now makes his home there, drawn to its warm people and "this lunar and otherworldly landscape. A cold and treeless Hawaii. The light, the air, the language…" [1]
Visual arts
Literature has dominated Iceland's cultural output, with visual art only blossoming in the 20th century. The Sixties and Seventies saw an avant-garde art scene, but the last decade or so has really been the most exciting time for visual arts, with Icelandic artists exhibiting around the world and international artists showing their works here, too. The Reykjavik Art Museum has three venues dotted through the city, but a stroll through the capital's backstreets and alleys also reveals quirky project spaces, artist run organisations and small galleries that all contribute to this emerging scene.
Design
The Icelandic design industry is thriving, encompassing everything from fashion and furniture to product design, and employing several thousand people. It's a key contributor to the post banking crisis economy but, like the visual arts and music, very young – the word for design, hönnun, only came about in the 1950s. It means Icelandic designers are riding an utterly unique wave of creativity, sometimes referencing traditional crafts, with contemporary takes on knitwear and blankets, and always demonstrating a very Icelandic sense of independence and daring. A lack of materials is a challenge – almost treeless Iceland doesn't have a ready supply of timber – but designers are resourceful, too. Fish leather is used to make wallets and notebooks, children can play with fishbone model making kits and young designers are reconnecting with Iceland's tradition of using everything and wasting nothing, by making playful objects such as masks from waste materials like hessian sacks and foil.