Midnight sun photography holidays
"Loads of our travellers have won awards," says Geraldine Westrupp of our specialist operator Wild Photography Holidays. "At least one woman won with her Iceland photo. Many people will enter competitions then come on our trips letting us know what they need, and we try our best to help them get those amazing shots."
Anyone with a passion for photography that has not yet visited Iceland almost certainly has it on their bucket list. This is where 'fire meets ice', where the Northern Lights sweep across the skies in winter, where the terrain has been sculpted for centuries by turbulent geothermal activity until it resembles Tolkien-esque fantasy. And, in the summer, the
land of the midnight sun
. 24 hours a day of ambient light translates to no end of photography opportunities.
But in recent years the allure of these incredible landscapes has proved costly. Iceland is one of the world's most sought-after holiday destinations, a well-known victim of overtourism, and the honeypot sites along the iconic Golden Circle route buzz with activity all year-round. The warm months of July and August are always the busiest of all. This is a country where your experience can be vastly different depending on what time of year you travel, and where you travel, too. In the summer, you have days of endless sunshine that illuminate Iceland's starkly beautiful scenery in spectacular fashion, but there is definitely a knack to avoiding the crowds.
For that reason, when you're embarking on a photography holiday in a destination as popular as Iceland, having guides that are not only locals, but possess years of experience in scouting out the country's lesser-known locations, is nothing short of priceless. "My husband Martin and I moved here in the 1990s, drawn by the fabulous landscapes," says Geraldine Westrupp of our specialist operator Wild Photography Holidays. "Back then, tourism here was so much smaller, and we're still working with people that we met all the way back then. One of our drivers I remember knowing when he was just a boy. We're talking people who smoke fish on frozen lakes in winter, bake bread in the lava. With us you meet the real locals, you see the real Iceland."
Subjects
In July, the sun never sets in Iceland. It can be disorientating, and affect your sleep, but for photographers it's a goldmine of opportunity. Moira Izzard visited Iceland in 2017: "There are rich colours and extraordinary shapes and patterns everywhere... I loved every minute and have come back with images – we all did – that are gob-smacking."

Getting the most of the midnight sun means exploring several regions over 12 days or so, for as broad a canvas as possible, and sometimes returning to locations if the light conditions make it worthwhile. You might begin in the southeast of the country, in the remote seafront village of Vik, well beyond the Golden Circle. This area offers a thrilling backdrop of ice formations on black sand beaches, turquoise lagoons where icebergs lazily drift, fields of lupins, and glaciers that reflect the light in kaleidoscopic fashion. You'll explore with guides that know the region like the backs of their hands, and who can show you to superb viewpoints that most people completely miss.
You'll make your way up the east coast, then turning inwards to reach Lake Mývatn, which in winter is a popular spot for watching the Northern Lights, and in summer is well-known to birdwatchers. The constant light accentuates the drama of this lunar-like landscape, with bizarre lava formations and volcanic craters. Even at the height of summer, there will be a noticeable drop-off in the number of other tourists by the time you reach this area. The geothermal pools here, a rival to Reykjavik's famous Blue Lagoon, never get anywhere near as busy. Another advantage to staying on the shore of Lake Mývatn is that there are many locations clustered within a short drive, meaning that itineraries here can be kept flexible.

After a few days around the lake, you will likely return to the south cross-country, through some of the most gripping scenery of the trip so far. The wild Kjölur Highland route takes you past the steaming oasis of Hveravellir and towards Kerlingarfjöll, 'the Ogress Mountains'. This is where ice and fire truly meet, and there is a constant hiss from fissures and fumaroles amid late-lying snow. Hardy 4x4 vehicles that are ideally suited to the terrain then transfer you back onto the Golden Circle route as you return to Reykjavik, passing classic photography locations such as Þingvellir National Park, Geysir, and the mighty Gullfoss waterfall – in summer the torrent is at full flow and there are myriad viewpoints available to you.
Our top trip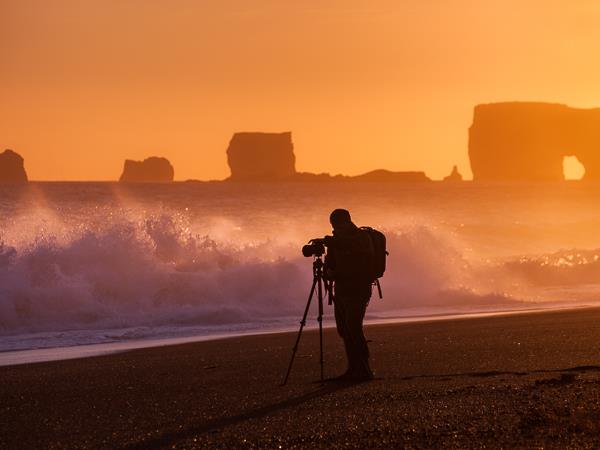 Photographic trip in the stunning west and southeast Iceland
From
£3750
10 days
ex flights
Small group travel:
2024: 18 Feb, 27 Sep, 25 Oct
2025: 19 Feb, 19 Mar, 1 Oct
If you'd like to chat about Iceland or need help finding a holiday to suit you we're very happy to help.

Practicalities
"We stayed mainly in small, local guest houses / accommodations with local produce. It was an education in itself to see how carefully Iceland was trying to protect and look after the environment, and not to bow to too much commercialisation around key sights." - Lynne Wilson

Small group photography tours of Iceland are typically limited to around 12 participants. There are several benefits to that. Firstly, your group will be able to stay in smaller, often family-run accommodations, directly benefitting the local economy. Secondly, you'll have a lower impact on what are often quite fragile communities that feel the strain during the busy summer months. And thirdly, of course, it means that everyone will have ample time to get one-on-one advice from the expert photographer that will be leading the tour.

On that note, no experience is necessary. It will help, of course, if you're already familiar with the functions and capabilities of your camera (or indeed your smartphone). But absolute beginners are just as welcome as semi-pros, and tutors will tailor arrangements to ensure that everyone is getting the kind of support they need.

During any photography tour, there will likely be a few evenings taken up by review sessions. A highlight of the holiday, they involve everyone offering up one or two of their images for the group to assess their technical and aesthetic qualities. For those new to this kind of peer review it might seem nerve-wracking to hold your efforts up to scrutiny, but the supportive, practical advice forthcoming is known to boost inspiration and produce rapid improvements.