Self drive holidays in Morocco

Think of visiting Morocco and a fly drive holiday isnít the first thing that springs to mind. Arenít the roads rough? Donít Moroccans drive like lunatics? Arenít you likely to crash into wandering livestock?

While itís true that driving in Morocco isnít without its challenges, itís much easier than you think: the roads connecting Moroccoís main centres are generally good, thereís an expanding motorway network, and driving allows you the freedom and flexibility to have the sort of adventure youíve always dreamed of. Plus, thereís the epic scenery. From the Atlas Mountains to the desert to the wild Atlantic coastline, Moroccoís landscapes are crying out for a road trip, and thatís not something thatís easily delivered by public transport. So hop in the car, stick some rai music on the stereo and away you go.
What does a self drive holiday in Morocco entail?
Our Morocco self drive holiday is a two week itinerary (though this can tweaked as you see fit) starting in Marrakech and focused around central Morocco Ė in particular the High Atlas Mountains and the Atlantic coast. Rather than having to endure a frazzled drive from the airport, youíll be transferred to your riad in Marrakech on arrival, where a modern, air conditioned car will be delivered a day or two later, allowing you time to sightsee, take a cookery class or a visit to a hammam before hitting the road.

Youíll take a leisurely pace, generally spending a couple of days in each location and sightseeing on foot once youíre there - wandering the street bazaars and towering palm fronds of the town of Skoura, for example, or hiking mountain trails from the base of a traditional Berber farm. Your holiday company has plenty of travel experience in the region and can advise you on things to do and see en route, but thereís plenty of opportunity to make your own discoveries, too. The only thing you have to worry about it getting from A to B, as all of your accommodation is booked in advance.
Our top Self drive & fly drive Holiday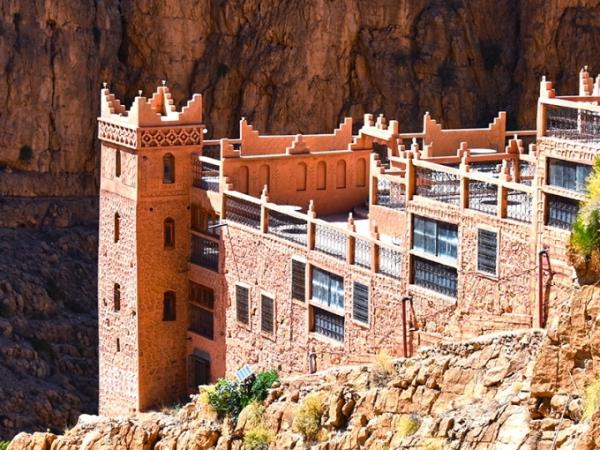 A relaxing journey through Morocco's hidden heartlands.
From
£1215

to

£1350
15 days
ex flights
Tailor made:
This trip can be tailor made throughout the year to suit your requirements
If you'd like to chat about Self drive & fly drive or need help finding a holiday to suit you we're very happy to help.

Drive or be driven?
You can choose to drive yourself or you can sit back and relax while an experienced English speaking driver takes you around. This is the perfect option for nervous drivers, but itís also a great opportunity to learn more about the landscapes and the history of the region from a local. Your driver can also suggest great places to eat traditional dishes, point out community projects and arrange local guides.

Going it alone doesnít mean youíre in driving in the dark, though. Youíll receive a detailed information pack full of maps, driving directions and other practical information, as well as sightseeing, eating and drinking suggestions, to help point you in the right direction when youíre on the road (though youíre free to ignore these and chart your own path, of course). And thereís 24 hour help on hand, including a breakdown service, should you need it.
Where will I stay?
Riads and rural kasbahs are the way to go when road tripping in Morocco; their central courtyards and intricate tiles make for a wonderfully atmospheric stay, not to mention offering a cool alternative to power-draining air-con. Your operator will point you in the direction of the best guesthouses, many of which have been converted by local builders and using locally sourced materials, leading to a much more authentic experience than a stay in a modern chain hotel.
For the most part, youíll stay two or three nights in each destination. Not only does this give you the chance to stretch your legs, it lets you immerse yourself in the community. Sightseeing tours will be arranged for your rest days, and these will involve as much walking as possible, thus avoiding unnecessary short drives.
What are the road conditions like?
If youíre not a confident or experienced driver then taking to the roads in Morocco isnít recommended. Roads are often full of people, bikes and animals, and road accidents are common. Drive defensively and expect vehicles to veer out in front of you at any moment Ė as well as cyclists and pedestrians. Driving at night is particularly hazardous, especially in remote areas; itís legal for cars driving under 20km per hour to drive without lights.

Petrol stations are plentiful in Morocco, and youíll be able to fill up even in isolated areas, though itís always worth planning in advance to make sure you donít get caught short. Petrol stations are serviced, so youíll have to let the attendant know how full you want your tank to be and they'll take care of the rest. English isnít widely spoken outside of the big towns, so youíd best brush up on your Arabic, French or Berber.

Self drivers will soon notice that police control points are a thing in Morocco, particularly on main roads in and out of large towns. Foreigners are less likely to be stopped, but you should still make sure that you slow down.
When to go
The best time for a fly drive holiday in Morocco is March to May and September to October, when itís warm but not off-the-scale hot. That being said, July and August in the High Atlas is cooler than the rest of the country, and the Atlantic winds blowing off Essaouira make summers on the Atlantic coast a bit more bearable. High and Middle Atlas passes are often closed because of snow in winter. Seek local advice before travelling, or check the road signs along the routes.
Where to go on a self drive holiday in Morocco
Our self drive holiday in Morocco concentrates on the countryís central regions, other than a few introductory days in Marrakech. Following ancient caravan routes and barren highways, youíll reach the oasis town of Skoura, where historic mudbrick castles litter the landscape, and desert traders throng the souks. Youíll also spend time in the High Atlas, where the snowcapped peak of Mount Toubkal, the highest mountain in North Africa, looms large. This region is home to the Berber people, who hold fast to ancient traditions and are tuned in to sustainable, mountain living.
Time spent on the coast is a must, and fly drive holidays take you to the walled town of Essaouira, famous for its dazzling shades of blue, its creative savoir faire and the strong Atlantic winds that blow off its shores and around its hectic fishing port.
More about Self drive & fly drive