Best time to visit Bandhavgarh National Park

Oct-Nov mean lush landscapes and newborns, but if you can handle the heat, tiger spotting is tremendous in Apr-May.

In common with most national parks in India, Bandhavgarh is closed during the monsoon season from Jul-mid Oct. Most visitors come Nov-Mar, when the landscape is green, the birdlife amazing and temperatures in the mid 20°C, but be prepared for cold mornings in Dec and Jan. The
best time to see tigers
is Apr-May, as the vegetation is dry and sparse and wildlife comes to the few remaining waterholes to drink, but be prepared for the heat - expect mid 40°C - and think carefully before travelling with children at this time.
Bandhavgarh Weather Chart
Things to do in Bandhavgarh National Park
Things to do in Bandhavgarh...
Time in Bandhavgarh may be at the heart of your Indian holiday, but it's worth bolting on some other highlights while here. Spend a day or two exploring the capital, Delhi, where most trips to Bandhavgarh begin, and consider extending your trip to include Agra, home to the Taj Mahal, or the temples at Khajuraho.
Bring the children. Many African safaris impose age restrictions, but family wildlife holidays running in Bandhavgarh National Parks rarely have a minimum age. In fact, children often get discounted rates. All but the tiniest kids will enjoy a safari here. Accommodation is generally right by the park gates, so no long drives to reach the wildlife, and safaris last three and a half hours, so shouldn't tax a child's patience. While you can't promise a tiger, a host of Jungle Book characters await to charm your children.
Of course you'll want to capture the magic of Bandhavgarh, but remember to put your camera down sometimes. The best way to enjoy an immersive wildlife experience here is to forget about photography and concentrate on simply soaking up the sights, sounds and atmosphere. Remember, too, that you may only see one tiger on your trip and getting a great photo of it is always tricky; much better to just gaze in awe when and if it shows up.
Things not to do in Bandhavgarh…
For a broad taste of Indian wildlife and an excellent chance of spotting tigers, don't limit yourself to Bandhavgarh. Many Indian wildlife holidays combine a couple of national parks, so you experience a range of landscapes and lodges. In contrast to tiny Bandhavgarh, Kanha National Park is a vast landscape of undulating terrain, grasslands, plateaus and dramatic rocky escarpments. Pench National Park is not so well known for its tigers, but is home to leopards and large herds of gaur (Indian bison), chital, sambar, nilgai and wild dog.
If you're serious about spotting Shere Khan, allow at least two days in Bandhavgarh and never assume you'll be successful on your first excursion. The park permits game drives between set hours in the morning and the evening, starting at different times throughout the year. It's possible to take two drives a day, so a two-day stay will allow you to pack in four, which alters your chances of seeing a tiger from possible to probable.
The majority of people on tiger safaris in India are, by far, Indians themselves, so don't forget about national public holidays and festivals. These dates book up far in advance and are worth avoiding if you can. Big celebrations include Republic Day on 26 January and Diwali which falls in October or November.
Bandhavgarh National Park travel advice
Photography advice
Paul Goldstein, top tiger safari guide, photographer and expert at one of our leading suppliers, Exodus: "You have to be aware that this is a desperately endangered species, so please try and look beyond your camera. I have led countless tiger safaris in India, but probably only have half a dozen really good photos. So particularly when you see your first one, put the camera away. Firstly because you might not see another one and also, it is a deeply emotive moment. The photo will probably be rubbish anyway as you will be sobbing or shaking, as you should be."
Wildlife
Saurabh Agrawal of our specialist India operator Chinkara Journeys:
"Bandhavgarh has a very high density of tigers, the apex predators in the food chain. And where there is a good number of tigers, other predators tend to keep a very low profile. Leopards are present in the reserve but they are very shy and quickly disappear in the forest. They are generally found along the edge of the forest close to human habitation where they visit villages frequently for easy pickings such as goats and dogs. Wolves are another predator found in Bandhavgarh but their sightings are very rare, only a handful each year. They too, like leopards, are seen on the edge of the forest."
Looking beyond the tiger
Sophie Hartman, owner of our supplier Chinkara Journeys, which specialises in central India: "I think that name 'tiger watching' should be banned. Don't go with tigers as your sole focus; there is so much to see in India's national parks and spending the whole of your safari charging around the park on a hunt for a tiger is such a wasted opportunity. Ask your guide and driver to stop for 10 minutes by a lake or stream, listen to the sounds of the jungle, watch the birds, and enjoy the beauty of the light coming through the forest. So much more fun than just thumping along in a jeep."
Our top Bandhavgarh Holiday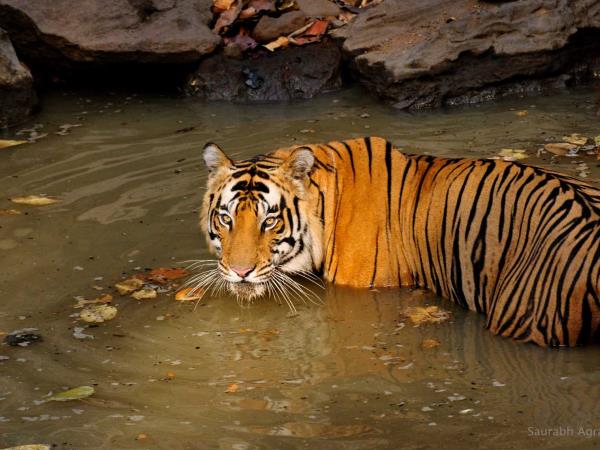 Best of Indian wildlife with tiger, leopard and sloth bear
From
Rupee249000

to

Rupee272000
12 days
ex flights
Small group travel:
2023: 12 Nov, 26 Nov, 10 Dec, 22 Dec, 31 Dec
2024: 7 Jan, 4 Feb, 15 Feb, 7 Mar, 7 Apr
If you'd like to chat about Bandhavgarh or need help finding a holiday to suit you we're very happy to help.

Tips from our travellers in Bandhavgarh National Park
At Responsible Travel, we think the best people to advise our travellers are often... other travellers. They always return from our tours with packing tips, weather reports, ideas about what to do – and opinions about what not to.

We have selected some of the most useful Bandhavgarh National Park travel tips that our guests have provided over the years to help you make the very most of your holiday – and the space inside your suitcase.

Be prepared for early mornings, when on safari we had 6 days in a row of 4.30am starts - worth it though! We saw 6 tigers during 10 safaris!

"Tiger spotting is not like an African safari as tigers live in dense forests so you have to have a good guide & good luck. If you go once or twice you may well not get to see them." – Christine Smith

"We travelled in March/April and early morning safaris were cold enough to need a blanket (provided by the hotel) at the start and be sunburn hot by the end. We took mosquito spray but only needed to use it a couple of times. The tummy upset pills came home totally unneeded. Take lots of zip lock bags for cameras, binoculars etc as the dust is thick in the air and gets everywhere when on safaris. Be prepared for rough, bumpy tracks in the parks and open jeeps with limited suspension. Buy a dust scarf/gaiter – available at the road side stalls near many of the park gates. Even though temperatures are high in April (40C some days) take thin long sleeved tops to avoid sunburn – jeeps are open and safaris are 3-4 hours. The heat is dry – so not as unbearable as you would imagine – and all hotel rooms had fans and AC." – Christine Chapman

Pack less than you think (laundry service available), have old clothes for game drives can be really dusty in hotter months and you do get dust everywhere

"Make sure you have really warm clothing for early morning safari drives in December. Wear a hat unless you want to end up with tangled and dusty hair. Be prepared for giving lots of smallish tips to drivers, guides and hotel staff. You don't need any 'smart' clothes everyone dresses informally." – Barbara Thompson

"Enjoy everything about the trip, don't be hooked up on seeing tigers, they are there and can be hard to find, and when the moment arrives it is magical!!! Pack less than you think (laundry service available), have old clothes for game drives can be really dusty in hotter months and you do get dust everywhere, have something to do for between game drives/evenings as resorts are quite isolated... Embrace the experience, the locals, the wildlife, the sights and the train, you may be surprised!" – Ian Harrison
More about Bandhavgarh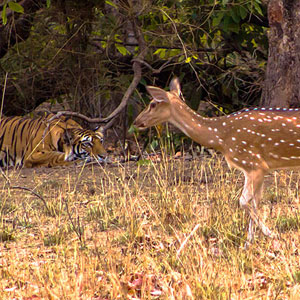 In the Vindhyachal Ranges of Madhya Pradesh in central India, Bandhavgarh National Park is famous for its tigers.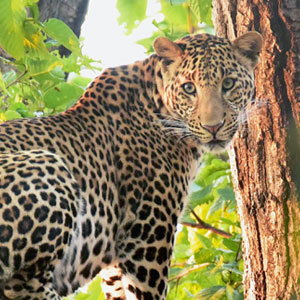 The wildlife in Bandhavgarh National Park is dominated by one of the highest densities in the world of Royal Bengal tigers.