Brown bears (grizzlies)
The most common of bears, they are enormous, weighing as much as 318kg. The grizzly bear is any North American subspecies of brown bear and, like all brown bears, are impressive creatures. They can stand on two legs, reach almost two and a half metres tall and, with such physical prowess, it is not surprising they are happy to be fairly solitary, hunting alone most of the time. Except when salmon fishing, which is when the brown bear fiestas begin.
The Alaskan brown bear, or Kodiak bear, is the largest grizzly of them all. These are the ones often captured in photos, as they are able to catch salmon straight into their mouths, as they leap upstream in hope of spawning.
It is important to note that although more associated with North America, brown bears are also prolific in Finland and Romania with populations in Spain and Greece too.

The spirit bear has great spiritual significance for Canada's First Nations people. In recognition of this the government of British Columbia named it the provence's representative animal

Black bears
Only found in North America, their coats are sometimes grey or cinnamon colour. It is actually the continent's most petite and most prolific bear, with 16 subspecies.
One of these is British Columbia's spirit bears, or Kermode bears which are in fact, white. Well actually, they are black bears with coats that turn white due to a rare genealogical hand me down.
Polar bears
The world's largest land predator, this cuddly-looking creature is anything but. Weighing up to 550kg, they feed mainly on the blubber of seals which can sustain them for months on end. A swimming seal is almost impossible to catch which is why, when the ice starts to melt, we can watch them standing by breathing holes in the ice, waiting to pounce on seals when they pop their heads up. One of the most sought-after sights is a mother with her cubs. They emerge from their dens in early spring, after months tucked away in the snow, gestating and growing. They then make their way to the sea ice, which is one of nature's finest sights to behold. Here, they enter their natural element: water. The polar bear's Latin name, ursus maritimus, means sea bear, and these creatures actually spend most of their time at sea. In fact, 350km is the furthest a polar bear has ever been recorded swimming.
Our top trip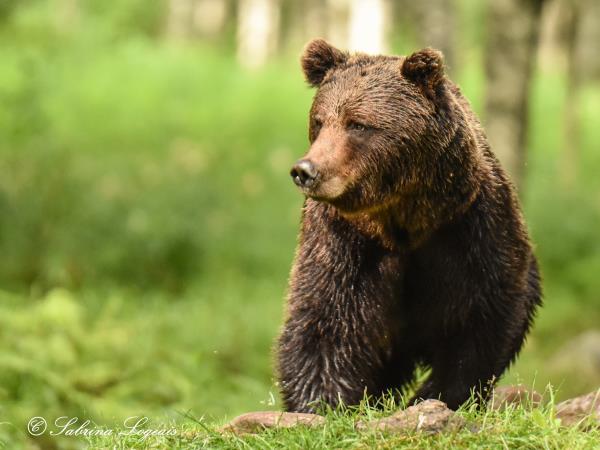 Special Taiga mammals of Finland
From
€1570
7 days
ex flights
Tailor made:
This trip can be tailor made throughout the year to suit your requirements
If you'd like to chat about Bear watching or need help finding a holiday to suit you we're very happy to help.

Sun bears

Isn't it funny how a bear loves honey? Sun bears are also known as honey bears, as they have super long tongues for extracting honey

Extremely rare due to poaching for use as pets, sun bears are the smallest bear in the world, and live elusive lives in Southeast Asia. They can be seen at the world's only sun bear sanctuary in Sepilok. Extraordinary looking creatures, they are usually jet-black, with an elegant necklace like patch on their breast.
More Bear watching articles