Photography tips
Tom Brown from our bear watching specialist supplier, Natural World Safaris has seen many bears, and gives some great bear watching advice: "If you want good photographs, then you need an SLR camera. Because you will often be taking photographs from a distance. I would say lenses that are at least 300mm for the best photographs."
Family tips
Bear watching advice from Tom Brown, from our bear watching specialist supplier, Natural World Safaris: I recommend bear watching for families, especially in somewhere like Brooks Falls, Alaska, where you might see 20-30 bears at one time fishing for salmon. A week-long trip of pure bear watching for kids, maybe not so much. But if you are building a bespoke trip with other activities such as kayaking, whale watching and so on, then it definitely would be an attractive option for families."
Packing tips
Tom Brown from our bear watching specialist supplier, Natural World Safaris:
"In Svalbard you are going in summer, so it isn't as cold as you think it's going to be, but it is always a case of layering up. You also need to have waterproof gear as you will be getting in and out of Zodiac boats and will get splashed. It doesn't get really rough, as the waters are protected, but it can be choppy. So sea sickness can be an issue for some people. Also, you need hats and gloves of course. In Churchill you go later in the year but we can organise for you to rent winter gear, such as super warm parkas, or all in one suits, as it can get to -20 or -30 with wind chill."
Safety tips
Tom Brown from our bear watching specialist supplier, Natural World Safaris:
"The most important thing to be aware of is that the polar bear is a very dangerous animal. Especially a hungry polar bear. They can smell humans from up to 30km away. And so, when they are hungry, they start moving towards humans pretty fast. In Svalbard, if you are on land, and one comes towards you, the guide who is armed with a rifle, first fires warning shots in the air, and if they don't get scared off, then they would shoot to kill. Although I have never seen that happen on a trip because realistically, if they see a polar bear on land, then they won't land there. But it is key to listen to your guide and never wander off on your own. Which is a very silly thing to do, when you have a polar bear that will eat you very quickly."

HEALTH
ALWAYS get travel health insurance when travelling. Especially for USA and Canada. As you will be in remote locations, best not to depend solely on a European Health Insurance Card for EU countries either, and top it up with a private one for the bear watching trip.
For polar bear watching in the Arctic, bring good quality, protective sunglasses and sunscreen. It may be cold, but the sun's rays can be harsh – made fiercer by reflecting off ice, snow and water.
As you'll be spending several days at sea on some polar bear watching expeditions, seasickness is a possibility. Look into remedies before you depart – there are patches, wristbands, tablets and of course, good old ginger.
Long distance hikers who are bear watching in the likes of Yellowstone National Park need to stay hydrated. It can get seriously hot here. You sweat between 0.5-1 litre of fluid for every hour you hike in the heat. This can double if you are hiking uphill in direct sunlight at the hottest time of the day. The sweat evaporates quickly, so you can't see it. Do not wait until you are thirsty to drink – by then you are already dehydrated. Take rehydration powders too if necessary. Eating also helps heat exhaustion.
If you are in remote areas, particularly in USA sand Canada, don't drink from the rivers. Although they may look super clean they can be source of the bacteria giardiasis which can be very nasty indeed. In Canada, giardias are found in beaver and muskrat, faeces, giving it the nickname 'beaver fever'. You can boil the water, but do so for five minutes in elevated areas. You can also filter, but it is not always perfect, with iodine treatments considered better.
In Finland, mosquitoes in late June-July are vicious. Seek out a good eco-friendly barrier. In Canada and USA pesky black flies and mosquitoes do also love watery areas, and the worst times are late May and June. Ask a local for their favourite brand of bug spray. They usually know best.
There are ticks in all bear watching countries, some of which can transmit Lyme disease. So do take precautions when out hiking, biking or camping. Use a repellent, keep covered, keep checking for them especially in the shower after a hike, and carry tweezers for removal. The Canadian Lyme Disease Foundation gives good details.
Watch out for poison ivy in the USA. You will find it on walking trails, the sides of roads and sometimes even in sand dunes. It contains oil called urushiol that inflames skin and results in painfully itchy blisters and rashes. The expression 'Leaves of Three, Leave it Be' is what most people say to remind you what it looks like. It often grows low to the ground, so you need to be careful if walking off the beaten path, sitting down for a break or, for women in particular, take care in comfort breaks when out in wild places. Poison sumac can also cause rashes. It has tiny sweet-smelling flowers in the spring and cream berries later in the year.
SAFETY
When you are bear watching, safety is key. Polar bears are very dangerous. Just look at the polar vehicles that take tourists out across the tundra in Churchill, Canada, and you will see that no risks are being taken. Similarly, it is up to tourists to not take any risks either. And this applies to brown, black or polar bear watching. Always listen to your guides. They are experts. Do not dawdle to get a good photograph. It is not worth it. And if you are hiking in bear country, follow all the rules too. The main ones are: keep all food hidden, concealed and locked away when possible; walk in groups and make plenty of noise in bear country; do not turn your back on a bear and run but back away slowly; carry pepper spray for emergencies. On polar bear watching expeditions, there is usually a safety drill in the mornings, so pay attention. If you are bear watching in the mountains in early summer, especially in Canada and USA, beware that there is still a risk of avalanches. Don't hike immediately after a storm, as this is often when avalanches occur. Always check the avalanche forecast. There might not be snow where you are walking but, if there is a big melt higher up, it can travel down the valley. General wildlife awareness is important, not just for bears. So, you need to inform yourself of what to do in the event of an encounter before you go. Do not let your children wander too far ahead of you, so that you can keep a close eye. Temperatures can plummet in many bear watching regions. So always carry a sensible layer or two. Hypothermia can be life threatening and happen at any time of year. So, check the weather differences before you pack, and cater for extremes. If you are driving in wildlife watching areas, look out for wildlife – collisions with deer in all bear watching countries are common, and accidents caused by moose in Canada and the USA can result in serious injury, and even death.
Our top trip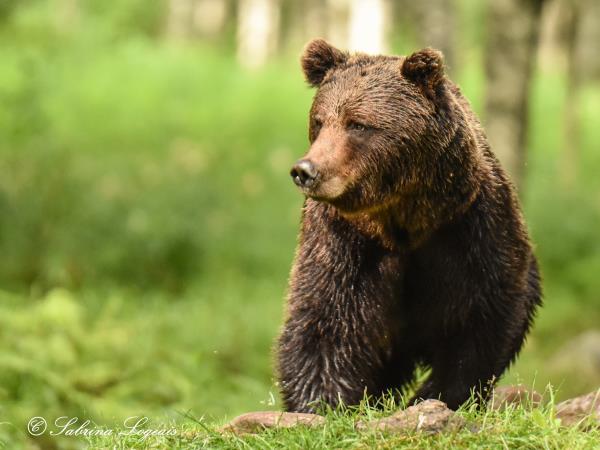 Special Taiga mammals of Finland
From
€1570
7 days
ex flights
Tailor made:
This trip can be tailor made throughout the year to suit your requirements
If you'd like to chat about Bear watching or need help finding a holiday to suit you we're very happy to help.

Advice from our travellers
At Responsible Travel, we think the best people to advise our travellers are often... other travellers. They always return from our tours with packing tips, weather reports, ideas about what to do - and opinions about what not to.

We have selected some of the most useful bear watching tips that our guests have provided over the years to help you make the very most of your holiday - and the space inside your suitcase.

Book early. They have five cabins and they fill up fast.

- Lynn Kelly on our Alaska wilderness lodge trip
"Make sure you take shorts and tee-shirt as very hot, even in May/ June. Mossi bites, so need a good spray and sun cream if you go on the lake." – Anne Higgins on our Watch Brown Bears in Finland trip.

"Bears! Bears ! Bears!......absolutely amazing to spend time with these wonderful creatures. Also, as this was my first time volunteering or any such holiday like it I was a bit nervous about what to expect and had lots of questions etc. However my contacts both whilst in the UK and during the holiday were very, very helpful and friendly....and patient! Take lots to drink for whilst you are at the Sanctuary...I was there during summer months and it was super hot...combined with lots of walking whilst at the sanctuary keeping hydrared is a must. Comfy shoes!! Good camera and extra batteries.... lots of opportunity to watch the bears."- Sarah Burman on our Volunteering with bears in Romania

The whole thing was amazing, being able to go out to parts of Svalbard that other ships can't get to was fantastic, and the wildlife that we saw there was the overall highlight.

- Renny Gye on our Polar bear watching cruise in Svalbard, Norway
"The accommodation is simple but comfortable and the food is good. Sabrina, our guide, was excellent and did her utmost to ensure we had an enjoyable time. Be prepared to spend 14.5 hours in the hide (from 5pm to 7am)." – Rosemary Dunk on our Watch Brown Bears in Finland trip.

"Viewing the (many) grizzly bears in a natural environment without any interference with nature. Specifically, it was thrilling to see several mothers with cubs! Take layering clothing as it can be cold in the viewing platforms but warm other times. Take insect repellent and use it! I don't normally get bitten but this time I did. Take no food or drink: it is all provided and is superb and plentiful. They also provide toiletries, so no need to take those either! And finally, be prepared to be amazed! " – Suzanne Wafer on our Grizzly Bear watching tour in British Columbia, Canada
More Bear watching articles