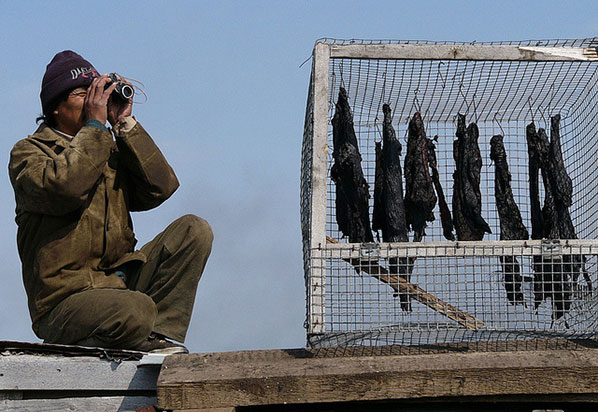 In Canada and North America, polar bear hunting is still legal for the indigenous people known as Alaska Natives in the USA and First Peoples in Canada. The more specific tribal names are the Inuit of northern Alaska and Canada, or the Yupik of Central Alaska. This is regulated by the International Agreement on the Conservation of Polar Bears (the Oslo Agreement) and the allocation of hunting permits is based on regular monitoring of the populations, and quotas are then assigned to the communities. The hunting of polar bear – as well as of other species, including seals and whales – is a strong tradition for native populations, and every part of the animal is used – from the fur to the meat and the fat. And selling hides, for example, is a vital source of income for many people.
In Canada, communities are also permitted to sell on their quotas to non-native hunters which is, understandably, quite controversial. Permits are sold as part of a package – including several days' food, transport and lodging – and the hunter must be accompanied by a native guide. With the experience costing tens of thousands of dollars, this is no small business for the Inuit, and many have come to depend on the income from hunters to remain in their ancestral lands, even as the sea ice melts and subsistence hunting becomes tougher. Although the hides are usually bagged by the hunters, the Inuit will still eat and preserve all the meat.
It is worth noting that approximately 75 percent of the polar bears legally killed in Canada are taken by hunters from the United States, due to the fact that the Inuit sell their hunting permits - and the taking of trophies, i.e. heads, paws, claws and skins was the norm. Until 2013, when the US government banned the importation of such trophies which was, hopefully, a step in the right direction to putting a stop to trophy hunting.
Hunting is also part of the ongoing management of the polar bear populations which are straying ever closer to inhabited areas. And just to face reality, hunting brown and black bears is still a big way of life, and money earner, for many people around the world, from sausage makers to taxidermists.
What you can do
We don't advocate trophy hunting for tourists, but visitors should be aware that it is a traditional way of life in many parts of the world, and particularly for the indigenous people of the Arctic regions – and one which has been sustainable for thousands of years. Consequently, as a visitor to an Inuit community, you should travel with an open mind, and engage with your hosts to learn more about subsistence living in the Arctic. And also, know that by taking a
polar bear watching holiday
, you are part of that process that reminds people that polar bears are worth more alive than dead.