Bear watching travel guide
---
2 minute summary
They say bears are solitary creatures. However, if you find yourself around an Alaskan salmon spawning river in late summer, that myth is quickly busted. This is a veritable bears' banquet, as grizzlies gather en masse to devour the salmon which look like they were merely invited to dance at the party. Nature is harsh. And nowhere better to see that in action than in the world of bears. Which may sound like the name of a toy store, but watch a polar bear savage a seal and all notions of cuddly will be long gone.

There is a lot of choice when it comes to bear watching too, budget wise and bear wise, and our bear watching travel guide reveals all the best spots. And species. Because with grizzlies in Canada, brown bears in Finland, Romania and Spain, and polar bears in the Arctic and Alaska, you have a great chance for sightings. These bears get everywhere. One even made it all the way to London from Peru.

Hello.
If you'd like to chat about bear watching or need help finding a holiday to suit you we're very happy to help.
Rosy & team.
01273 823 700
Is bear watching for you?
---
RESPONSIBLE TRAVEL RECOMMENDS
Go and see bears in the wild if…

… you want a wildlife experience like none other. It's up close and personal.
… you want to see the largest carnivores in action. They are full of surprises. Feasting, fishing or frolicking.
… you enjoy imbibing the knowledge and expertise of highly trained, conservation aware local guides.
…you are organised. You need to book some bear watching holidays well in advance, as the season is relatively short.



Don't go and watch bears in the wild if…
… you want to roam free. Think scare bears rather than care bears and follow your guide's strict rules all the way.
….you don't like the cold. With bears comes northern exposure. And with polar bears, it can dip to -30°C.
…. you want a lap of luxury holiday. Although always comfortable, think rustic rather than refined.
….you like a predictable life. Especially with polar bear watching, you are governed by weather conditions and so expect the unexpected.

How to choose a bear watching holiday
---
WHAT DOES THIS HOLIDAY ENTAIL?
Polar bear watching
---
Polar bear watching holidays can either be water based or land based. If you opt for the European Arctic they are water based, staying on small cruise ships travelling around North Norway's Svalbard archipelago, the main island of which is Spitzbergen. Most people fly to Spitzbergen from Oslo or Tromso and then spend a night here to acclimatise. From here you take a cruise around part of the archipelago or circumnavigate it, depending on the time of year and rate of ice melt. All of the polar bear watching tours in this region are on small cruise ships and you seldom go on land during these trips, but may board a smaller Zodiac boat to get a little bit more up close and personal, taking you up fjords and past glaciers, with chances to see not only bears, but also walruses, puffins and a bevy of birds. It is, in fact, illegal to follow polar bears in the Svalbard, or to actively try to find them. The ethos is to, quite simply, come across one while cruising, observe from a distance, and in no way disturb it. And if you are on land at any time, and a polar bear comes into the sight, the emphasis will be on getting you back on board as quickly and safely as possible.
These cruises usually last between 8-10 days, often on board former expedition ships that are well equipped for extreme conditions. But with good cabin facilities, around twelve cabins, some ensuite and others not. You won't get expedition style food on board though, but a fine array of buffets by day and a la carte by night. However, the emphasis on polar cruises is wildlife watching, adventure and going with the floe. So to speak.

For
land based polar bear watching
, head to Churchill, in Canada's province of Manitoba. Pretty far out there, you will spend a night in Churchill, after a journey that brings you on flights to Toronto, then onto Winnipeg and finally to Churchill. Sticking to base in Churchill, or sometimes venturing further out to a lodge on the tundra, polar bear trips take place in tundra buggies, or polar rovers, which are giant trucks designed to explore the icy wilderness. They generally seat around 35 people, although good tour operators will limit the numbers so that everyone is guaranteed a window seat. Lunch is served on board the buggy, which looks a little like something out of Star Wars, and they have observation decks, but at a safe height from the bears, so you can get out into the air. But putting sole to snow is not allowed. These trips often have an additional day built in for an activity such as dogsledding, or seeing the seeing the Northern Lights illuminate the tundra.
You can also enquire about land based safaris by foot, staying in tundra lodges and venturing out onto land, accompanied by Inuit guides who are armed and fully trained in protecting you from any dangers. These are usually part of a special, tailor made option from tour operators.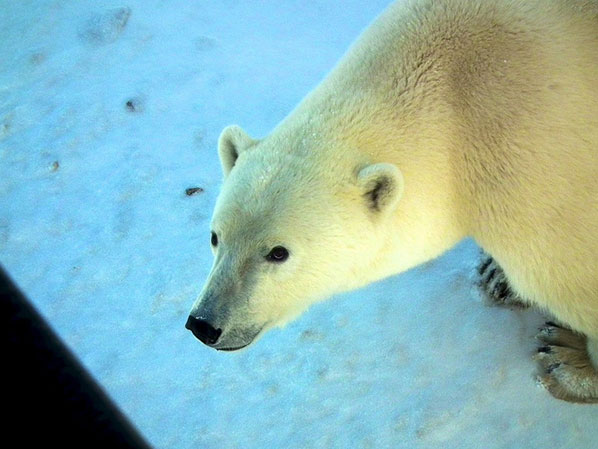 Brown and black bears
---
In Europe, the majority of serious bear watching is in the Wild Taiga wilderness region of Finland. Staying in wilderness lodges u on the border with Russia, you will go from lodge to hide, hide to lodge, and lose track of night from day, as you purvey the nocturnal world of brown bears and wolves that this region has to offer. The added bonus of visiting during the summer means you have 24 hours of daylight to take photographs and enjoy the view. These are usually trips of up to five days max. Spain, Greece and Romania also have bear watching opportunities. See our map for details.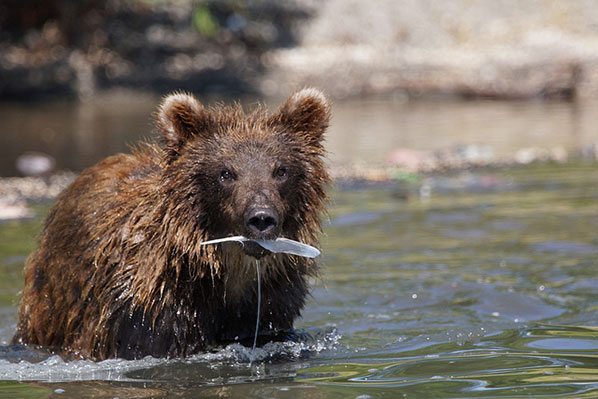 Grizzly bears
---
For grizzlies (a subspecies of the brown bear) and black bears you need to head to Canada or Alaska with trips varying in style and length. On a trip to British Columbia's snow-capped Coast Range Mountains, you take a seaplane up into a mountain valley and spend a few nights on a floating cabin at the mouth of a salmon river. Over three days, you take boats out into the estuary to watch grizzlies and black bears feeding on the estuarine grasses in spring, berries in summer, and salmon jumping from the river in autumn. If you want to explore more by foot, opt for an eight day wildlife hike with an expert bear biologist and guide in British Columbia's Kootenay Rockies, tracking and following wildlife along trails, through meadows and creeks. Or take a ten day tour around all the watering holes of Vancouver Island, staying at hotels or plush lodges every night but exploring the bear hangouts by day. Such as the salmon filled temptations of the Campbell and Orford Rivers, with a day of obligatory humpback and grey whale watching in Pacific Rim National Park thrown in, where bears hunt on the shores.
For something different, and for the more adventurous who like being on boats, you can spend seven days in Alaska tracking Kodiak bears - the largest grizzlies in the world. Arriving in summer, in peak salmon season, you can watch bears from float planes, skiffs and because you'll be staying on a boat too, maybe even from your cabin.