Where to see bears
---
Map & highlights
There are many misconceptions when it comes to bears, and one of the greatest is that you don't have to go to the other end of the earth to see them. When trying to work out where to see bears, most people don't realise that, with the help of expert guides, you can see them in Finland, Romania, Spain and even Greece. Once you have seen the Europeans, however, you'll want to climb that species ladder to catch a glimpse of the northern greats. The polar bears in Manitoba, Canada. The grizzlies of British Columbia or Alaska. Whether they are climbing trees, digging snow dens or devouring salmon, bears are always watchable. Fierce and fascinating, colossal and yet somehow comical. Wherever you wander, wherever you roam, the bear watching world will exhilarate and delight.
Alaska
Seeing Kodiak bears, the largest subspecies of brown bear, in Alaska's spectacular Katmai National Park is a wildlife watcher's icy dream. Watch migratory salmon take a treacherous route upstream to spawn every summer, many ending up between the jaws or paws of one of the park's 2,000 Kodiaks as they leap from one level of the Brooks River to another. This is one big bear blowout.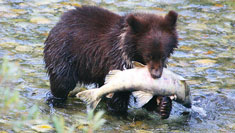 British Columbia & Rocky Mountains
Head way off the beaten path to the likes of Tweedsmuir Provincial Park where, in the hands of expert guides, you can spot grizzly and black bears. Or Bella Coola, the river where
grizzlies come in search of salmon
during their migration upstream. British Columbia's snow-capped Coast Range mountains are also home to the Great Bear Rain Forest. No prizes for guessing who eats the porridge in those woods.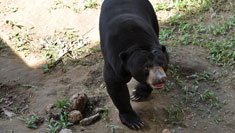 Borneo
Extremely rare, due to poaching for use as pets, sun bears live in remote forest areas, emerging at night to feast on fruits, insects and even small rodents and reptiles. Their long tongue helps them suck honey straight from bees' nests, meaning they are sometimes called honey bears. The world's only sun bear sanctuary is due to open in Sepilok. Combine it with organgutan watching to contribute to their conservation.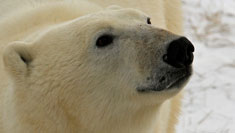 Churchill
Just south of the Arctic Circle, on the western shore of Hudson Bay, this is considered by some to be the
polar bear capital of the world
. Inaccessible by road, this small port is the land of tundra buggies, or the larger polar rovers, all-terrain vehicles which enable you to view, photograph and study polar bears in safety. Like something out of Star Wars on Ice really.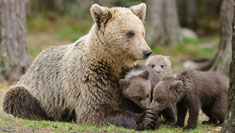 Finland
Finland is home to approximately 2,000 bears and bear watching holidays will take you far north, through the Wild Taiga forests towards the Russian border. Here you can see the endangered brown bear in its natural environment, guided by local experts who will teach you about the bears and their habitat. These trips generally involve a night in a bear hide, watching the bears from a safe, warm hidden spot.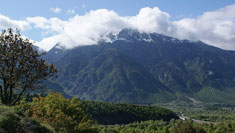 Greece
Little-known wildlife snippet: around half of western and southern Europe's brown bear population live in northern Greece. Who knew? Well, the guides who'll take you tracking these magnificent beasts through the gorgeous wilderness of the Pindos Mountains do. They will also help you discover other Grecian gods of nature, such as the otter and wolf.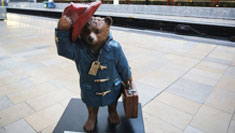 Peru
Home to the most human like bear of all, this species is almost impossible to spot, although it was recently caught on film, with footage of the endearing species going viral. With an unusual diet of orange related foods, the Peruvian bear is easily recognisable. Duffel coat and hat is not the norm for bears, after all.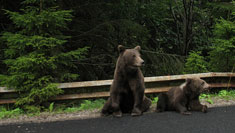 Romania
With around 5,500 bears, Romania is traditionally a land of hunters. Consequently, populations have dwindled and tourists swindled, as bears were trophy hunted. Thankfully, conservation is conquering cruelty and bear watching can happen naturally on a wilderness walking holiday, or by specifically volunteering at a sanctuary for rescued bears, such as the renowned Libearty one in the Carpathian Mountains near Zarnesti.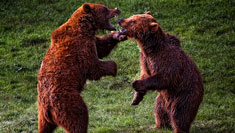 Spain
In the Mountains of Cantabria, northwest Spain, lives the Cantabrian Brown Bear which, due to hunting and habitat destruction is close to extinction. Travel with expert wildlife guides to catch a glimpse of these beautiful Spanish eyes in the wild, the karst limestone landscapes of these mountains being the last frontier for this subspecies. Combine with excursions to see Iberian wolves, golden eagles, wild boar and red squirrels.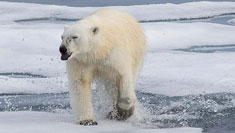 Svalbard & Spitsbergen
The Svalbard archipelago is the starting point for many Arctic cruises and the desire to see the earth's largest land predators is what drives most people on board. Organised safaris on land are not allowed here anyway. Spitsbergen is the main island for people, the rest being 'bearly' habited, hanging out on ice floes, peering for seals beneath breathing holes, or leading cubs from winter dens to the big wide world.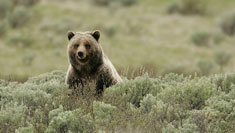 Yellowstone National Park
Spring and autumn are magnificent times to see bears in Wyoming's famous national park, along with armies of other fine animals marching across these luscious lands in search of food. As well as the park's famous geysers, it is gushing with wildlife, and visiting it on a wildlife specialist holiday is really worth it, to help you seek out the black and grizzly bear, but also wolves, bison and moose.



Hello.
If you'd like to chat about bear watching or need help finding a holiday to suit you we're very happy to help.
Rosy & team.
01273 823 700
Where to see bears
---
RESPONSIBLE TRAVEL'S SUPPLIERS RECOMMEND

Roy Atkins, naturalist and expert guide at our supplier Speyside Wildlife:
"If you want bears to be the main focus of your trip then I would strongly suggest a Finland trip. Bears are unpredictable. It is sometimes difficult to say when and where we'll see them on trips like Yellowstone, so you may need to be patient (though there is lots of other wildlife to enjoy while looking). They are more predictable at baited hides and so you are more likely to get very good views in places like Finland, Romania and Estonia."
Tom Brown from our bear watching specialist supplier, Natural World Safaris tells us where to see bears in the wild: "The place to see polar bears is the Arctic, so Svalbard, Churchill in Canada, or Arctic Canada which is a bit further north into the Arctic Circle. If you are going to Svalbard you will go on a cruise around the archipelago. But if you are going to Churchill, or Arctic Canada, these are land based tours. These are either in polar rover vehicles, or you can do walking safaris with the polar bears as well. With brown bear watching, the key thing is to look for small groups, or go tailor made, where you might be visiting different lodges and the main focus is seeing the bears with a private guide. We try to limit our groups to eight, and sometimes they might be ten, and with polar bears we go to fifteen, but generally we limit them to smaller sizes. Because we don't want the bears to be frightened off by huge numbers of people, and also you get more time with them"