Top 10 September holidays
With this list of our top 10 September holidays, we feel like we've brought the harvest home. It's a bit of an open secret that when the summer crowds depart, some European holiday spots just get better, and all across the world there's an abundance of adventures at the start of autumn. Whether you want to enjoy Europe as its coastal resorts, experience some much-needed post-summer downtime, or take advantage of cooler temperatures in the deserts of the Middle East and Central Asia, this top 10 list is bound to inspire your next adventure.
1. Hoist the mainsail in Croatia
Croatia has a phrase for when summer's good weather continues into autumn: it's called an 'Old Woman's Summer' – and it happens a lot. September is a lovely time to visit the Dalmatian Coast, especially if you go under sail. The winds get stronger later in autumn, but for now conditions are perfect for island hopping between Dubrovnik and Split. When you step ashore, the harvest is being brought home, and the later in September you go, the quieter it will be in the towns.
2. Roam the Scottish Highlands by rail
Scotland's historic railway lines cross viaducts, snake past lochs, and skirt the edges of dramatic mountains on their way across the country. The West Highland Line and Jacobite Steam Train are two of the most beautiful routes. As the bracken goes bronze on the hillside and the trees turn orange, September is the perfect time to take your seat on a Scotland rail holiday.
Our top selling trip:
Scotland by railway holiday
See all our trips:
Rail holidays in Scotland
Read more:
Scotland railway holidays travel guide
3. Walk and talk in Spain's Picos Mountains
September means back to school – but a Spanish language holiday in the Picos Mountains offers a very special kind of classroom. If you've always wanted to improve your Spanish in an informal setting, this holiday provides a combination of talking and walking, exercising your mind and your matter without taking too much of a toll on either. The canyon walks through the limestone mountains will give you plenty to exclaim about (in Spanish or English – you decide) and there's usually a refreshing beer at the end of the trail.
Our top selling trip:
Spanish course and walking holiday in Picos de Europa
See all our trips:
Learn Spanish holidays
Read more:
Spanish language and walking guide
and
unusual holidays in Spain guide
If you'd like to chat about Best places to go in September or need help finding a holiday to suit you we're very happy to help.

4. Hike in Greece
It's often hard to pick just one Greek island to visit, but Kythnos in the Cyclades is an easy choice for walkers – there are classical ruins everywhere, plus hot springs and sandy beaches. A network of well-established paths use old mule trails to link traditional Cycladic villages, and there are plenty of sea views along the way. September is just outside of the busy, hot summer season, and you won't find many other tourists about.
5. See Jordan's Highlights
For the best Jordan holiday, you need to perform a bit of a balancing act: the desert is scorching in summer, but at night-time the surface temperature of the sand can plummet. In September, you'll escape the worst of the summer heat. Wadi Rum, Petra and the Dead Sea are the highlights here. Their landscapes – from star-canopied desert and ancient cities concealed in canyons, to the lowest and saltiest lake on earth – are vast and varied.
Our top selling trip:
A week in Jordan
See all our trips:
Jordan cultural holidays
Read more:
Jordan travel guide
and
Jordan culture guide
6. Ramble the Amalfi Coast
The Amalfi Coast is horrendously busy in high summer, but by September the Tyrrhenian Sea is lovely for a paddle, the white pebbled shores are emptying out, and the towns, set teetering on the steep coastal cliffs, have tipped out many of their tourists. Up above their winding streets, on the famous Path of the Gods – a spectacular hiking trail – the chestnut trees are dropping spiky shells on the path and the weather is great for walking holidays.
Our top selling trip:
Amalfi Coast walking holiday
See all our trips:
Amalfi coast holidays
Read more:
Amalfi coast walking guide
7. Tour treasures in Albania
Albania gets a fraction of the visitors of neighbouring Greece, meaning you might get the spoils of the September harvest – pomegranates, apples, walnuts – all to yourself. The weather's great, too: the country's Mediterranean coastline is sunny but no longer scorching, and its Alps – the brilliantly named Accursed Mountains – aren't too cold for walking. See Socialist art in Tirana, the capital, before hot springs in the mountains and castles in the countryside, plus the Roman ruins of Apollonia.
8. Combine Orangutans & beaches in Borneo
Borneo's wonderful orangutans can been seen all year round. Orangutans, like humans, do not have a breeding season and you'll see babies whenever you go when you visit Sepilok Orangutan Rehabilitation Centre. However, Borneo's dry season runs from April to September, and the rainforest is best visited in the drier seasons – as is the beach. Borneo's Lankayan Island, off the coast of Sandakan, is one seriously perfect beach. You might see turtles in September, too.
Our top selling trip:
Borneo tour: great apes and beach escapes
See all our trips:
Borneo holidays
Read more:
Orangutan watching guide
and
Borneo travel guide
9. Make a splash in Montenegro
Your kayak breaks through a delicate raft of waterlilies. You're on Lake Skadar in Montenegro and there's little else to break the peace in this delightful – and undervisited – corner of Europe. An activity holiday in September revolves around the water – whether that's canyoning and caving around the karst landscape's secret rivers, kayaking, or exploring the country's coastline. Travelling at the start of autumn means that the water is at a great temperature for swimming, whilst pretty vineyards and walks in Walnut Valley will tempt you back onto the land.
Our top selling trip:
Activity holiday in Montenegro
See all our trips:
Montenegro multi-activity holidays
Read more:
Montenegro multi-activity guide
10. Sample the Silk Road
You'll need to set aside at least a couple of weeks in September to do the Silk Road justice – this improbable thread, connecting China with Europe, weaves through some of the best sights in Kazakhstan, Kyrgyzstan and Uzbekistan. Give yourself time to take in the elegant mosques of medieval Bukhara in Uzbekistan and the rearing peaks of the Tien Shan mountain range, seen from the plateaus of Kazakhstan. Early autumn delivers dates and fruits to the market stalls, and there are pleasant travelling temperatures.
More Best places to go in September articles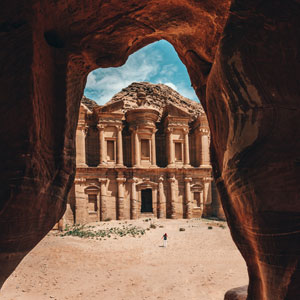 September is a great time to get some extra sunshine at the end of summer.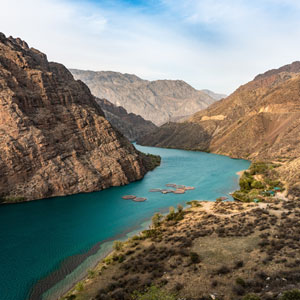 Looking for the best places to go in September? Start with our map and highlights page.