Bird watching cruises
---
ORNITHOLOGICAL ODYSSEYS
There are some parts of the world that, for birders, can only be accessed on a serious maritime expedition. Such as around Russia's Kamchatka and Chukotka coast or the Kuril Islands, inaccessible for years because of Cold War military stuff, submarine activity has now been swapped for supra marine activity. Seabirds soar serenely over these remote Russian islands and shores, oblivious to all politics and history. Birding by boat also takes you to the likes of New Zealand's outer islands, where penguins, puffins and parakeets are just a few treats on offer. Heading north, Melanesian marvels in the likes of the Solomon Islands or New Caledonia are not only from the tropical bird families, but also from cetacean ones too. Travelling on small ships, usually maximum 100 passengers, with expert naturalists, libraries and fellow wildlife lovers as travel companions, these expeditions are in many ways like rare birds.

Hello.
If you'd like to chat about bird watching or need help finding a holiday to suit you we're very happy to help.
Rosy & team.
01273 823 700
Where to go on a bird watching cruise
---
MAP & HIGHLIGHTS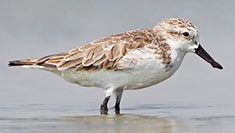 Kamchatka & Chukotka
For twitchers, this expedition really is 'To Russia with love'. You will espy thousands of birds, from endemic spoon-billed sandpipers to just about every seabird flying.With a backdrop of volcanoes, phantasmagorical fjords and tundra, these expeditions take you into the land of bears, seals and whales. All serenaded by geese, cranes, kittiwakes, cormorants melange of migratory marvels.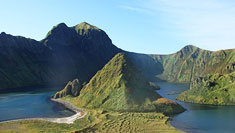 Kuril Islands
This volcanic archipelago is not only birding paradise, but also a carnival of cetaceans. Aka the Pacific Ring of Fire, your heart will be set alight by 14 species of auks, from horned puffins to rhinoceros auklets. Once the domain of Cold War Soviet military activity, spot the likes of an abandoned submarine base in red-faced cormorants, red-legged kittiwakes and Siberian rubythroats. That's a lot of red.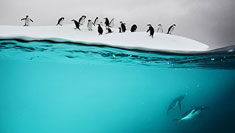 NZ Subantarctic Islands
New Zealand's outlying archipelagos are out of this world. The uninhabited islands of Bounty, Antipodes, Auckland and Campbell are, collectively, a World Heritage Site. The Chatham Islands have 600 inhabitants, but like megacities when it comes to birdlife. See penguins on the Snares, albatrosses and red-crowned parakeets on the Aucklands – and many will travel far for a Bounty Island shag.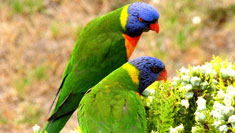 Melanasian Islands
Cruising through these Pacific outposts, each with its own fascinating history is an ornithological odyssey. See Solomon Island endemics such as the cicadabirds and Solomons cuckoo-shrikes, or Beck's petrels and Heinroth's shearwaters. White-capped monarchs, crimson-rumped myzomela and cardinals are just a few of the marvels around Kolombangara Island's 1800m high volcanic crater.


Bird watching cruises travel advice
---
A LITTLE BIRDY TOLD US…

Adam Walleyn from our leading bird watching cruises supplier Heritage Expeditions:
What you will see
---
"As a testament to the remote areas we visit, highlights in recent years have included the discovery of a new species of storm petrel in the South Pacific; the rediscovery the Vanikoro flying fox – last reported a century ago; and the discovery of a new breeding site for the critically endangered spoon-billed sandpiper in the Russian Far East. This year we found Solomons nightjar and Mussau triller - to our knowledge both firsts on a birding tour and we have a proven track record of showing people the rarest seabirds on Earth: magenta, Chatham and Beck's petrel and Amsterdam albatross just to name a few!"
Packing tips
---
"Invest in good optics – if you are investing in a trip it only makes sense to travel with some good optics."
Life onboard
---
"Maximise time on deck while sailing between destinations. The more time you spend on deck the more you will see. Don't spend all your time behind a lens; put the camera down some times and experience the moment. The ship is a comfortable base to spend the night and there will always be great food!"
Photo credits:
[Top box - King Penguins, Lusitania Bay, Macquarie Island: Heritage expeditions - CNRuss ] [Kamchatka & Chukotka:
JJ Harrison
] [Kuril Islands:
CHK46
] [Melanasian Islands:
PsJeremy
] [NZ Subantarctic Islands:
Kent Larsson
] [What you will see - Zodiac and Steller's Sea Eagle: Heritage Expeditions - CKOvsyanikova ] [Life onboard - Auklets and Zodiac: Heritage Expeditions - CMKelly ]