Rwanda birdwatching holidays

There are beautiful species with fabulous names: the Narina Trogon, the African paradise flycatcher, and scimitarbills.

Unless you're a pigeon fancier, there aren't many capital cities that are also birdwatching destinations. But Kigali, the Rwandan capital, has several 
birdwatching holiday
stops on its doorstep.
Just eight minutes' drive from Kigali International Airport you'll find the site of Rwanda's most symbolic birding conservation story: Umusambi Village, home of fifty grey crowned cranes. From planes – to cranes – in eight minutes.
You might not know the name, but you'll recognise the crane – this beautiful bird has a golden crown that radiates like a baroque halo.
The grey crowned crane's beauty has been its downfall: "People kept them in their gardens just to look at them," explains Kigali local Ninah Mutamuliza. She is a Rwandan tour consultant for Kingfisher Journeys, who run tours with our expert partner Pioneer Expeditions, "Most of them have their wings clipped so they can't fly away."
Umusambi takes in cranes that cannot fly. Ones that can be returned to the wild are moved to Akagera National Park. You'll visit both on a Rwanda birdwatching holiday.
Kigali's birdwatching spots extend beyond the sanctuary. Nyarutarama, an upmarket suburb of the city with a lake and golf course, has almost as many birds as a national park. The Nyandungu Eco Park, a wetland area that's just two kilometres from Kigali International Airport, opened in 2022.
The proliferation of birdwatching sites doesn't just benefit tourists, but local Rwandans too: "Normally Kigali residents rarely leave the city," explains Ninah, "But when you go to Umusambi or Nyandungo Eco Park on a Saturday or Sunday it's full of Rwandans. It's really lovely to see local people going to these places, too."
Why is Rwanda good for birdwatching?
No visitor comes on a Rwanda birdwatching holiday just to stay in the capital. Rwanda is exceptional all over for birdlife, which is why it's a great place for birdwatching safaris. There are mountains in the west, savannah in the east, and eleven percent of the country is wetland. There are seven internationally recognised Important Birding Areas (IBAs) in the country. Good roads mean getting around to see it all is easy.

Rwanda's birds are not unique to Rwanda, but many people come here to see species that are endemic to the wider Albertine Rift, which means that they are found nowhere outside of this part of East Africa.

There are three parks of great importance to birds. From Kigali you can either go east to Akagera National Park, or west to Volcanoes National Park and Nyungwe National Park – these parks are where most of the birdwatching takes place. In Nyungwe National Park you can see 29 forest-loving Albertine Rift endemics, dwelling among Rwanda's largest surviving forest.
What kind of birds can I see here?
BirdLife International, a worldwide alliance of conservation groups, counts 636 species in Rwanda – though some sources report there being over 700 birds in the country. Of these there are 29 Albertine Rift species.
There are beautiful species with fabulous names: the Narina Trogon, the African paradise flycatcher, and scimitarbills.
There are honeyguides – one of the few birds to feed on wax – who have learnt to call when humans are near, in the hope that we'll help them crack open nearby beehives.
There's the sweet emerald-spotted wood dove, the extraordinarily pretty regal sunbird and big birds of prey, like Denham's bustard, African fish eagles, and large wading birds.
This is also a 
great place
to see the Red-collared Babbler and the Red-Faced Barbet, too.
Birdwatching in Rwanda vs Uganda
Whilst it cannot rival neighbouring Uganda, which has over 1,000 bird species, for variety, little Rwanda has a reputation for its fast-growing eco-tourism scene, and having the Big Five – in Akagera National Park. With better roads than Uganda, and smaller distances to travel, Rwanda's birdwatching sites are relatively accessible: from wetlands close to the roadside, to the well-maintained trails in Nyungwe Forest.

The benefit of using a local guide is that they live there every day – so they can tell you, 'This is where I last saw it.'

The importance of site-specific guides
Going on a birdwatching tour, you'll be accompanied by a specialist guide, but the best way to tick off the species on your list is to unlock a second secret weapon – site-specific bird guides.

"Every time we go to a place we get a local bird guide for that area," explains Miriam Kyasiimire, manager at our partner Kagera Safaris, who run specialist birdwatching holidays in Rwanda. "Your main guide stays with you through all the trip, but the benefit of the local guide is that they live there every day – so they can tell you, 'this is where I last saw it' – they have more information and so you can have a more fulfilling experience."

Paying for site-specific guides also mean that local communities profit from their birds, and have a reason to invest in their ongoing protection.
Our top trip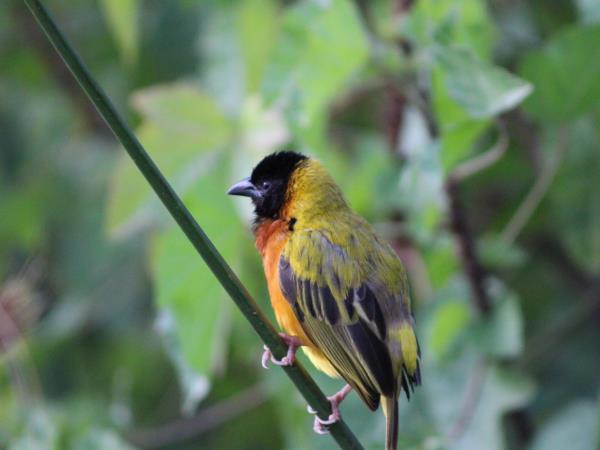 Birding and gorillas in Rwanda's important birding areas
From
US $5791

to

US $7168
11 days
ex flights
Tailor made:
This trip can be tailor made throughout the year to suit your requirements
If you'd like to chat about Bird watching or need help finding a holiday to suit you we're very happy to help.

Rwanda birdwatching beyond the parks
Whilst much of Rwanda's extraordinary wildlife requires a permit to see – such as its famous 
gorillas
– birds will come and go as they please. Birdwatching adds an extra dimension to any holiday because you don't have to go into a park to see them.
Roadside wetlands
Driving between the national parks, you'll find yourself stopping for roadside birdwatching. The road to Nyungwe National Park from Akagera takes just over six hours by car – but it's a full day experience because of the roadside swamps. Wetlands support a vast number of species because they provide important food sources – these are nature's 'supermarkets', and birds are frequent shoppers. You'll explore places like the Gashora wetlands, where papyrus swamps shelter – but cannot fully conceal – the vivid black and red papyrus gonolek and the green-yellow papyrus canary.
Cranes from canoes
Tourists and birds converge on the rivers outside the parks. "We use activities like canoeing as a way of visiting lesser-known places off the beaten track and seeing more of the countryside," Steve Venton, Director of Kingfisher Journeys, explains.

"On our Mukungwa River trip we've counted 40 species of birds on our little river strip – it's a birding hotspot. When we take an expert birding guide they will spot 25-30 in one day whilst out on the canoe,"

Spotting birds on the river has other upsides, too. "The birds don't seem to be as scared of approaching people when you're on the water," Steve says, "We do find that we get closer."
Beyond the volcanoes
Before you go into Volcanoes National Park to see its gorillas, you could stop in the forest to look for a lesser-known inhabitant – the Narina trogon, a bird that's like a jolt of electric technicolour among the trees. The areas around this park are very good for birdwatching. If you have time on your tour, you could spend almost as much time outside the national park as within it.

Buhanga Sacred Forest, half an hour's drive south of Volcanoes National Park, is home to 150 bird species, and is also an important cultural site for Rwandans – former Rwandan kings were coronated here. The forest is sacred and so has survived intact and is now an eco-park. Permit fees from tourism help protect the forest from deforestation for firewood and for agricultural land.

Rwanda is a nation of subsistence farmers. Bird species can be spotted around farms – such as the village weaver, whose pendulous nests are instantly recognisable in the trees.

Rwanda's birdlife – whether on farmlands, in the capital, on the roadside, shows that conservation needs to happen everywhere, not just in the country's protected regions. Visiting areas outside the national parks that have been set up to encourage birds, validates new regions and encourages their continued protection.
Best places to see birds in Rwanda
Nyungwe Forest
The best place in the country for spotting Albertine Rift endemics are the many birdwatching trails in Nyungwe. This national park is famous for its chimpanzee and colobus monkey families. The spread of misty montane forest over a range of altitudes is also one of the most important sites for bird conservation in Africa. Little Cyamudongo Forest, separated from Nyungwe Forest by tea plantations, is a dark, thick woodland where you can find Ross's turaco – not seen in Nyungwe.
Volcanoes National Park
The 'big' attractions in Volcanoes National Park are its gorillas, but the ranging altitudes found in the forest support a great number of bird habitats. The way through the foggy forests is muddy and steep, but it's a good place to spot any endemics that you've not seen in Nyungwe. Look out for endangered species like Grauer's swamp warbler. The area around the national park is also great for birdwatchers (and less hard going) – try visiting Buhanga Eco Park.
Akagera National Park
Birdwatching in Akagera National Park means exploring multiple habitats over several days – starting with marshes – where ibis and egret hide, and then savannah and woodland, then the water – via boat trips on Lake Ihema. Go hunting for the prehistoric-looking shoebill – the park is the best place in Rwanda to spot them. Enjoy the more frequently-found large birds of the park, too – such as yellow billed storks, and, of course, grey crowned cranes. See them here in the wild and you might be lucky enough to observe their elegant courting dance.
Birdwatching tours of Rwanda are usually tailor made, so that you can concentrate on seeing the birds that are on your 'life list'. They come with an experienced birdwatching guide. Birdwatching is usually a morning activity; this is when the birds are most active, even if you yourself are feeling a little sluggish. Stevenson and Fanshawe's The Field Guide to the Birds of East Africa is one of the best handbooks for identifying Rwanda's birdlife. It's very popular to combine birdwatching with other wildlife viewing in Rwanda. Some of the best birdlife is in areas with other great wildlife – such as the Big Five in Akagera, chimpanzees in Nyungwe Forest, or gorillas in Volcanoes National Park. Rwanda is close to Tanzania should you want to extend your trip with further safari. Then there's Uganda to the north, itself home to over 1,000 species of bird. By spending a couple of days exploring both Nyungwe Forest and Volcanoes National Park, with a bit of luck, you're likely to see most of the Albertine Rift endemics present in Rwanda.
More Bird watching articles